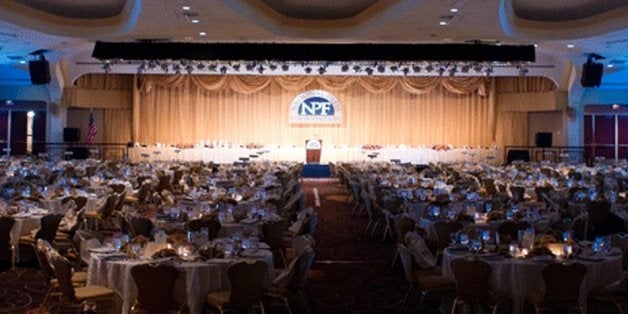 The National Press Foundation announced the winners of its highest journalism awards on Thursday.
Among the winners is St. Louis Post-Dispatch editor Gilbert Bailon for his coverage of the unrest in Ferguson, Missouri, following the killing of unarmed teenager Michael Brown. Bailon will receive the Benjamin C. Bradlee Editor of the Year Award.
"If ever a newspaper and its editor faced a real-time stress test it was the St. Louis Post-Dispatch and editor Gilbert Bailon," the NPF judges said.
BuzzFeed News' Kate Nocera, Gregory Johnsen and John Stanton will be awarded the Everett McKinley Dirksen Award for Distinguished Coverage of Congress. CNN investigative correspondent Drew Griffin will receive the same recognition for his work on "Congress for Sale."
"We're honored that our colleagues are recognizing both the quality and the profound impact of our journalism," Buzzfeed editor-in-chief Ben Smith told The Huffington Post, "and, in particular, of the work of Greg, Kate, John and their editors -- Steve Kandell, Miriam Elder, and Katherine Miller. These stories showed the best of what BuzzFeed News can do, from rigorously reported, crafted, and presented long features to creative and tenacious beat reporting that refuses to let go."
The NPF also took a look at online and digital media, recognizing the website Re/code with the Excellence in Online Journalism Award. The sites founders, Walt Mossberg and Kara Swisher, were honored earlier this year by Syracuse University's Newhouse School with the i-3 award for "impact, innovation and influence."
"Re/code's coverage of technology is exceptional in its breadth," the judges said. "Lots of original reviews and smart commentary inform top-notch reporting on an industry that changes constantly."
The awards will be given at the NPF's annual awards dinner on Feb. 18 in Washington, D.C.
REAL LIFE. REAL NEWS. REAL VOICES.
Help us tell more of the stories that matter from voices that too often remain unheard.