David Bruinooge said he was profoundly moved last weekend when millions of people turned out in support of Women's Marches around the world. Bruinooge watched on TV as a sea of pink "pussyhats" flooded the streets of cities like New York, Los Angeles and D.C., then decided that the LGBTQ community needed its own march on Washington.
More than 50,000 people have already expressed interest in the National Pride March since Bruinooge created a Facebook page for it on Saturday. 
"I was really inspired by all the strong women marching in our country and around the world," said Bruinooge, a 42-year-old from Brooklyn, New York. "And I thought our community should be doing something similar to get out voices heard."
Many LGBTQ activists have spoken out about Vice President Mike Pence's record. During his first successful run for Congress in 2000, his campaign website boasted that he would direct funding away from HIV/AIDS treatment and funnel resources into "conversion therapy." As a U.S. representative for Indiana, he said in a 2006 speech that same-sex marriage would lead to "societal collapse."
It's unclear where the president himself stands on marriage equality, because he has made competing statements on the issue. He said in February that he'd consider appointing Supreme Court justices who would overturn same-sex marriage legislation, but in November he called the issue "settled." 
I was really inspired by all the strong women marching in our country and around the world. And I thought our community should be doing something similar to get out voices heard.

David Bruinooge
Ben Carson, who the Senate has confirmed to be secretary of housing and urban development, once compared homosexuality to pedophilia and incest.
Some transgender people and allies are also concerned that Betsy DeVos, if confirmed as education secretary, could endanger the rights of trans students ― specifically, by rolling back a directive under the Obama administration that called upon public schools to guarantee students access to facilities that best matched their gender identity. The DeVos family has donated millions of dollars to anti-LGBTQ organizations, including the National Organization for Marriage, Institute for Marriage and Public Policy and the Becket Fund for Religious Liberty.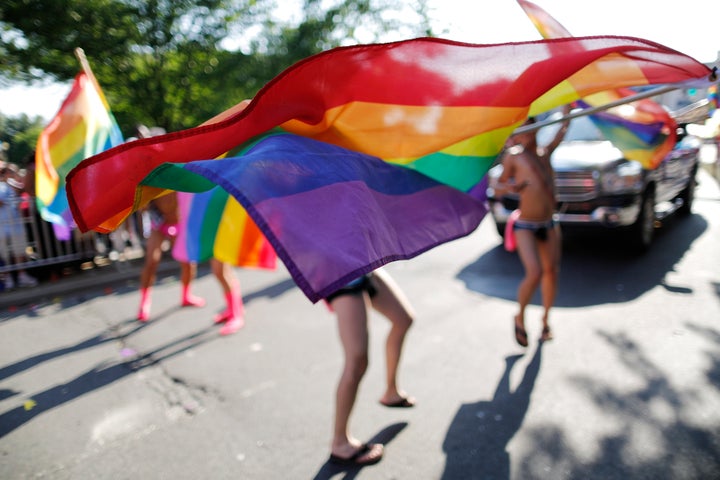 The Capital Pride Alliance, which organizes a massive LGBT pride weekend in Washington, D.C., every year, is partnering with Bruinooge to help plan the march.
The group expects the march to be a part of its celebration, which is scheduled for June 8 to 11 this year. Bruinooge said he hopes to announce a date of the march within the next week. 
"We are working with individuals who would like to organize a march to ensure that it would complement an already powerful and impactful weekend," said Ryan Bos, the executive director of the Capital Pride Alliance. "Our hope is that we can galvanize this energy and this desire to take action and really channel that into our communities across the country and world."
Bruinooge emphasized the group's commitment to inclusivity and diversity within the march and on the steering committee, which they are currently working to develop.
"We think it's very important that we have a united front and that all our voices are heard," Bruinooge said. "We encourage friends, family and allies of all religions, all races and all identities to participate."
Organizers are encouraging supporters to plan sister marches for people who can't travel to D.C., but stressed the importance of coordinating with local LGBTQ organizations to avoid undermining existing plans for other pride events.
Calling all HuffPost superfans!
Sign up for membership to become a founding member and help shape HuffPost's next chapter
BEFORE YOU GO