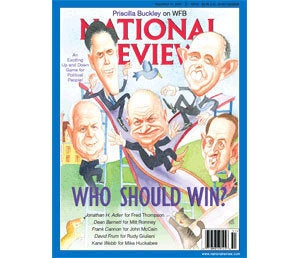 National Review Online blogger W. Thomas Smith, Jr., adamantly defended his reporting from Lebanon, and his commitment to accuracy and truth, in the face of an avalanche of criticism from both sides of the political aisle.
"There is one thing that is very, very important to me, sir, and that is the truth," Smith, a former Marine, told The Huffington Post in a telephone interview Sunday evening.
Yesterday, members of the Iranian Revolutionary Guard Corps (here in Lebanon) attempted to kill [moderate Shiia cleric Al] Sayed [Mohammad Ali El Hussien] and his family by sabotaging his vehicle. They planted a delayed acid weapon on his car's undercarriage, which ate through the chassis and caused the vehicle to basically break in half while he was driving. Sayed and his family survived the attempt, barely. But the terrorists have killed others like this before.
Christopher Allbritton, a critic of Smith's work, on Sunday described "An Assassination Attempt" as "one of [Smith's] more fantastic posts" on his own Back to Iraq blog. Allbritton wrote:
"As a buddy of mine remarked after that one, 'I wanna cover this guy's Lebanon. It sounds so much more interesting.' Indeed. Too bad his stories are ridiculous falsehoods."
In response, Smith flatly disputed Allbritton's charge, countering, "absolutely it [the acid bomb attack] took place."
As the NRO-Smith controversy develops, one of the more striking developments is the emergence of harsh judgments on Smith's work from critics running the ideological gamut from Glenn Greenwald to Michelle Malkin
Malkin led the charge from the conservative end with a 10:10 AM Sunday report entitled "And now for some shoddy war reporting...from an NRO milblogger [military blogger]."
Malkin did not hold back. "Ugh. This is bad on many levels," she declared. "These were not small mistakes. They were XXL ones. Moreover, online journalists and bloggers can't have it both ways: They can't ask for mainstream media parity when their reporting is dead-on and ahead-of-the-curve-and at the same time hide behind the 'Well, I was just blogging' excuse if their reporting turns out to be as ill-sourced and wrong-headed as the legacy media's. Also note: In one of the tainted posts, the headline isn't 'Blogging from Lebanon. It's 'Reporting from Lebanon.'"
Greenwald, who filed at 7:34 AM Sunday, specifically took on NRO's management:
"Rather than acknowledging any errors in a clear and straightforward way, National Review chose late Friday afternoon to raise this matter -- the favored time period of politicians to dump embarrassing stories, when as few people as possible will see it -- in the form of a mealy-mouthed, self-justifying 'Editor's Note' from Kathryn Jean Lopez. Lopez apologizes to readers on the ground that 'NRO should have provided readers with more context and caveats in some posts from Lebanon this fall,' but never says what those caveats should have been or what the missing context was."
Since Greenwald and Malkin posted their commentary, Lopez has issued stronger remarks. First, at 12:59 PM, Lopez wrote :
Your (our, anyone's) audience relies on you if you're writing a book or a piece, ranting on the radio, giving a sound-bite on TV, or blogging....But with great power and opportunity comes great responsibility. We take that seriously and should have done better and will.
Then, nearly 10 hours later, at 10:21 PM, as criticism mounted further, Lopez filed another, longer statement :
So everyone knows the chronology here: Deep into the second week of November, W. Thomas Smith Jr. was contacted by Tom Edsall and an e-mail was forwarded from Edsall to me from our ad dept.

I immediately had Smith go through the details of what he wrote and who his sources were, what he saw and what he was relying on others for.

I then had one of our reporters retrace Smith's Lebanon steps from New York, as I made some calls myself to experts in the area to feel them out.

By the middle of the third week in November, I concluded Smith wasn't skeptical enough, and that the posts in question were sloppy.

Smith had immediately offered Edsall his number in an exchange that sounded like Edsall was ready to roll. So my first instinct was see Edsall's story and go from there (see if it raised anything we missed). I also had a sense of collegial respect for Edsall, i.e. to let him tell his story.

Thanksgiving week hit when I started thinking that this is taking ridiculously long, but I didn't want to bury it in the holidays. The next week came, and looking back, I wish I had gone live on Monday, as people got back from vacations and before the YouTube debate. On Thursday evening Edsall contacted Smith with some of the same kind of criticisms, and so on Friday, after making sure there was nothing new raised in that exchange, we went ahead and presented the story as we knew it, and I e-mailed Edsall at a tnr.com e-mail address with what I knew.

If I had it all to do over again I would have just gone live when we knew we had a handle on the posts in question and not waited another minute to apologize and let everyone know what was happening here.

While I knew something was wrong before last week, I did not know about it six weeks ago, as some have reported, and while you can question all the calls I made, there was never any intention here to make excuses or hide anything.

I wish this hadn't happened. I still think Smith is a well-intentioned reporter. We post him on a submission-by-submission basis and will continue to do so unless we have reason to decide otherwise. (And we are currently doing a more thorough review of all his work.)"
Calling all HuffPost superfans!
Sign up for membership to become a founding member and help shape HuffPost's next chapter