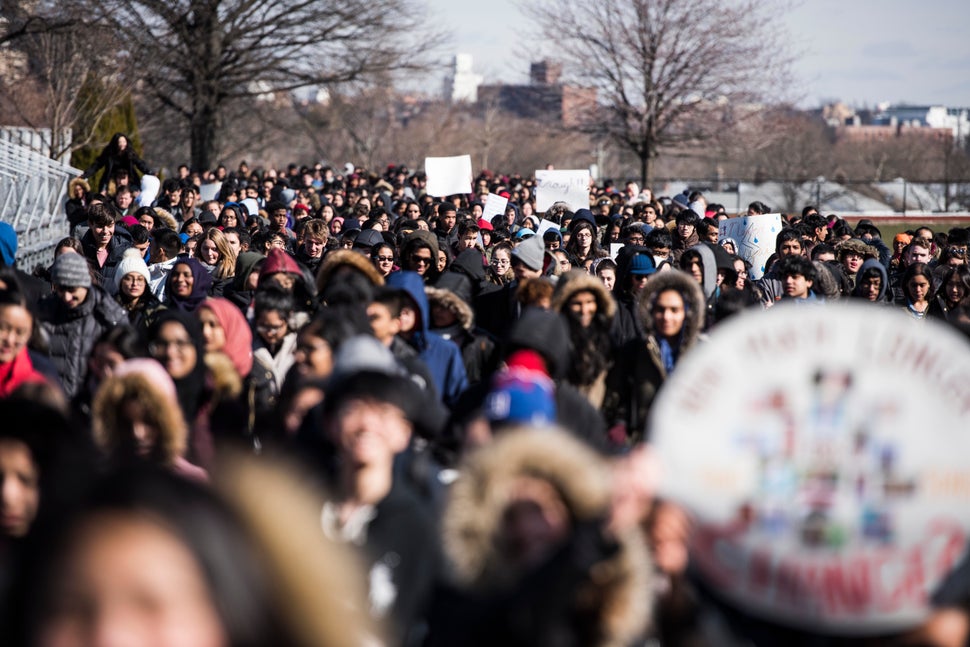 QUEENS, N.Y. ― Every time there's a lockdown drill at Townsend Harris High School, the large, busy Flushing school where Jessica Stillman teaches English, she replays the preparations she'd need to take to keep her students safe.
Then, in February, her deepest fear came true. Her school experienced a shooting. Only it wasn't the school where she currently works.
Stillman attended Marjory Stoneman Douglas High School in Parkland, Florida, as a teenager, living less than a mile away. Like so many of the survivors who have emerged as leaders of the Never Again movement, Stillman was a theater kid at the school.
On Wednesday morning, she got to watch as students at her school carried the torch of the Parkland leaders. She chaperoned while some 800 of the school's 1,100 students participated in the National School Walkout, spending 30 minutes in silence in a nearby field.
Around the country, at least 3,000 other schools and communities participated in the event, an effort to honor the 17 lives lost at Marjory Stoneman Douglas and agitate for stricter gun control. 
The hundreds of teens were hushed as a small group of students and teachers alternated reading the names of the victims of the Parkland shooting over a megaphone. Each victim was given a minute of silence. Stillman tearfully looked on as teens held signs displaying the students' names and messages of protest against the National Rifle Association.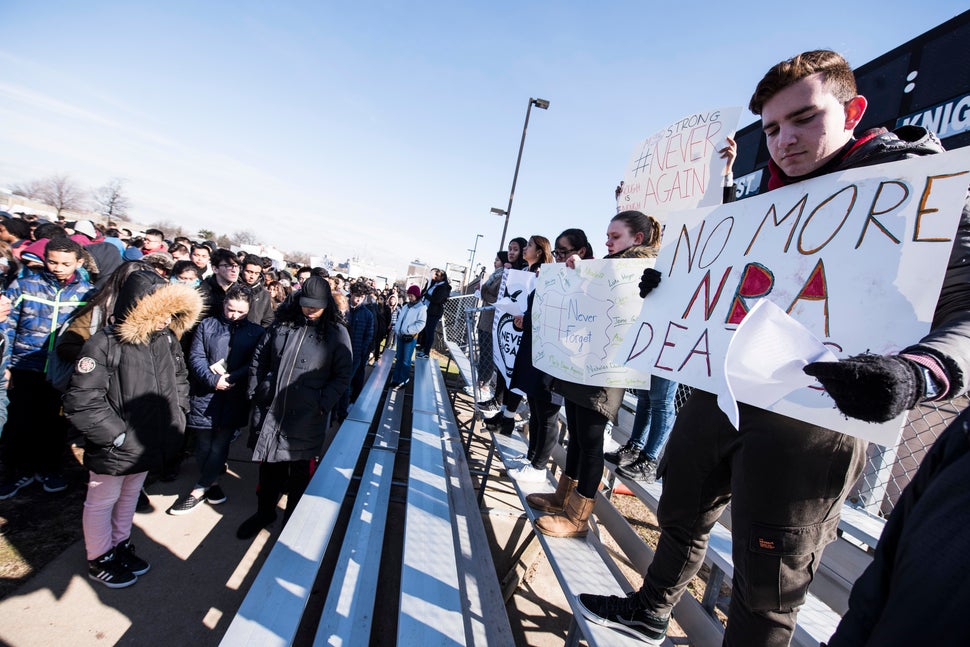 Kathy Ling, a senior at Townsend Harris, helped plan the student-led event as president of the student union. The walkout is one of several events the students have planned to help honor Parkland and its victims over the next few months. The school's administration, she said, has been supportive and helpful.
Ling was proud of the respect her fellow students showed during the event, which was meant to act more as a memorial than a protest, she said.
Watching members of the MSD theater community gain national prominence as spokespeople for a gun control movement has been heartwarming, but not surprising, Stillman says, given the public speaking skills necessary for drama. The eloquence and composure the Parkland students have exhibited remind Stillman of her own students at Townsend Harris, whom she describes as "politically aware" and "articulate." 
Stillman sported a Marjory Stoneman Douglas High School sweatshirt at the walkout. On Wednesday evening, she plans to participate in an "Evening of Action" with fellow MSD alumni and high school students around New York.
"I never in a million years anything like this would happen in that town," Stillman said earlier this week of Parkland. "Hopefully it doesn't happen anywhere, but to have it happen in a place you know so well, so intimately ― it was like losing somebody in your own family."
REAL LIFE. REAL NEWS. REAL VOICES.
Help us tell more of the stories that matter from voices that too often remain unheard.