The spokesman for the National Security Council says President Donald Trump's "disturbing" and repeated attempts to undermine the U.S. intelligence community prompted him to resign last week.
In a scorching Washington Post column published Monday, Edward Price, who joined the CIA in 2006 and has been serving as the NSC spokesman, revealed the reasons he "cannot in good faith serve this administration as an intelligence professional."
Price pointed to several instances in which he said Trump had questioned the integrity of U.S. intelligence agencies, including the president's tepid response to reports that Russia hacked U.S. officials in an attempt to influence the 2016 presidential election.
But the "final straw," he said, was Trump's decision last month to make chief strategist Steve Bannon― whom Price calls "a media champion of white nationalism"― a member of the National Security Council.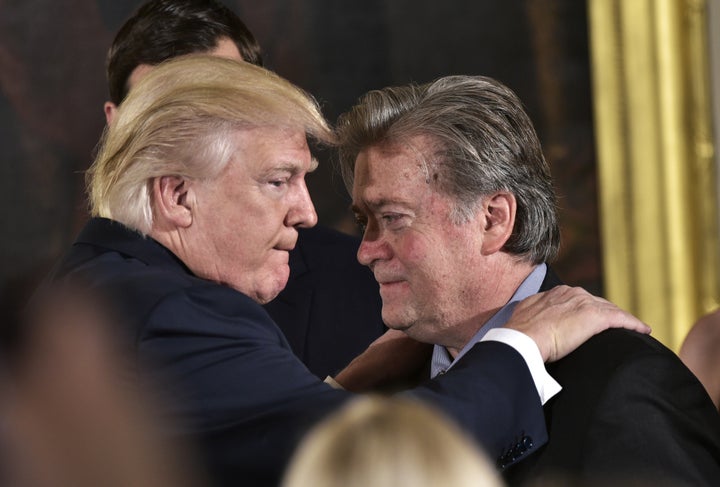 "[The White House] has little need for intelligence professionals who, in speaking truth to power, might challenge the so-called 'America First' orthodoxy that sees Russia as an ally and Australia as a punching bag," Price wrote, echoing speculation over the administration's ties to Russia and referencing a phone call last month in which Trump reportedly accused Australian Prime Minister Malcolm Turnbull of sending terrorists to the U.S.
"That's why the president's trusted White House advisers, not career professionals, reportedly have final say over what intelligence reaches his desk," the veteran CIA analyst added.
Trump has been increasingly at odds with the U.S. intelligence community. The Wall Street Journal recently reported that intelligence officials have withheld information from the president because they are concerned it could be leaked.
Chaos surrounding the National Security Council has come to a head following retired Gen. Michael Flynn's resignation as national security adviser earlier this month. Flynn announced his split from the White House after he admitted to having misled Vice President Mike Pence about conversations Flynn had with the Russian ambassador in December regarding U.S. sanctions against Russia.
Popular in the Community