Time magazine recently highlighted a report coming out of the Aspen Institute and the Franklin Project that appropriately proclaims the need for national service and the role that it can and must play in our society. The report is a bold one, calling for the creation of one million positions for young adults to serve their country, build community and keep the democratic spirit alive.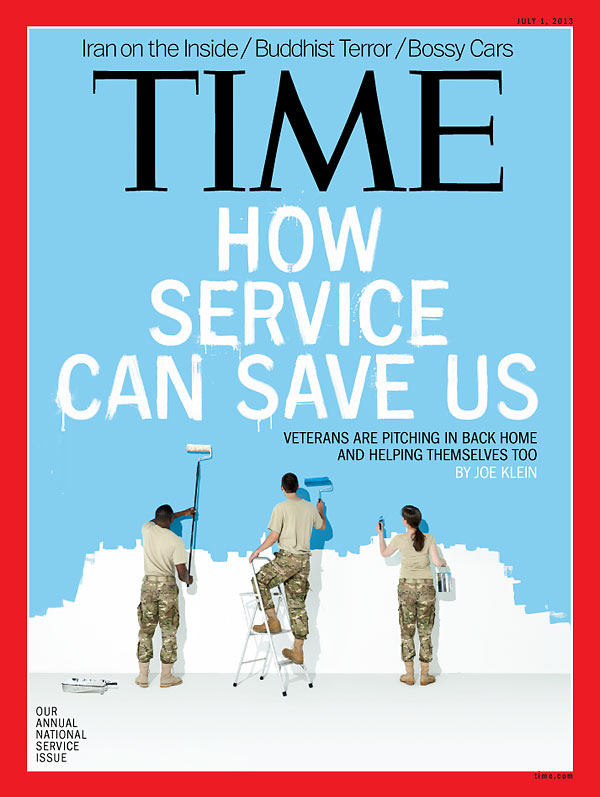 The church has a critical role to play in achieving these social advances. It is time for the church to awaken out of its great slumber, to take notice of this important movement and to play an appropriate part.

Following are six ways the church can step up, be relevant to the service world and contribute to its success and depth. If we commit to follow these steps I believe that faith-based service communities could collectively deliver 100,000 of the one million young adults the Aspen plan seeks to engage in full-time service per year. The church, along with other faith communities, could provide emotional, physical and spiritual support to those who make these types of commitments. This would transform the church, the service movement, and our society for the better.

Connect
The church must connect with the national service agenda. Clergy, youth ministers, theologians, denominational leaders and church educators must study the Aspen report, titled, "A 21st Century National Service System: Plan of Action," and see where the points of convergence are. We have a tremendous amount to learn from people and programs like Billy Shore from Share Our Strength and Vanessa Kirsch, founder of Public Allies.

We must seek to be part of the conversation; to be at the meetings where the imagining and planning take place. All national church offices that relate to young adults and mission need to see where their programs can connect.

Count
The church is an important player in national service. We must claim what we do, and share how it relates and the value it brings to the service movement. Every week during the summer, hundreds of church youth groups participate in service trips with faith-based groups like the Appalachian Service Project in Tennessee and Broad Street Ministry in Philadelphia, Urban Promise in Camden, or DOOR in Atlanta and Chicago. The church needs to build on the foundational work that it does with high school students and continue to be present and supportive of them through college and in the years that follow graduation. We need to track the numbers of young adults we bring to the national service movement and publicize the data. Our numbers tell a story that to date is largely untold.
Create
Many non-profit service organizations are effective incubators for the visionary work of social entrepreneurs, like Wendy Kopp from Teach of America or Michael Brown from City Year. They are ambitious, they have a broad reach, they are compelling, and they are well run. Faith-based service initiatives can and should be as entrepreneurial as their secular counterparts. We could learn a lot from them.

Youth directors and college chaplains, senior pastors and seminary administrators can build and strengthen a culture of engagement in the church and the world by launching new initiatives that draw on the best practices of secular service organizations. For example, the national service system proposes the establishment of a "professional corps" that will engage young professionals in the legal, financial, technology, medical and education fields. Why not a Clergy Corps as well?

Collaborate
There is a saying: "If it were easy, it would have been done before." I feel that way about collaboration between service and faith-based programs. It doesn't come easy. Part of this has to do with a lack of familiarity; part of it has to do with language and the use of different terms.

The biggest reason for not collaborating, however, has to do with awareness. Some of those who have built national service programs do not trust faith-based work, particularly the work of Christians. To these potential partners the church needs to show its most generous, efficient and excellent self.

Church leaders need to see the ways the church's mission could be strengthened through national service. We have vision, but often the church's culture lacks the rigor common to service organizations.

At the same time, while the young people attracted to service have tremendous energy to engage action and see the value of having an impact greater than themselves, they still often long to make meaning of their actions and need help framing the ethical implications of service.

In short, both the secular and spiritual strains of the service movement need each other and that is a good thing.

Cooperate
The church can and should be present and relevant for any group of young adults that is committed to causes in which the church is invested. Congregations and their members can provide hospitality, logistical support and clergy pastoral care. As a portal into a community, a church can welcome and introduce people, can provide housing and food and can use its power to convene (not just on Sunday mornings).

As young adults are challenged and shaped by their service, the church can and should be a powerful place for comfort, community, processing profound experiences and discerning the implications of service for future vocational choices. Because government programs like AmeriCorps have prohibitions about political engagement and religious activity, the church can be a place where political and spiritual issues are explored, discussed and affirmed. And the church is called to do this generously, without an agenda to convert or find new members, but rather as expressions of God's love in the world.

Mutual appreciation is growing. Erin McGrath, New Jersey's program director for the Corporation for National Service, wrote to me that when it came to Hurricane Sandy clean up, "In the midst of the chaos, it was the faith-based groups that looked out for these teams the most. They provided us with housing, food, laundry services, introductions to local stakeholders, and even birthday and holiday celebrations. ... Congregations continue to be leading the way in supporting Sandy volunteers." The same was true after 9-11 and Katrina. Courtney Cowart, who directed the response of the Episcopal Church both at ground zero in 2001 and in Louisiana after Katrina remembers, "For nine months, 24/7, we would host about 1,000 service volunteers a day at St. Paul's after 9-11. In New Orleans I remember 30,000 Lutheran young adults serving in a single week. There were so many young people volunteering they had to meet in the Superdome at night. Churches joined hands with service groups and we came together in ways that augmented our collective capacity and impact. So there are precedents for the kinds of cooperation that are possible and we should build on these experiences."

Convene
Let this moment in time be a call to leaders of all faith communities to convene with the leaders of the national service movement, beginning with John Bridgeland and Alan Khazei, the co chairs of the Aspen report. Let us gather and hear what has happened, see what is being planned and work and walk together as we seek the common goal of engaging and supporting young adults in service and justice work. For those who want to work together, contact us and let's see how we can do our part.

Moving Forward
For National Service to take root the way the architects and champions of this report so courageously lay out, the church must be a central player. There are many overlaps, and if the national service movement is to realize its dream, it will need the leadership, infrastructure and people who are part of the church.

For the church to remain relevant, it will need to meet young people where they are, and for so many young people, that is in the midst of service to others. By demonstrating with thoughtful action and persistent love that we care about both the service workers and those they serve, the church will become a key part of the national service movement and the church will have had the opportunity to live out its calling in the world.

A major discussion is happening on the national level involving some of the most sophisticated and recognized organizations in the country around service and youth development. The church is not present. We must take notice and act -- with energy, creativity, boldness, innovation and persistence. And when we do we must do so with goodwill, open minds, welcoming spirits and hearts filled with joy. In meeting and partnering with this growing service movement, the church has a unique opportunity to live out the Good News in a way that is good for everyone.