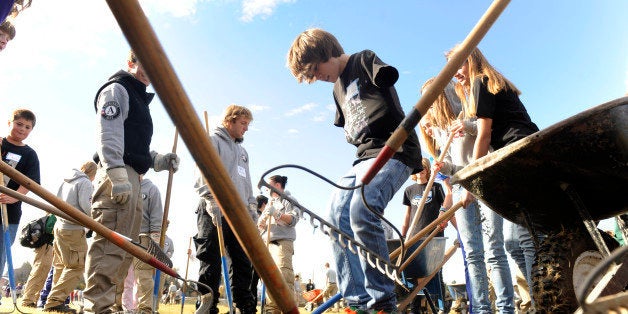 In the final days before the election, young voters should consider who is on their side.
Throughout this fall, I've spent many afternoons and evenings campaigning for Hillary Clinton on college campuses in swing states across the country. At each rally, the students present made clear their interest -- and love -- for public service. This passion is visible in the 40-year high of Peace Corps applications and Americorps receiving five times more applications than it has positions to fill.
At the same time, students have voiced their worries of finding a full-time, well-paying, and satisfying job upon graduation. And indeed, while overall unemployment numbers across the country has fallen to its lowest since the Great Recession, youth unemployment remains stubbornly high -- at 11.5 percent.
Which is why I was proud to see Hillary Clinton roll out a plan earlier this fall to expand national service opportunities for young Americans. Hillary gets it. Her bold, new plan will more than triple the number of Americorps members and double the college scholarship funding each member receives. She's also set a goal of ensuring that 10 percent of Americorps positions are filled by people over the age of 55 because the opportunity to serve one's community shouldn't be limited by one's age. And she is committed to growing the Peace Corps and creating a new National Service Reserve.
During my campaign for president, I too saw this demand for national service opportunities and in turn introduced a platform on the issue. This is an idea upon which our country can invest in young Americans to not only foster their spirit of public service, but also provide them the opportunities to gain the skills and experience necessary to succeed in the workforce.
Contrast Hillary's plan with Donald Trump's. The closest resemblance he has of a job creation plan is to employ a massive deportation force.
Young Americans are the future of our country. By laying out this national service plan, Hillary makes it clear that she values the contributions of our young people and will fight for them as our president.
Calling all HuffPost superfans!
Sign up for membership to become a founding member and help shape HuffPost's next chapter