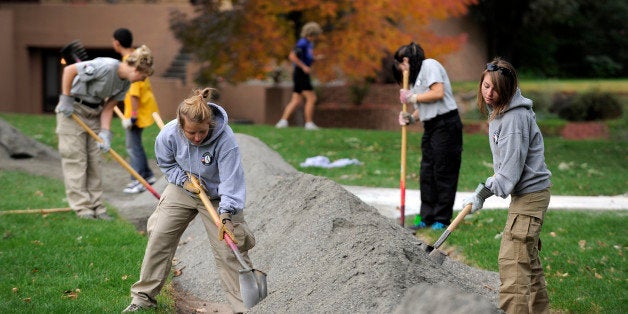 National service is at a crossroads. New technologies offer boundless opportunities for us to increase the number of people serving communities, while budget-cutters in Congress threaten to end national service as we know it. At this critical moment, we need people in government, nonprofits and the private sector to help realize the promise of national service to transform the country.
National service gives young Americans the opportunity to serve full-time for one year in their communities and strengthen their country. It provides Millennials the chance to find their footing in a difficult economy, earn a small stipend and learn skills critical to their future success. Steve Waldman, author of The Bill, compared national service to the all-purpose Swiss-army knife because it can also bridge racial and economic gulfs and foster a new civic ethic. Well known programs include AmeriCorps, Teach for America, Habitat for Humanity and City Year. These programs and many others are critical to the operations of nonprofits, schools and public agencies. Moreover, it is cost-effective. A recent Columbia University study found that every dollar spent on national service saves nearly $4.
Demand for national service positions outpaces supply by a factor of five, and federal funding for these positions is tenuous at best. Right now, only about 80,000 national service positions are supported through the federal government's AmeriCorps programs. However, each year there are over 500,000 applications for these limited positions. The last Bush Administration began to address this demand by increasing support for the AmeriCorps program by 50 percent. But, due to budget cuts on Capitol Hill, investment in national service has flatlined since that time. The House of Representatives has even attempted to zero out federal support.
To tackle these challenges, leaders within the national service movement began to search for a modern solution to address both funding and demand. The answer they came to was innovative and simple: National service needs a dynamic, online marketplace to democratize and modernize an antiquated system. To be effective, it must bring each of the key players together: young people seeking service positions, organizations seeking service members, and funders looking to support these efforts.
The marketplace would be open to any 501(c)3 nonprofit, public agency, tribal government, or social enterprise. Potential corps members between the ages of 18-28 and all funders would be able to search through thousands of positions, make donations, and use the power of crowdsourcing to fund new positions. This would be a platform bringing together some of the best aspects of Volunteer Match, LinkedIn, Kickstarter and other socialtechnology applications. Such a system could create a country where a year of fulltime national service is a common expectation and a common opportunity for millions of young Americans.
This vision was laid out at the Aspen Ideas Festival in June 2013. The vision energized attendees and generated significant support for the idea. Since that time, development for the technology platform has begun thanks to generous seed funding from Cisco. The National Conference on Citizenship (NCoC), along with the Franklin Project and the Corporation for National and Community Service (CNCS), are making the platform a reality. This week at the national service summit in Gettysburg, I will preview key aspects of the platform's capabilities and design, showing significant progress since last year's Ideas Festival. However, this critical effort will need organizations, businesses, and state and local governments to create positions, fund them, and reward the people who complete a service year. These are not insignificant challenges.
The technology platform can help our nation realize the transformational potential of national service. But, it will not be a panacea and is only one piece of a larger and complex system. Federal funding for AmeriCorps is essential to support a strong base of programs within the platform, particularly for large-scale, high-impact programs.
The Service Year platform will provide us with a unique opportunity to rally the private sector, higher education, religious institutions, and nonprofits to provide many more service opportunities. It will also democratize service by enabling people to create and crowd-fund positions. The national government needs to do its part by increasing AmeriCorp-funded positions. When each sector works together, we will ensure that the most common question young Americans ask each other in the near future is, "Where will you do your service year?"
This post is part of a series produced by The Huffington Post and The Franklin Project at the Aspen Institute to recognize the power of national service, in conjunction with the latter's Summit At Gettysburg (June 4-6, 2014, Gettysburg, Pennsylvania). The Franklin Project is a policy program at the Aspen Institute working to create a 21st century national service system that challenges all young people to give at least one year of full-time service to their country. To see all the posts in this series, read here. To learn more about The Franklin Project, read here.
REAL LIFE. REAL NEWS. REAL VOICES.
Help us tell more of the stories that matter from voices that too often remain unheard.