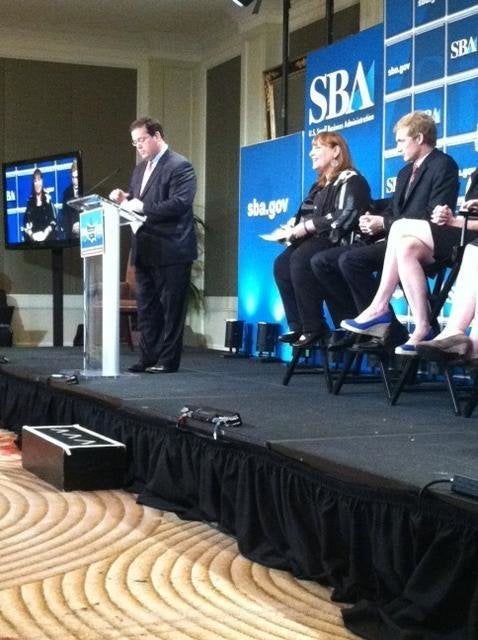 Every year since 1963, when President John F. Kennedy first made it official, the Small Business Administration has saluted the nation's top business owners during National Small Business Week, usually held in Washington D.C. each May.
Many of the attendees, including the state winners of the SBA's Small Business Person of the Year, come to not only celebrate small business, but to learn. I had the pleasure of sitting on a panel on how best to utilize social media, and the business owners who attended were full of smart questions. But I didn't just attend Small Business Week to teach; I, too, came to learn. Here are five things I picked up at the annual gathering:
According to the SBA, the need for business loans has shifted. "Three years ago, small-business owners needed to borrow money to survive -- now they need it to buy equipment, hire staff, and grow their businesses." SBA Administrator Karen Mills said, noting that the SBA has guaranteed $30 billion in loans to small businesses, a record-setting amount.
Traditionally, it's nearly impossible for most startups to access capital. To help new companies that fall in the so-called "Valley of Death" funding gap (those that are seeking financing in the $1 to $4 million range), the SBA instituted an Early Stage SBIC Initiative, which commits as much as $1 billion "in SBA guaranteed leverage" (meaning it will encourage private sector investment) over a five-year period to "selected early stage venture funds."
The news from the federal contracting front was even more dramatic -- since fiscal year 2009, almost $300 billion in federal prime contracts and more than $200 billion worth of subcontracts were awarded to small businesses by federal agencies.
2. Multitasking tools are key.
There were plenty of marketers at the event, showing off their latest products and services for small business. Some were pretty impressive. Obviously, most small businesses run lean and mean and are dependent on technology to maintain staff productivity. One problem many businesses are facing, according to a survey from Sage, is that they are dependent on several different disconnected apps to get work done, which slows them down. The company just launched Sage One, a SaaS service that joins tasks like money management, invoicing, project tracking, task assignments, messaging and reporting together in a single Web-based app.
This seems best suited for service businesses and virtual companies. You can sign up for a 30-day free trial, followed by a $1 a month subscription fee for three month. Regular pricing is $29 a month.
3. The forecast calls for clouds.
Speaking of marketers, many are now offering small business cloud solutions. Greg Wartes, the director of marketing for RoseBud Technologies, a software services company, told me the primary objection entrepreneurs have to embracing the cloud is a fear of security. But, Wartes says, once entrepreneurs see the benefits the cloud offers, it is "easy to get past that." And many business owners don't realize they're likely already using cloud-based services.
When you work in the cloud, you can access your information from anywhere on any computer. I had been concerned that I wouldn't be able to work during my upcoming trip to India, but Wartes showed me how switching to Office 365 will enable me to check email, and most important for me, access my Word documents (yes, I'm a Microsoft user).
For businesses bigger than mine Office 365 also offers email addresses with your own domain name, instant messaging, video conferencing and Web access to all Office programs such as Word, Excel and PowerPoint, all starting at $6 per month per employee.
4. It's time to sell abroad.
One of the SBA's key focuses has been helping American businesses export their products and services. The National Export Initiative was launched in March 2010 with the goal of doubling U.S. exports by 2014. We're already off to a good start -- in 2011, U.S. exports hit a record-setting $2.11 trillion, up from $1.5 trillion in 2009.
5. Determine your brand reach.
With the proliferation of social media platforms and search engines, it's more important than ever to know your brand reach. But it would take the better part of a day to monitor your social media and online presence. Brandify takes the pain out of that monitoring process. Launched by a team at Microsoft in March, Brandify measures your activity on Facebook, Twitter, LinkedIn, Foursquare, Bing, Google, Yahoo and Yelp and gives you score between 450 and 850.
Brandify not only shows you what's going on with you online, it suggests actions you can take to raise your score, and provides insights about where your website ranks on the search engines, your social media activity and your website.
Brandify's creators plan to add new features and envision it as a "small business ecosystem." They say customers are checking in several times a day to see their scores.
The service is educational, free, and, I must admit, kind of fun.
Calling all HuffPost superfans!
Sign up for membership to become a founding member and help shape HuffPost's next chapter