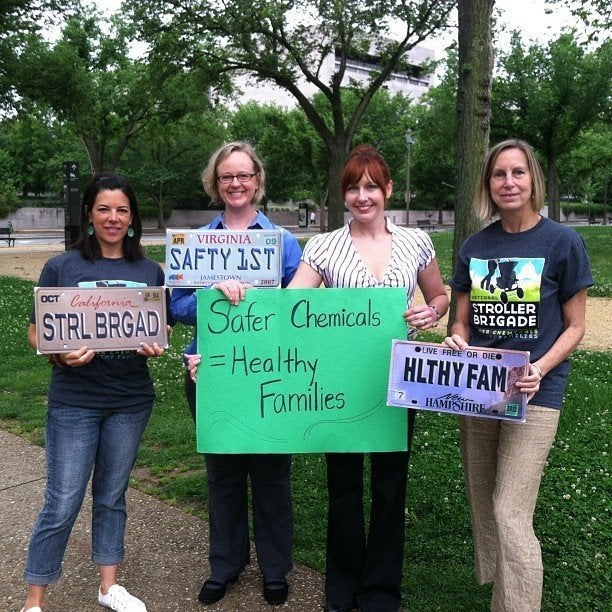 Christine Nienstedt is a fairly typical mom. Her time is stretched thin between work and her kids' soccer games -- and navigating the array of toxic chemicals that fill her family's world.
"I do my best, but it's just not easy to know which mattress to buy, or how far from flame retardants you can get, or what food wrapped in plastic packaging is okay," she said.
The swap would essentially shift the burden of proof for chemical safety from the current assumption that a chemical is safe until proven toxic -- generally after it has already spent years on the market -- to a requirement for industry to prove that a chemical is safe prior to placing it on store shelves.
"To me, the idea of testing chemicals before they are allowed to be used is common sense. We should have had that in place decades ago," Nienstedt said.
Evidence has been mounting that exposure to environmental chemicals, particularly while in the womb and during early childhood, can lead to health problems throughout life -- possibly even into future generations.
Just this Monday, a study was published suggesting that nearly a quarter of U.S. teens now have diabetes or pre-diabetes. That's up from 9 percent a decade ago. While there might be other possible contributions to the rise, recent research hints at the potential role of exposures to bisphenol-A and phthalates.
Autism, cancer, obesity and asthma are also on the list of conditions thought to be both increasingly common among children and associated with kids touching, eating or breathing toxic chemicals.
The new act, introduced by Sen. Frank R. Lautenberg (D-N.J.) in April 2011, would regulate both new chemicals coming on to the market as well as the existing inventory of chemicals. The U.S. Environmental Protection Agency would be tasked with first addressing chemicals already suspected to be toxic and those that are particularly pervasive, regardless of what's known about them to date.
"The stroller brigade is carrying an important message to Congress that we're not going to stand by and let our kids continue to be exposed to chemicals that make them sick," Lautenberg, chairman of the Senate Subcommittee on Superfund, Toxics and Environmental Health, said in a statement. "Concerned moms are the best weapons we have in this fight. With their help, I will keep advancing the Safe Chemicals Act to reform our broken toxic chemical laws and provide a healthier future for our families."
Representatives of industry, however, don't think that Lautenberg's proposal is the best means to modernize the country's regulation of chemicals. "We will continue to work with both Democrats and Republicans in Congress to create a feasible science-based solution that will give consumers confidence that chemicals are being used safely and foster innovation and job creation in the U.S.," the American Chemistry Council, a lobbying group, said in a statement in response to Tuesday's event.
Receiving perhaps the most attention lately are flame retardants. Over the last couple of weeks, the Chicago Tribune has exposed the deceptive campaigns of Big Tobacco and chemical manufacturers that led to the proliferation of this known carcinogen in couches, chairs, nursing pillows and strollers, among other products. In a recent study, toxic flame retardants were found in 80 percent of tested products for babies and children. The most common: chlorinated Tris, which was actually banned from children's pajamas in the 1970s due to toxicity concerns.
"Somehow chemicals phased out of kid's pajamas wound their way into everything else that we hold up close to baby," Andy Igrejas, director of Safer Chemicals, Healthy Families, told The Huffington Post.
"The current system amounts to an honor system," Igrejas said. "Chemicals get on the market without any health or safety data. And once on the market it can be used for anything, even without disclosing that chemical's presence in a product.
"Bottom line, there can be no honor system when we've shown companies have no honor," he added.
The U.S. Centers for Disease Control and Prevention has found traces of 212 industrial chemicals in the blood and urine of Americans. Several of these chemicals are known to cause cancer, birth defects and other health problems.
Children's health advocates fear that this is just the tip of the iceberg, given that only 200 of the 80,000 chemicals available for industry use have been tested for any toxic threats. Tracey Woodruff, a reproductive health expert at the University of California, San Francisco, said she thinks the chemical industry should have the same kinds of laws as the pharmaceutical industry when it comes to toxic chemicals. "We don't think it's strange to ask for the safety information of a drug before it's prescribed," she said.
"We want to tell Congress to stop waiting to protect children from toxic chemical exposures," added Maureen Swanson, a mom from Pittsburgh who participated in the brigade and directs the Healthy Children Project for the Learning Disabilities Association of America. "We've waited too long already."
With her second child, Mariah, she says that she is much more conscious of possible exposures. "I don't use plastics in cooking and I buy locally grown and organic produce, to the extent that I can," she said.
But like Nienstedt, Swanson said she is frustrated by the lack of information, and therefore control, over exposures. "Labels don't tell you what chemicals are in a product," she said. "Furniture that has flame retardants is almost impossible to avoid."
The proposed law would also make this information more transparent for consumers.
"Parents take a lot of responsibility for keeping their kids safe," Swanson said. "But we can't do it alone."
Related
Popular in the Community