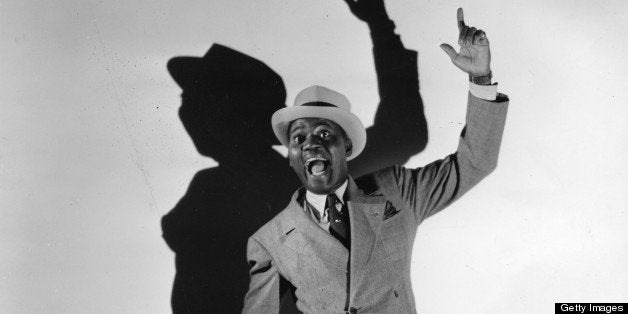 Happy Birthday, Bojangles! This year's National Tap Dance Day on May 25 celebrates the 135th birthday of Bill "Bojangles" Robinson (1878-1949), the most famous and beloved tap dancer in the first half of the twentieth century whose style of dancing upright and swinging, with light and exacting footwork, brought tap "up on its toes" from an earlier flat-footed shuffling style. If Robinson were alive today -- not so outrageous a notion, given that the staunch professional who neither smoked nor drank could run backward faster than most men could go forward -- and was asked about the present state of tap dance, he'd reply with twinkling eyes and an infectious smile that "Everything's Copasetic," his expression for okay, tip-top, totally cool.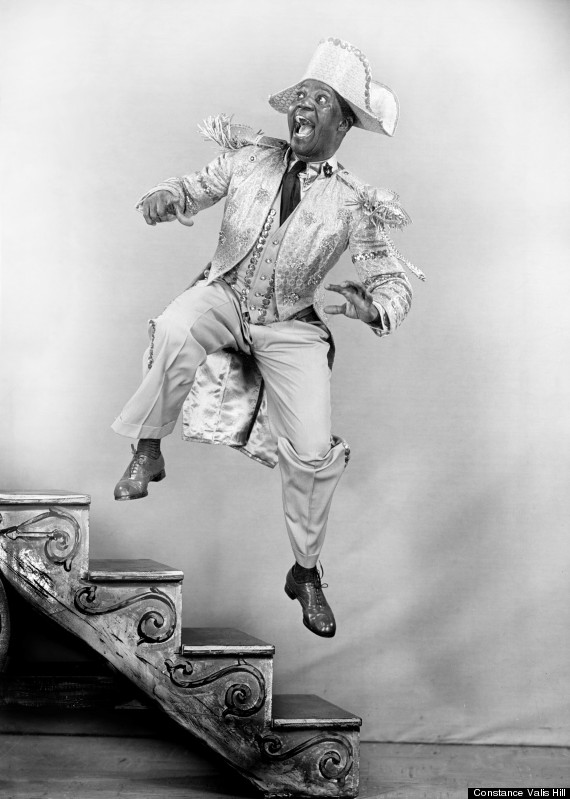 Twenty-four years since the passage of the U.S. Joint Resolution declaring May 25 to be "National Tap Dance Day," tap dance is regarded as a national treasure, a veritable American vernacular dance form celebrated annually in big cities and small towns in every state of the country with performances, classes, tap jams, and tributes galore.
New York City's been celebrating National Tap Dance Day all month long. On May 11, at fifth annual Tap Extravaganza-Queens at Flushing Town Hall, organized by jazz woman Cobi Narita, there were two-plus hours of performances by New York's most cutting-edge dancers, and with Michela Marino Lerman and Dormeshia Sumbry Edwards honored with the Florence Mills Award; Jason Samuels Smith and Omar Edwards with the Bill "Bojangles" Robinson Award; and Tony Waag, director of the American Tap Dance Foundation, with the Charles "Honi" Coles Award.
On May 17, the legendary tap dancer James "Buster" Brown (1913-2013) would have been 100 years of age. On his centennial weekend, tap dancers across the country gathered in New York City to participate in the Dr. James Buster Brown Centennial Celebration, three days of tap classes, jams performances, films, and panel discussions sharing "Buster stories," and culminating with a bringing-it-home party at Swing 46, the site of the famous Buster Brown Tap Jams, where so many young dancers were initiated into the tap family.
Buster Brown's achievements are legendary. As the only dancer to be a member of both the famed Copasetics and Hoofers tap fraternities, he was one of the nine "Doctors of Dance" to be honored by Oklahoma City University with an honorary doctorate. Brown starred in Broadway shows Bubbling Brown Sugar and Black and Blue, and appeared in the movie Cotton Club, starring Gregory and Maurice Hines. He was also featured soloist in tours with famed big bands led by Cab Calloway, Count Basie, Dizzy Gillespie, Jimmie Lunceford, and his personal favorite, Duke Ellington, for whom he danced "And David Danced Before the Lord" in Ellington's classic Concert of Sacred Music.
On Saturday, May 25, the twenty-third-annual New York City Tap Extravaganza at Norman Thomas High School in Manhattan promises an event that often pushes to three hours of performances, with tap producer Susan Goldbetter, tap dancer and writer Jacqui Malone, and Paul Ash, owner of Sam Ash Music and generous godfather to the tap community, will receive the prestigious Flo-Bert Lifetime Achievement Award (an abbreviation combining the names of 1920s musical artists Florence Mills and Bert Williams).
On Sunday, May 26, at the Producer's Club Grand Theater (at 348 West 44th Street in New York City), the 16mm feature film Milt & Honi (1985) documenting the life-long friendship between two American jazz giants-- bass player Milt Hinton and tap dancer Charles "Honi" Coles-- will be screened. Directed by Louise Tiranoff and narrated by Gregory Hines, the film shows the men touring with Cab Calloway and his big band and recalls the roots of jazz and the beginning of bebop. Behind the scenes in musical rehearsals they are joined by tap dancer and choreographer Brenda Bufalino, with Mickey Tucker on piano and Bobby Rosengarden on drums. Rare footage includes photos taken by Hinton throughout his long career of his fellow musicians in recording sessions and travelling from town to town celebrating the magic of jazz and tap.
Tap Awards Aplenty

Thankfully, May is not the only month to be kind to tap dancers and to acknowledge tap as the most cutting-edge dance form on the American stage. Bill Robinson's eyes would twinkle to see that the years 2012 and 2013 have a number of tap artists into the fabric of mainstream culture.
Last October, Dormeshia Sumbry Edwards received the New York dance and performance Bessie Award for Sustained Achievement in Performance. "She can, with grace and eloquence, both fiercely attack and tenderly caress each of Charlie Parker's notes," wrote the Bessie Committee, citing her performance in Jason Samuels Smith's Chasing the Bird at the Joyce Theater in July of 2012.
Last December, tap legend Dianne Walker was honored with the Dance Magazine Award that acknowledged not only a lifetime of teaching and mentoring but the grace, aplomb, cool precision, and supreme musicality of her dancing that has forwarded a more sensuous and feminized translation of rhythm tap.
On June 15, the enormously talented Michelle Dorrance will receive the seventh annual Jacob's Pillow Dance Award for the inventiveness, virtuosity and musicality of her tap choreography. The award carries with it a $25,000 cash prize which, says Dorrance, "will give me the freedom to collaborate with artists who inspire new directions in my work."
On July 9 at Lincoln Center's Bruno Walter Theater, the American Tap Dance Foundation in its twelfth-annual New York City Tap Festival will inaugurate the late rhythm tap dancer Dr. James Buster Brown, and the late classical tap dancer Paul Draper into its International Tap Dance Hall of Fame. Rhythm tap dancer, choreographer and master teacher Barbara Duffy, and the 82-year old classical tap dancer Dean Diggans, will receive the Hoofers Award; and the late tap film historian Ernie Smith and writer and historian Sally Sommer will receive the Tap Preservations Award.
Embracing Tradition, Forging Change

Tap dancers take deepest into their hearts the revering of old souls, perhaps because as a cultural form more than a dance practice, tap eternally binds dancers into a family that looks back as it looks ahead, embracing tradition while forging change. The elders are revered and always respected. It is not only the singular figures of a James Buster Brown or Charles Honi Coles that have been honored of late, but also tap's longstanding traditions that have been embraced and enhanced by contemporary artists.
Johnnie Hobbs III's short film Nostalgia (2012), set in Swing-era Depression of the 1930s, moves tap from the genre of documentary to dramatic narrative. Starring choreographer and film actor Johnny Hobbs Jr. and Dulé Hill, the Emmy-nominated star of The West Wing and Psych, who launched his career as a tap dancer on Broadway in Bring in 'da Noise, Bring in 'da Funk, the film tells the story of a living legend Gabe Robinson, Sr. (Hobbs Jr.) as he struggles to hold onto his music and his dearly departed muse and wife Helen Robinson despite the fervent opposition of his loving son (Hill). Punctuated by vivid musical memories (Jason Samuels Smith plays young Hobbs Jr. and Chloe Arnold, wife Helen), the aging tap dancer recalls the glorious and regretful life he lived both onstage and off, with a message not about dreams deferred, but dreams derailed. In recalling tap's long tradition of honoring its elders, Hobbs says that he wanted "to pay homage to the older tap dancers and their children that may take care of them, to show they had and still have a place in history and a story to tell. I want to show [that] it's sometimes not all about the dancing. That they are human and sometimes that means dealing with forgiveness and regret."
Sometimes the honoring of tap's history is not about the dancers but the landmarks. If you catch the tap-dancing floor show of the Sophisticated Ladies at Monday night's Swing Set at the Cotton Club on 125th Street in Harlem, don't expect a replication of the "Tall, Tan, and Terrific" Girls who, in skimpy feathered gowns, swished you into delirium at the uptown Cotton Club in the 1920s-- often backing up Bill Robinson in many of his stage shows there. True, these Ladies directed by Dormeshia Sumbry Edwards are cool and sassy as they dance to the insistent rhythms of jazz, but they are not selling nostalgia. They are some of the best hoofing femmes in town, dancing hard and fast and spitting out wickedly ferocious rhythms in their two-inch high-heeled tap shoes.
While the Sophisticated Ladies brings to mind the controversy over whether this new young breed of women dancers, showing thigh and wearing their sexuality as a badge of honor, are selling out -- jettisoning the female dancer back to the Depression 30s and Busby Berkeley Gold Diggers musicals that designed female bodies as topographies for the gaze--they make it clear that their dancing is an act of empowerment. As Jason Samuels Smith has commented, "There's power in the heels. It's the one thing the man can't do. All you see is thigh, and thigh, and thigh. They can do everything I can do, only in heels."
Jackie Pare's newly-released tap documentary Tap or Die (2013) soberly reminds us that despite the superb critical press tap has received of late, tap's artistic tradition will never be separated from its long history of hardship -- of exclusion from the mainstream and the perennial handicap of critics ignorant of tap's history and its nuances-- its integrity, its political and social dimensions, and its spirituality. The film follows Derick K. Grant, acclaimed tap dancer and choreographer who came to prominence in 1996 as an original company member and dance captain in the George C. Wolfe-directed Broadway musical Bring in Da Noise, Bring in Da Funk, in which he recreated Savion Glover's choreography and starred in the role of 'Da Beat for the first National Tour. It is 2011 and Grant and co-director Aaron Tolson are holding auditions for Imagine Tap!, the musical they co-directed that ran for four weeks in 2006 at Chicago's Harris Theater and which they now want to bring to Broadway.
That they are unable to succeed, given the painful legacy of racism the film underlines and the pitfalls of commerce that are tripping them up, make less of an impression than the dancers in the film who are determined to continue to tap -- or die trying. Tap or Die is a non-apologetic tirade of sorts that needs to be listened to, lest we forget the ingrained resistance to the form, but more captivating is Pare's capturing of the virtuosity of the art form itself-- from the sheer speed of footwork in the opening to the jolting variety of rhythmic phrases to come from the toes and heels. While Imagine Tap! may never make it to Broadway, Tap or Die comes as close as it gets to preserving the most unusual and entertaining of concepts for a musical to come along in decades. In the end, it's not really about winning or losing, Grant claims, but "to be proactive about changing the game."
Tap International
In 1997 the late Terry Monaghan, in his program notes to the tap concert Afro-Celtic Connections, wrote that the "recent growth of awareness of diverse world cultures has begun to reverse the cultural nationalisms that have dominated of the past century." In the new millennium, the musical and cultural mix in tap dance that resulted from an explosion of global cultural consciousness has materialized. The Germans, Brazilians, Japanese, French, and Estonians are tapping," Tony Waag exclaims about tap's multicultural mix of the past two decades.
If there any one dancer exemplifies tap's multicultural mix it is Max Pollack, dancer, musician, choreographer, and one of the first to merge authentic Afro-Cuban music and dance with American rhythm tap and body music for his company Rhumba Tap. "In some ways, Max is the poster child for the globalization of tap dance," says dance critic Brian Siebert inTap or Die. "You have this Austrian guy who is interested in Broadway a little bit, and then jazz, and then finds tap dancing and has an epiphany moment of, 'Oh, I can play jazz with my feet!"
"What's he's using together," explains Michelle Dorrance about Pollack, "is using Afro-Cuban folkloric dance, maintaining the pulse of the clave with some body part, whether the hands or the feet, and then playing maybe a cascada rhythm on top of that, with another part of the body, or feet, and simultaneously doing the actual form of the dance, which would never be done all at once, that would take sixteen people to do." Rhumba Tap's latest works include Sakura (2012), for four vocalists (singing a capella) and five dancers, an arrangement of a Japanese folksong combined with sacred Afro-Cuban rhythms (honoring the ancestors) and dedicated to the victims of the 2011 Tsunami in Japan; and El Guararey de Pastora (2012), an old Cuban changui of the 1930s that was conceived and arranged by Pollack for ten dancers/vocalists, with bongo accompaniment.
That Pollack is one of tap dance's ambassadors, being the first to organize a tap festival in Cuba, forwards him as an artist activist. On April 27, he organized the Magnolia March at New York City's Lincoln Center, a New Orleans-style funeral procession--complete with a brass-and-drum corps and second-line steppers-- to mourn victims of violence.
East Indian director Hoku Uchiyama's newly-released film Upaj: Improvise! (2013) furthers the cross-cultural theme by taking us behind the scenes to witness the birth of India Jazz Suite, the 2005 collaboration of the sixty-two-year-old foremost East Indian kathak guru Chitresh Das and the twenty-six-year-old rhythm-tap dancer Jason Samuels Smith, that continues to tour throughout the world to stand-up audiences. The work seeks not to fuse East and West but instead to present an interactive conversation between the two forms. Their collaboration, in which each performs with his own native musicians, showcasing each form conscientiously while highlighting its likeness to the other, is based on one share quality: footwork. Uchiyama's documentary is noteworthy: for the first time in history Indian classical art is brought to the world's largest mainstream market, through its brotherhood with tap.
Embracing Jazz Traditions
Mark Wilkinson's soon-to-be-released documentary film Jazz Tap Dancing addresses the most substantive progression in tap performance, the embracing of jazz musical traditions by rhythm tap dancers.
The past year has seen tap dancer Jared Grimes collaborating with Lincoln Center Jazz Orchestra director Winton Marsalis; Ali Bradley performing with pianists Orin Evans and Geri Allen; and Maurice Chestnut as a band member of jazz pianist Geri Allen's ensemble. Jason Samuels Smith has sustained a longtime collaboration with Theo Hill on Charlie's Angels, a tribute to Charlie "The Bird" Parker," its latest incarnation at the Joyce Theater last July; and tap dancer Joseph Wiggan, a longtime performer with Cirque de Soleil, enrolled in New York's New School, majoring in jazz as tap dancer, vocalist, and saxophonist.
Jazz tap dancer Michela Marino Lerman, who is on the forefront of the downtown New York jazz scene, has performed with jazz saxophonist Marcus Strickland; bassists Joe Sanders and Ben Williams; drummers E.J. Strickland, Justin Brown, and Marcus Gilmore; and trumpeter Roy Hargrove, as well as working steadily with pianist Theo Hill and Trio at her weekly tap jams at the historic Smalls Jazz Club in downtown Greenwich Village, where Jazz Tap Dancing is set. There, young dancers of all nationalities have the privilege of sitting in with the jazz ensemble, given two and three choruses to improvise.
Jazz Tap Dancing promises to be the only documentary with a specific focus on jazz tap, music and dance, offering us a glimpse into how tap dancers work with jazz musicians. "Tap dancers are musicians," explains pianist Theo Hill, as the feet of Michela Marino Lerman type out the intro to a jazz standard. "What makes jazz great is the conversative element, it's about the quality of the conversation, not necessarily what one person does," says Hill, as Cartier Williams explains, "I start out with the piano player, and try to figure out, where is he going to take me."
Listening, having big ears, is the key element in the exchange. "I'm a listener when it comes to working with other musicians," says Brinae Ali, "and I am trying to feel the vibe and negociate what we are going to do in the space." Marino Lerman explicates further: "You have to consciously have your ear open to everybody, know how to fit into the song, know the form of the song, not just dance in front of the band but become part of the band," adding, "We literally play back the rhythms to each other, and then put a spin on it." Says Francis Nielah Bradley: "I may like something the bass is doing and then I'll say, 'hold off' piano, let me hear what the bass for a minute,' and that's because I may want to play around a little more in space with the music. It's all improv, so it's very spontaneous."
What is astonishing about the respect and sonic intelligence of these dancers is that they are not of the era of their swing-to-bop masters -- Honi Coles, James Buster Brown, Leon Collins. All these dancers are under the age of thirty, and yet they take the tradition so seriously. "All of us who are students of the music feel an obligation, feel we are apart of history," says Hill, to innovate and expose people to this history. It is America's true art form." And Marino-Lerman adds, "It's in us now, and if we don't do our job, where is this art form going to go? It's our job to keep this alive and thriving."
Happy National Tap Dance Day and Happy Birthday, Bill Robinson, everything indeed is copasetic!
Related
Popular in the Community