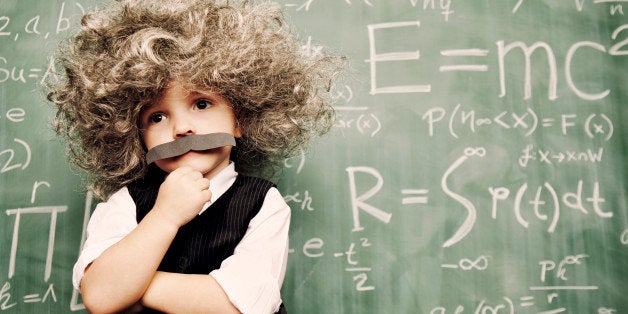 In math, 27 percent of eighth graders were found proficient, up from 13 percent in 1990. In reading, 32 percent of eighth graders were proficient, up from 26 percent in 1992. U.S. Secretary of Education Arne Duncan called the results "absolutely encouraging."
"We're not seeing yet the transformational change nationwide, but we are seeing meaningful but generally modest progress," Duncan said.
The National Assessment of Educational Progress tests are given to a nationally representative sample of American students in public and private schools by the U.S. Education Department's research arm. The test is trusted by even the most hardened critics of standardized testing, because the stakes are low and the parameters are set by outside statisticians who don't have a financial or political interest in showing higher scores. National Assessment of Educational Progress tested 377,000 fourth graders and 342,000 eighth graders in early 2013.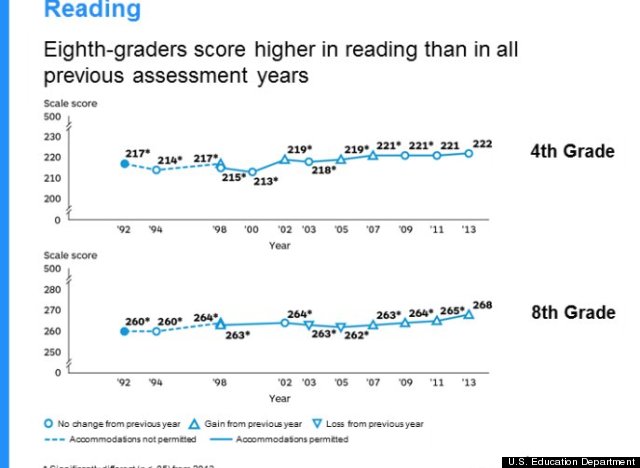 Math performance has been steadily climbing. Out of a possible 500 points, fourth graders, on average, scored 242, up from 241 in 2011 and 213 in 1990. Eighth graders netted 285, up from 284 in 2011 and 263 in 1990. At both grades, higher percentages performed at advanced, the highest level, than in 2011 or 1990. Washington, D.C., Tennessee, Hawaii and Department of Defense schools saw increases in both grades in math since 2011. Eighth graders in Montana, Oklahoma and South Dakota showed slight declines in math.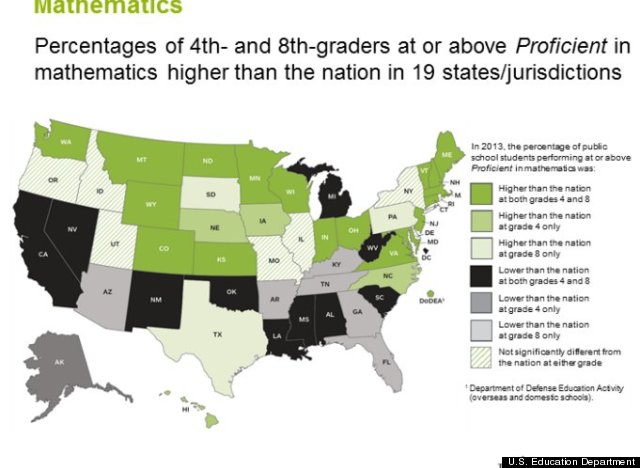 Reading instruction has been tougher to improve, some theorize, because literacy depends more on life at home than math. Over time, scores on reading exams have barely increased. Fourth graders, on average, scored 222 in 2013, up from 221 in 2011 -- a statistically insignificant increase -- and 217 in 1992. Eighth graders averaged 268, up from 265 in 2011 and 260 in 1992. A higher percentage of students is performing in the top two categories -- proficient and advanced -- than in previous years. Northern states outperformed Southern peers. Only Washington, Iowa, Tennessee, Washington, D.C., and the Department of Defense schools saw increases at both grade levels.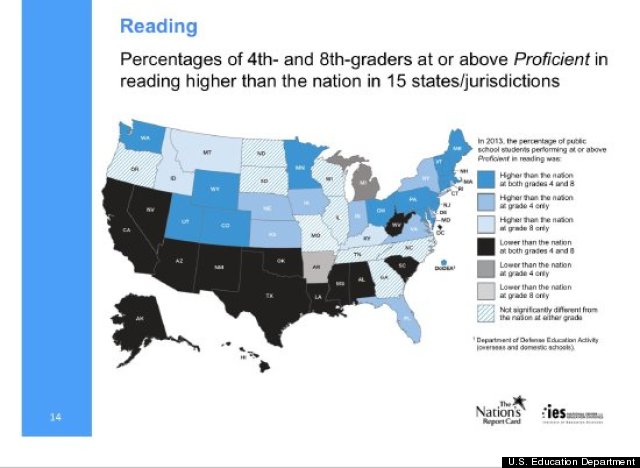 Regionally, higher-performing states were concentrated in the North, creating a stark divide on the map. "The whole southern tier of the United States is in black in reading," said Mark Schneider, a vice president of the American Institutes of Research who previously oversaw the National Assessment of Educational Progress. "I don't know to what extent it's driven by Hispanic immigration, but it's a pretty scary map."
Duncan used the results to make a case for his administration's brand of education reform, which has used tools such as the Race to the Top competition and conditional waivers from No Child Left Behind to encourage charter schools, Common Core learning standards and links between teacher evaluations and students' standardized test scores.
"All eight states that have implemented the state-designed higher standards at the time of the 2013 NAEP assessment showed improvement in at least one of the reading or math assessments between 2009 and 2013," Duncan said.
Duncan on Thursday plans to appear with D.C. school officials and to hold a phone conference with reporters and Tennessee Gov. Bill Haslam (R). Tennessee was the first state to win Race to the Top, and both school systems have dramatically altered teacher evaluations and tenure since 2009. Duncan said he wanted to highlight the "controversial, hard work" on raising standards and "a laser-like focus on teacher effectiveness." That work, he said, "has shown some pretty remarkable dividends."
Still, Schneider noted that D.C. results show the city "is still not a very successful state."
Statisticians caution policymakers from reading too much into the scores. "NAEP is very good at telling us where we stand," said Jack Buckley, commissioner of the Education Department's research arm. "But it is a study that is not very well-designed to tell us why." In places like D.C. and Tennessee, where there were larger gains, "it just shows that some good things happened in those states," he said.
Matthew Di Carlo, a senior fellow at the Shanker Institute, a think tank affiliated with the American Federation of Teachers union, said the test isn't a valid measure of the effects of policy preferences on school performance. He said the test "is a measure of student performance, not school or policy effectiveness, and this valuable information is too often lost in a barrage of advocacy and unwarranted causal inference."
Still, Duncan called for accelerating his reforms. "Even with the modest increases … U.S. students are still well behind their peers in top performing countries," Duncan said. "If American students are to continue to thrive … our schools must continue to accelerate the progress of the past four years and we all must work harder to narrow America's large achievement gaps."
In fourth-grade math, the black-white score gap has narrowed since 1990, but not since 2011. The Hispanic-white gap has remained unchanged.
In eighth-grade math, black-white and Hispanic-white score gaps haven't budged. At both grade levels in math, the male-female gap hasn't changed.
In fourth-grade reading, the black-white score gap has narrowed since 1992, but not since 2011. The Hispanic-white gap hasn't changed. In eighth grade, the black-white score gap hasn't narrowed. The Hispanic-white gap decreased from 1992, but not from 2011.
Calling all HuffPost superfans!
Sign up for membership to become a founding member and help shape HuffPost's next chapter
BEFORE YOU GO
PHOTO GALLERY
U.S. Capitol Photos