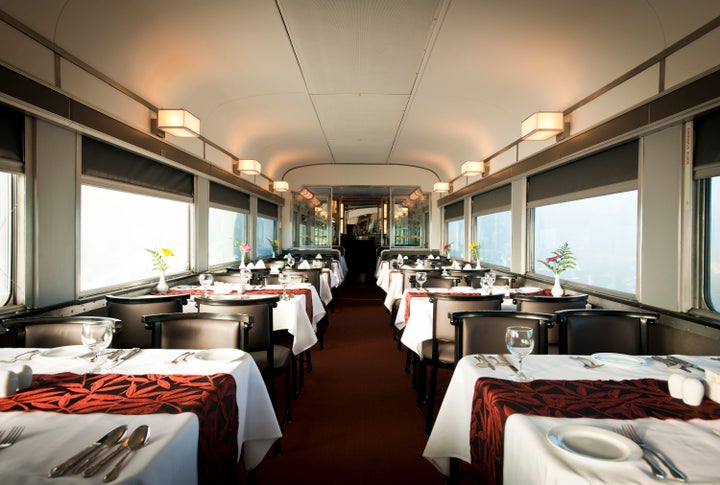 A fresh-tossed Caesar salad with red pepper, goat cheese and chicken; spice seared salmon topped with tropical fruit salsa; and slow-braised short ribs with pasilla peppers are probably not the first things that come to mind when thinking of Amtrak. Why would they be, when many travelers have been conditioned by less than stellar airline food to accept limp biscuits and wet meats while en route?
U.S. and Canadian railways are looking to change this by upping the ante in their long-distance dining cars.
To keep its menus fresh, Amtrak consults its Culinary Advisory Board, a kitchen brain-trust of sorts, that includes Amtrak's own chefs as well as industry big wigs. At a demo in New York's Union Square highlighting the progress on Amtrak's new dining car and dishes, the line's Executive Chef Daniel Malzhan and Director of Food and Beverage Services Gary Gunderson shared what goes into menu creation.
"Most of the ideation comes from the Culinary Advisory Board," Gunderson told HuffPost Travel. "We use that as a forum to decide what's trendy and regionally popular to keep our menu current."
At the test kitchen in Wilmington, Delaware, Amtrak's culinary team comes together for an annual workshop, Malzhan explained. After breaking into groups, each is tasked with creating items that fit a certain menu profile: healthy dishes, vegetarian dishes, seafood dishes, etc. The chefs prepare mock-ups of the various meals, trying to get the best flavors into dishes that are also executable in the tiny train galley.
"I think the biggest difference between train food and airline food is that we actually cook to order," says Malzhan, who once developed menus for Delta. "We are the original meals on wheels."
Certain elements must be brought onto the train prepared, but unlike on a plane where the food is prepackaged then nuked, there's an actual Amtrak chef tossing salads and preparing steaks for train riders.
To the north, VIA Rail Canada, the country's version of Amtrak, has completely revamped the dining car menu on its cross-country Canadian line.
"Our menu had been the same for a few years," says Chef Martin Gemme, who is in charge of planning services on the long-haul trains. "We wanted to update it with the newest trends in the food and restaurant business, and recenter it to Canadian products."
That's no small order considering the Canadian's menu changes for every meal and never repeats itself.
To do that, VIA took a unique approach, rallying the internal talent in a contest called the Menu Creation Challenge. All of VIA's chefs were invited to submit a recipe, and the top eight submissions earned a spot in the challenge in Winnipeg. After a two-day work shop, the team came up with 78 new menu items inspired by the regions and products of Canada.
Some of the items that came out of the challenge include: cheesecake-stuffed french toast with red berry compote; Canadian pickerel roasted in horseradish and panko breading with ravigote sauce; honey- and soy-glazed duck breast with gastrique blackberry; and red wine roasted beef ravioli and root vegetables sautéed with bacon vanilla sauce.
The recipes can be found here. The new menu will be available mid-June.