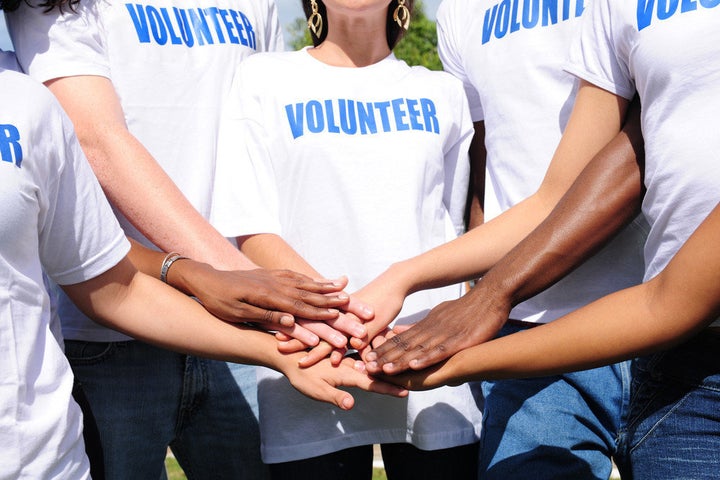 I'm willing to bet that while many people know that February is Black History Month and March is Women's History Month, not many people know that April is National Volunteer Month. I, for one, think that's too bad. While undoubtedly, the time we spend reflecting in February and March is of crucial importance, it is equally important that we honor the people who dedicate themselves to taking action and solving problems in our communities.
One of the greatest aspects of volunteerism is that there are so many different ways to do it, and sometimes, we volunteer without even making conscious recognition of it -- for example, helping out at church or coaching your child in soccer. Sometimes we can only fit in one day and we serve food at the local soup kitchen or clean up the local park. These acts all deserve to be applauded, and as the leader of an education organization that cannot do its work without them, I say thank you to every one of those 64 million people who are giving back to their community in their own way.
National Volunteer Month also provides a great opportunity to reflect on how much volunteerism has changed since President Nixon created the first National Volunteer Week in 1974.
• Since 1989, the number of people who volunteer has increased by 60 percent.
• Older Americans from the Baby Boom generation are 40 percent more likely to volunteer than the same age groups were in 1989.
Not only has the amount of volunteerism increased, but the impact of volunteerism is increasing as well. As corporations encourage their employees to engage in meaningful volunteer activities, long-term, skills-based volunteerism is becoming more popular. According to Deloitte, nearly two-thirds of Generation Y employees would like to use their business skills in their volunteer efforts.
That's why Deloitte itself calls skills-based volunteerism the "heart" of their community involvement efforts. And they are not alone. By attending a conference on volunteerism or even conducting a quick surf on the net, you'll see that corporations across the country are recognizing the power of providing their employees with opportunities to do what they love and do well in a volunteer capacity.
When done right (see my previous post here), the power of skills-based volunteerism is unparalleled. I'm lucky enough to see it play out every day in our public schools through scenarios like this:
•Christine Marchiselli, an executive recruiter at JPMorgan Chase, knows what it takes to impress a prospective employer. She uses the skills she has developed to help students at Leon M. Goldstein High School develop effective resumes and improve their interview skills.
•Jessica Rovello, president and co-founder of major gaming company Arkadium, has helped burgeoning International High School at Union Square develop a brand identity and logo to effectively communicate the school's values and mission to prospective students. They've also developed the school's website.
•Rossana Salaris, a principal at Radix Consulting Corporation, has helped the principal of Central Park East Middle School develop a strategic plan focused on improving instruction, improving technology integration, and developing school branding and messaging. Now she helps him track his progress against the plan.
So as we celebrate National Volunteer Month, let's recognize those who give themselves to help others. Let's motivate others to join the effort. And let's stay focused on how volunteerism can continue to evolve to bring maximum value to our communities.

Related
Popular in the Community