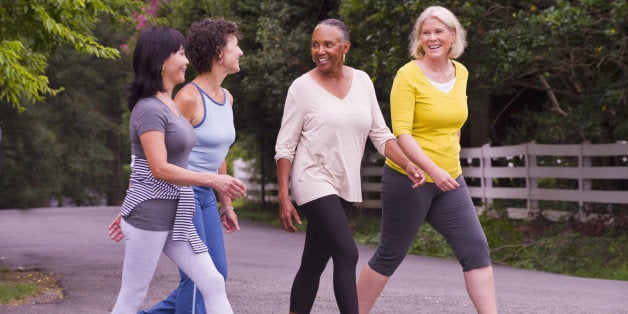 Walking is moving fast these days.
We may think of it as a slow activity, but travel by foot is quickly being recognized as an effective prescription for health, a convenient means of transportation, a great way to meet people, a smart strategy for saving money and a lot of fun.
-- In the coming weeks, U.S. Surgeon General Vivek Murthy will announce a Call to Action urging Americans to walk more, which studies show helps prevent diseases ranging from diabetes and heart disease to depression and dementia.
-- Secretary of Transportation Anthony Foxx recently announced an all-out effort to make walking safer across America. "Bicycling and walking are as important as any other form of transportation," he says, noting how little federal policy has focused on pedestrian and bike safety until now.
-- The federal Centers for Disease Control and Prevention (CDC) set a daily minimum for walking and other forms of physical activity: 30 minutes a day five days a week for adults, and 60 minutes seven days a week for youth.
-- Health care providers are embracing walking as a vital sign of health. Bernard J. Tyson, CEO of the 10-million member health system Kaiser Permanente, advises, "You don't have to be an athlete to be physically active, just walk, walk, walk!"
-- Real Simple magazine extolled walking as "America's untrendiest trend" in a cover story last year. And this spring, the New York Times Magazine devoted its entire issue to walking.
-- Six in 10 Americans now take a walk at least once a week, and 20 million more of us now walk for recreation, transportation and exercise than in 2005, according to the CDC. It's free, relaxing and easy-to-do almost anywhere at any time.
-- And coming up October 28-30 is the second 2nd National Walking Summit, when health professionals, business leaders, government officials and everyday citizens gather in Washington, DC to draft plans for getting more people on their feet and making our communities more walkable. Surgeon General Vivek Murthy will address the Summit.
The Summit features a major address about walking as a right for all Americans by Dr. Robert Bullard, an early champion of the environmental justice movement. Conference participants are invited to "Walk Capitol Hill" for meetings with Congress members about policies to promote walking. Workshops and panels will showcase experts in many fields offering what they've learned from years of successful research, advocating, organizing, lobbying, designing and implementing ideas to make life more safe, convenient and comfortable for everyone on foot.
Other themes at the summit include:
Walkable Communities Advocacy 101 -- Unlike motorists and bicyclists, who are vocal in championing their rights, walkers have been largely silent about what they need for safety and convenience -- until now. Walking advocates are now speaking out about how to improve walking conditions for people on foot in cities, suburbs and small towns.
Vision Zero -- People killed walking across the street (as well bicyclist and motorist fatalities) are often viewed as an unfortunate but inevitable fact of life, just as drunk driving and domestic abuse once were. But those tragedies have declined over the past 30 years thanks to vigorous public education campaigns and more vigilant law enforcement---and the same can happen with traffic fatalities, as has been shown in Sweden where both pedestrian and motorist deaths have declined by half since 2009. The solution: moving toward the goal of zero fatalities by taking practical steps to deter distracted drivers, curb speeders and improve the streets for all people on foot, on bikes and in vehicles.
Healthy Habit -- New scientific research confirms the key role walking plays in fostering good health. A major study from Cambridge University tracking 300,000 people over 12 years found that lack of exercise is twice as deadly as obesity.
Popular in the Community