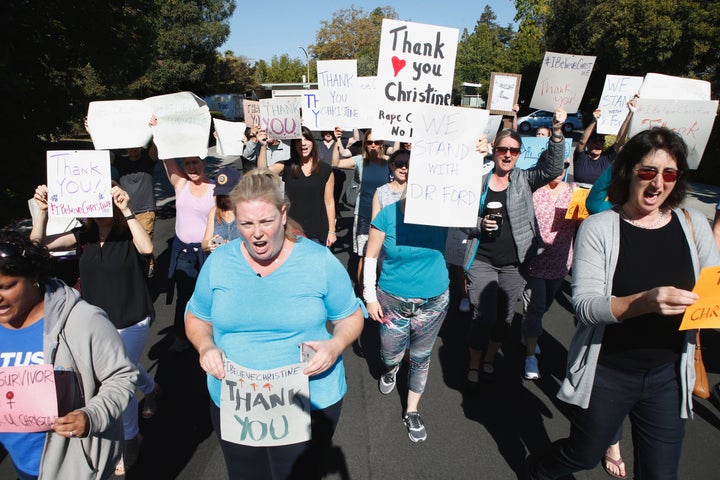 Women's rights organizations are urging people to take part in a national walkout on Monday to show support for the two women who have publicly accused Brett Kavanaugh, President Donald Trump's Supreme Court pick, of sexual assault.
"Survivors must be heard," the anti-sexual harassment organization Time's Up tweeted on Sunday, urging people to take part in the protest.
Groups co-sponsoring the protest, including NARAL, YWCA, Planned Parenthood Action and Women's March, have called on people to wear black and to walk out of their homes, offices or classrooms at that time as a sign of solidarity for Ford and Ramirez.
Ford, a 51-year-old psychology professor, has accused Kavanaugh of sexually assaulting her when they were both teenagers. She claims a "stumbling drunk" Kavanaugh pinned her to a bed, groped her, attempted to take off her clothes and clamped his hand over her mouth to silence her.
On Sunday, Ramirez, a 53-year-old former Yale classmate of Kavanaugh's, went public with her own accusation of sexual misconduct. She told The New Yorker that Kavanaugh exposed himself at a college party and thrust his penis in her face, which she said she inadvertently touched while attempting to push him away.
"Brett was laughing," Ramirez recalled. "I can still see his face, and his hips coming forward, like when you pull up your pants."
The White House has dismissed Ramirez's allegations as being part of a "coordinated smear campaign."
Kavanaugh has categorically denied both accusations.
Several rights groups have called for the suspension of Kavanaugh's confirmation process or the withdrawal of his nomination.
Popular in the Community