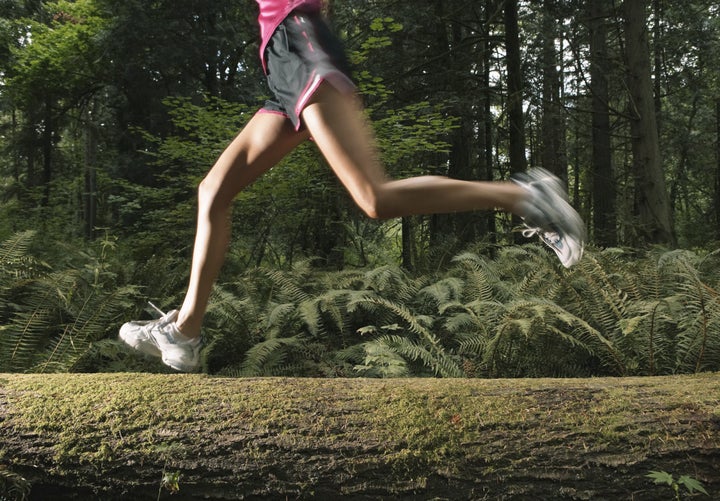 Fifty years ago, President John F. Kennedy ignited Americans with his vision of sending a man to the moon within one decade. Skeptics considered the challenge impossible to achieve until reality intervened. On July 20, 1969, Commander Neil Armstrong stepped outside Apollo 11 and took a small step for himself and a giant leap for mankind.
Here's a suggestion for the next great challenge. Let's aim to get every American fit in one decade. Let's start taking steps daily for ourselves and for each other.
Like putting a man on the moon, creating a national challenge of this order would represent a massive undertaking -- both literally and figuratively. Yet however difficult to achieve, the challenge would reap incalculably wonderful benefits, given that obesity is linked to more than 60 chronic diseases, according to the Campaign to End Obesity.
Addressing the cost of inaction, Dr. Lee Kaplan, chairman of the Campaign to End Obesity Action Fund and director of the Weight Center at Massachusetts General Hospital, says, "Today, taxpayers spend a record $168 billion to treat the direct medical effects of obesity. According to a recent McKinsey study, without reforms, medical spending on obesity-related costs will double again within the next decade."
If all Americans were to become fit in one decade, our collective weight-loss goal would be seven billion pounds.
Here's the math: Two-thirds of Americans -- 200 million people -- are overweight. Half of those people are considered obese. So 100 million citizens need to lose an average of 20 pounds and 100 million more need to lose an average of 50 pounds. Collectively, we'd need to lose seven billion pounds of surplus weight.
This target doesn't take into account the one in three children who are overweight or obese. And the percentage of overweight children is even higher (40 percent) in African-American and Hispanic communities. Because of the worrisome trend toward obesity among children, First Lady Michelle Obama created the Let's Move campaign with the goal of eradicating childhood obesity within a generation.
Dr. Ian Smith's 50 Million Pound Challenge and Makeover Mile
In leading the Let's Move effort, the First Lady is standing on the shoulders of earlier pioneers. Dr. Ian Smith created a national initiative, the 50 Million Pound Challenge, in April 2007. Since then, Dr. Smith and his staff have organized events in more than 50 cities and have helped 1.5 million members lose nearly six million pounds of surplus weight.
Dr. Smith's latest initiative is the Makeover Mile, which kicked off in Houston in March and ended in Chicago on June 4. The seven-city campaign combined a one-mile community walk with a health fair that provided free health screenings, fitness demonstrations and healthy cooking demonstrations.
The first step in altering one's behavior is awareness, which is exactly what most people suffering from weight-related diseases lack. We can't expect to reverse the rapidly declining health of the population without first giving Americans the necessary tools to do so for themselves. The Makeover Mile will empower people to take control of their health by demonstrating how incorporating simple changes into their daily routine can greatly improve their quality of life.
Although the focus of his outreach program is on adults, Dr. Smith is counting on the impact of parental role modeling. Parents who make positive lifestyle changes will influence other family members -- especially children.
Companies Compete in Pioneering Matchup Weight Loss Events
In the private sector, another innovative approach, Matchup weight loss contests, is being pioneered by HealthyWage, a New York-based company. Matchups are weight-loss competitions among companies and groups of employees within large companies. During Matchup contests, teams (consisting of five employees) compete for three months to win thousands of dollars in cash prizes. As part of the Matchup contests, HealthyWage partners with local hospitals, health plans, grocery chains and restaurants to reinforce the participants' efforts to make healthier choices.
David Roddenberry, cofounder of HealthyWage, explains, "On average, participants in the Matchup contests lose about five percent of their body weight. Both the participation and complete rate is high because employees respond to competition and our community partners make losing weight fun and rewarding."
We're All in This Together
On a smaller scale, I accidentally launched a community meltdown in a small Northern California foothill community. After I chronicled my weight loss in the local newspaper, I offered to help others lose weight and get fit. I was astounded when more than 1,000 people showed up in the middle of winter for the first meeting. Each week, the crowd grew. Eight weeks later, we had lost nearly four tons of surplus weight. Six years later, over 400 groups across the country, from Alaska to Florida, have launched similar weight loss challenges.
AARP Launches Third "Fat 2 Fit" Weight Loss Challenge
After demonstrating what was possible in a physical community, I partnered with AARP to create an online community. Now in its third year, AARP recently announced the latest weight loss challenge -- AARP's Fat 2 Fit Summer Weight Loss Challenge -- which runs from May 16 through July 9.
The response is encouraging. One recent member shared her thoughts:
I'm a thyroid cancer survivor who gained 150 pounds during the ordeal. The aftermath of cancer has been amazing. I've gone back to school, continued to work full-time and run a volunteer counseling and recovery ministry. However, the extra energy required to carry around the weight of an entire extra person is draining. I'm so glad to know that I'm not in this alone.
Transforming the lonely task of losing weight into a competitive, fun-filled group effort improves the odds of success for every participant.
Bloom Where You're Planted
The trend is clear. Communities, whether national, local, corporate or online, are undertaking the challenge of adopting healthier lifestyles. Leaders like First Lady Obama and her national Let's Move campaign, spokespersons like Dr. Smith and his Makeover Mile program, innovative companies like HealthyWage and its Matchup contests, forward-thinking organizations like the Campaign to End Obesity and community fitness event organizers like me will continue to promote healthy lifestyle habits throughout the country. In a powerful if unspoken partnership, we will work in our respective spheres of influence to bring about necessary change. Will our programs and campaigns succeed in reversing the obesity trend?
We don't know the answer, but we do know that all of us need to be involved if we are to make progress. According to Stephanie Silverman, senior advisor to the Campaign to End Obesity Action Fund:
There is no single silver bullet solution that will reverse the obesity epidemic; it will continue to require a comprehensive and concerted effort at all levels of our society. This includes individuals, families, communities and also the federal government, which must advance policies to make a difference in the accessibility of good nutrition and physical activity opportunities, as well as the ability of the American health system to diagnose, prevent and treat this life-threatening condition. Without such efforts and reforms, medical spending on obesity-related costs will double within the next decade, and our current generation of youth will be the first to live sicker and die younger than their parents.
As author Grant Frazier said, "Life is full of obstacle illusions." Can we dissolve the barriers that would keep us from shedding seven billion pounds in one decade? Yes -- if we enroll entire communities in the vision of a healthy and fit America. We know what we have to do. Do we have the collective will to make this vision a reality?