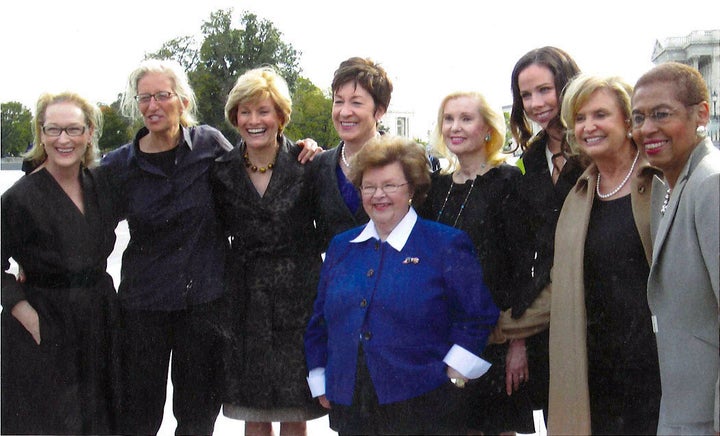 WASHINGTON -- The National Women's History Museum has made changes to its governance and is sharpening its mission after a Huffington Post investigation "brought focus to some issues," the museum's CEO said.
"Board members are keenly aware of the challenges we have in front of us," said museum President and CEO Joan Bradley Wages. "We need to grow the organization. We need to make some changes."
Wages sat down with HuffPost reporters soon after a meeting of the museum's board members earlier this month, the first board meeting since the two-month HuffPost investigation, published in April, revealed a pattern of mismanagement and lack of accountability at the 16-year-old organization. The problems ranged from inadequate educational programs to potential conflicts of interests among board members and appear to have hindered the organization's efforts to build a museum on the National Mall to honor women's contributions to American history.
The HuffPost story raised troubling questions for the museum's donors and for elected officials, some of whom pulled back support for the project.
Wages confirmed that "a couple" of fundraising events had "not worked out" since the story ran. She said plans were under way for other events in Washington and additional cities but gave no details. She also said legislation in Congress to allow the museum to buy or lease a spot on the National Mall is "still not in a stage to talk about."
The museum has had "no indication" that Meryl Streep, the Oscar-winning actress who has been its most visible and important supporter, intends to withdraw financial support, Wages said. At the time of HuffPost's initial report, Streep had given $400,000 of a five-year, $1 million pledge.
Streep, who voiced concerns about museum management in an interview with HuffPost and a letter to the board, sat in as an observer at the recent board meeting, held across the street from the White House. Asked for her impressions of what she heard, Streep emailed that she planned to "process my thoughts over time, and won't, honestly, have anything to say for publication til I see how it all shakes out." She referred all questions to Wages.
According to the museum CEO, the board adopted four major changes. HuffPost described these to Ken Berger, president of the nonprofit watchdog Charity Navigator, and asked him to comment.
1. Carey Shuart (below), a Houston philanthropist and board member, has been named interim chair following a change in the museum's by-laws. Wages had been chair as well as president and CEO, an arrangement she acknowledged was not in keeping with corporate governance best practices.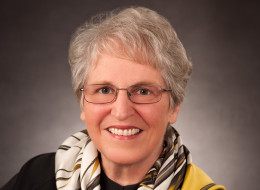 "Hallelujah, praise the Lord," Wages said of stepping down as chair, although she added that it was common for a "startup" to combine the top jobs. The National Women's History Museum was founded in 1996.
HuffPost was not able to contact Shuart directly. Museum spokeswoman Jan DuPlain said in an email, "She would like time, and we want to give her time to meet with the museum staff and members of the Board, as well as orient herself in her new position before she begins speaking on behalf of the museum."
It is unclear how long Shuart will serve. Wages said the museum hopes to find a "higher profile" chair with "high wealth potential" to take over within the next year. But she noted the museum has been looking for such a person for three to four years without much luck.
Berger cautioned that Wages' description of a future board chair "sounds more like a person to help generate revenues from the wealthy rather than [someone focused on] re-engineering the structure to improve accountability and transparency."
2. Ann Stone, whose status as a museum vendor, the museum's largest in-kind donor and a founding board member was raised as an apparent conflict of interest in HuffPost's investigation, is "no longer a paid consultant," Wages said.
"The contract that we had with Ann Stone was transparent to the board and was competitive with other companies, but in order to eliminate any perception of a conflict of interest, Ann Stone has resigned that contract," Wages said.
However, Wages said that Stone (no relation to the co-author of this article) will continue to provide direct mail services through her outside firms "for free for a period of time." Wages called the arrangement "a very generous offer." Stone will also remain on the museum's board.
Two of Stone's firms, the Stone Group and Capstone Lists, have been paid at least $194,000 by the museum since 2005. Stone's business partner for the past 30 years, Lora Lynn Jones, also maintains contracts with the museum through her own direct mail brokerage, Total Direct Response.
Jones and Stone previously reported donating an eye-popping number of in-kind volunteer hours to the museum. In 2010, Stone listed 1,717 hours of such work -- nearly 43 weeks' worth, at 40 hours per week -- and valued her donation at $201,450.
"As far as my and Lora Lynn Jones' continuing volunteer work for NWHM," Stone wrote in an email, "we will help them as needed since it is a cause in which we believe."
Berger said the change in Stone's contribution "is fine" as long as auditors make sure her contributions generally are "estimated at fair market value."
3. A new mission statement is in the works. HuffPost's reporting revealed that the museum lacked a clear mission, and the board agreed it was time, as Wages put it, to "revisit" what the museum wants to be.
Berger suggested the board should also "commit to developing a strategic and business plan that links a clear mission statement to goals and targets to achieve it, as well as thinking through how it will get paid for."
4. Kristen Gwinn-Becker, a Chicago-based technology consultant for historians and archivists, has been hired to help "upgrade" the museum's online exhibits and education programs and work with its recently formed scholars advisory committee.
Overall, Berger dubbed the changes "baby steps," adding that "what they need is to take some 'dramatic steps.'"
Wages made clear the museum is trying to regain its footing. It has signed on additional celebrity spokeswomen, including Geena Davis and Kate Walsh, and on Tuesday plans to release the first in a series of public service announcements to promote the museum. Based on the theme "Don't Tell Me I Can't," they are directed by filmmaker Catherine Hardwicke, best known for the blockbuster "Twilight," and narrated by actress Alfre Woodard.
The meeting with HuffPost reporters is part of the new beginning, Wages said. Previously, she and the museum's high-profile Washington lawyer Lanny Davis had vehemently and publicly disputed HuffPost's findings. But just Wages and DuPlain came to the latest meeting.
"It took some time for us to, I mean, we felt like we were being attacked, and so it took some time for us to take a step back, take a deep breath," Wages said when asked about the museum's about-face. "In hindsight, maybe it could have been done differently. That's why we're trying to start over," she said.
Wages said the National Women's History Museum's new mission statement would likely be completed later this summer, and it will focus on three words: education, inspire and research.
Calling all HuffPost superfans!
Sign up for membership to become a founding member and help shape HuffPost's next chapter
BEFORE YOU GO