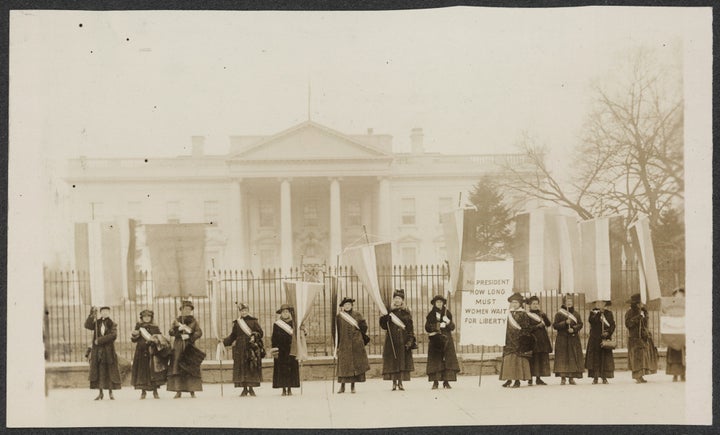 WASHINGTON -- Nearly a year after two alpha males on Capitol Hill slew a bill to allow a National Women's History Museum here, the head of the nascent project has quietly taken steps to placate conservative critics.
A former executive director of the Eagle Forum, which led the fight to defeat an Equal Rights Amendment for women, is among several conservative women who have been added to the museum's board.
An online biography of birth control pioneer Margaret Sanger, part of a virtual museum to build awareness of the project, has been "revisited" to remove "subjective" details.
And on Mother's Day, the museum added a virtual exhibit on motherhood alongside sections on women workers, soldiers, spies and suffragists.
"We have an obligation to represent a wide range of voices, to be inclusive," Joan Wages, NWHM's president, told The Huffington Post in an interview. "We're hoping we took steps to address their issues."
Wages was referring to Republican Sens. Tom Coburn of Oklahoma and Jim DeMint of South Carolina. The two men slapped a hold on a bill that would have allowed the museum to use private funds to buy an oddly shaped lot off Independence Avenue -- straddling a busy expressway leading under the National Mall. The Congressional Budget Office estimated the sale would have generated up to $60 million for the federal government.
The bipartisan legislation sailed through the House on a voice vote. But the senators blocked the bill after receiving a letter from Concerned Women for America. The conservative group, which touted the opening of a Kentucky museum that presents creationism as fact, warned that NWHM would "focus on abortion rights without featuring any of the many contributions of the pro-life movement in America."
Wages is a long-time lobbyist who knows all too well "what the political climate will bear" on Capitol Hill. After 15 years of tireless work on the project, she is ready to make concessions in order to turn her virtual museum into the real deal by 2020, the 100th anniversary of women's suffrage.
"We have to raise $400 million so we cannot afford, literally, to focus on highly controversial issues," Wages said in an email. "Our board passed a policy that the museum content will be determined by scholars, as it is at every world-class museum. In our meetings with scholars this year, the topic of abortion did not come up, not once. Abortion is a highly-charged political issue but does not rank among the most important from an historical perspective."
Sally Anderson, the museum's spokeswoman, put it this way: "There are two sides to every pancake."
Perhaps, but traditional feminists may be dismayed that NWHM's board now includes former Eagle Forum head Susan Hirschmann, a Republican lobbyist who once was Rep. Tom DeLay's chief of staff.
The museum's website features online biographies of Eagle Forum founder Phyllis Schlafly and Ellen McCormack, a 1976 presidential candidate whose platform contained just one plank: to overturn the Supreme Court's decision in Roe v. Wade that legalized abortion.
While "Feminine Mystique" author Betty Friedan is profiled, Gloria Steinem and Bella Abzug, her famous feminist colleagues, are not.
Wages said Steinem and Abzug are among a stack of bios waiting to be edited by a historian before they can be posted on the website. "No reason except time and money," she said of the omissions. "There's always far more to do than we have staff to implement."
For now, Wages said she is focused on getting her bill through Congress this fall. Republican Sen. Susan Collins of Maine and Democratic Rep. Carolyn Maloney of New York are shepherding the legislation. It has bipartisan support, with 21 co-sponsors in the Senate and 64 in the House.
Maloney said in a statement that "the House will again pass the legislation this fall, as it has before and with momentum picking up on both sides of the aisle, I know that the Senate will pass the bill this Congress as well."
Melanie Ide, project director at the design firm Ralph Applebaum Associates, said she certainly hopes the legislation will pass if the museum is to open on schedule. A veteran of museum planning -- she worked on the U.S. Capitol Visitors Center, the Clinton Presidential Library and is currently planning the Smithsonian's new National Museum of African American History and Culture -- she said she isn't surprised at the controversy that has surrounded the women's project.
"Museums are fraught. Writing history is fraught. The need to navigate in order to become is something every museum has to do," she said. "But we need that legislation. Just pass the damn piece of paper."
Despite the claims of some critics, the museum won't cost taxpayers a dime. The bill calls for the museum to pay fair market value for the site, even though other institutions such as the U.S. Holocaust Memorial Museum and Smithsonian's American Indian and African American museums were given their land at no cost.
Wages isn't complaining. She said times have changed and doesn't expect a federal government hard up for cash to give away land. She also made clear that it was better to buy the site than to wait in a long queue to become part of the Smithsonian. "We didn't want a male-dominated bureaucracy calling the shots," she said.
The bill would give the museum five years to raise money and begin construction, or else give the property back to the government. The 86,000 square foot site was chosen after unsuccessful efforts to erect the museum in existing historic buildings on or near the Mall. Three-fourths of the site is made up of air rights over the busy 12th Street Expressway, wedged between the Energy and Agriculture departments. Before the $200 million museum can be built, a deck costing millions more must be constructed over the roadway.
"That's what women do: we make it work," Wages said of the less-than-prime parcel.
So far, the museum has $6 million in pledges, contingent on the legislation passing. That includes $1 million from actress Meryl Streep, one of the museum's biggest boosters.
Streep has pointed to the incongruous fact that Washington has museums about spies, the postal service, textiles and journalism, but none dedicated to women.
A Google search of the Smithsonian's National Museum of American History and women brings up its costume collection of dresses. Edith Mayo, a former curator of women's history at the museum, fought for years to no avail to expand its popular first ladies exhibit to include not only what they wore, but who they were.
"There's a huge hunger for women's history," Wages said. "Women's history is missing."
Ide said she hopes Congress will act promptly to fill that gap.
"There's an inevitability about this museum," she said. "They're going to put blocks and tripping points and reasons why you can't, but none of that really matters because of the persistence and the fact that it's right that this museum exist in Washington, D.C."
Popular in the Community