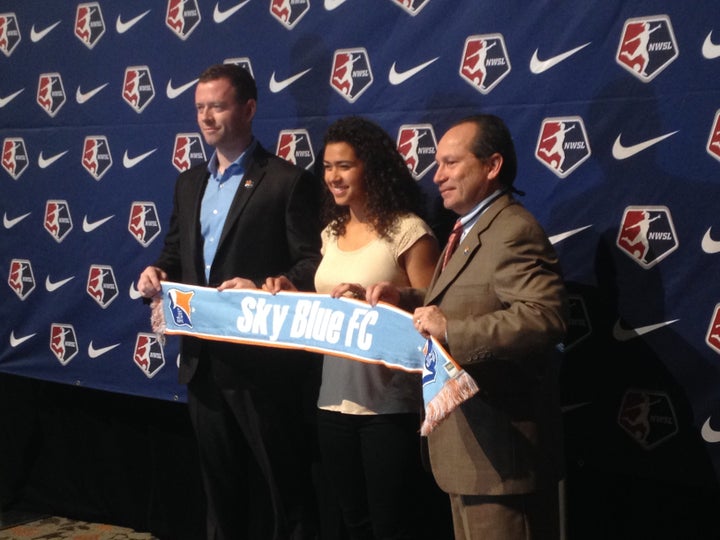 Payne, a guard at Murray State University, had faced an unexpected decision at the end of his sophomore season after he blossomed into one of the nation's top point guards. Should he skip his final two years of collegiate eligibility for the massive payday that awaited in the NBA now? He made the leap, and the Oklahoma City Thunder selected him with the 15th pick.
Over the past month, as the National Women's Soccer League's 2016 draft approached, Brianne Reed faced a much different decision: whether to go pro at all.
In the days leading up to the draft, she was torn about her future. As a senior at Rutgers, the defender helped guide the Scarlet Knights to the best season in the program's history, and she knew she had a chance to keep playing as a pro. But Reed was also considering graduate school, or even "just graduating and seeing where life took me."
Finally, just before the deadline, she entered the draft.
"I decided a little late in the game that this was what I wanted to do," Reed said on Friday, moments after FC Kansas City chose her with the draft's 18th pick. "I was kind of up in the air about it ... After the season that we had [at Rutgers], I realized that I wasn't ready to be done playing soccer."
For Payne, moving on to the NBA was always the dream. But when Reed entered college, there wasn't even a major women's professional soccer league for her to look forward to. The last effort, Women's Professional Soccer, or WPS, folded in 2012, just as this class of draftees were preparing to graduate high school.
Payne may make over $2 million this season with the Thunder. Reed could make less than $10,000 -- a fraction of even the modest salaries rookies earn in Major League Soccer.
And yet, for all the underlying differences, the NWSL draft looks and feels a lot like its counterparts in other sports, albeit on a smaller scale. When players who were in attendance heard their names, they walked across the stage to shake hands with Commissioner Jeff Plush, then shuffled to a studio set for the live stream broadcast. Then it was to the media area for pictures with coaches and general managers in their new team's gear. Then, reporters crowded around each pick in a frenzied pack to ask how they felt about their team -- and how they'd fit in.
A hundred or so fans filled the ballroom at the Baltimore Convention Center, and a raucous pack of Washington Spirit supporters chanted and cheered each time their team went on the clock.
That this draft even took place is a mark of success for the NWSL, which will begin its fourth season in April. Neither of its two predecessors -- WPS and the Women's United Soccer Association, which folded in 2003 -- made it past their third seasons before collapsing.
That mile-marker has created its own pressure on NWSL and Plush, who acknowledged at the draft that he's relieved he'll be able to spend more time shooting for long-term growth than reassuring skittish sponsors and other business partners that yes, the league will be around for year four.
"I think we've pushed through [those questions]," Plush said. "We are around, we're not going anywhere."
Two days before the 2015 season ended, Nike, one of NWSL's chief sponsors, renewed its partnership with the league for four more years.
And at the draft, there were signs that players, coaches and everyone else involved in the league had bought into Plush's message.
Four picks later, the Houston Dash nabbed Rachel Daly, an English national who played her college soccer at St. John's University, where she finished as the school's all-time leading goal scorer.
""We are around, we're not going anywhere.""
It might have made sense for both players to head to Europe instead of staying in the United States once their college careers ended. Rodriguez's teammate on the Costa Rican national team, Shirley Cruz, plays at the French club Paris Saint-Germain, and Rodriguez no doubt could have fielded offers from across the pond. Daly, meanwhile, could have easily returned home to the FA Women's Super League, the English counterpart to NWSL that has grown in recent years.
"The main thing that went into it for me was playing with a different quality of players," Daly said. "U.S. national team players, Canadian national players, Brazilian nationals, it's all a big group of different players who I wanted to experience playing with, and hopefully they can make me a better player."
NWSL wants to become the best women's league in the world. Beating out the others to keep or bring in the world's best players is a must.
"When we get the Rachels and we get the Rodriguezs and those type [of] players that can go anywhere in the world, that want to stay here and play, it speaks volumes about what we're doing," said Randy Waldrum, the Dash head coach.
Half an hour after Daly's name came off the board, the Orlando Pride, who will play their inaugural season this year, were on the clock for the first time.
The Pride are the second new team to join the league in the last three seasons, and just like 2014 expansion club Houston, they are affiliated with a Major League Soccer team (Orlando City FC, which joined MLS in 2015).
NWSL has never viewed such partnerships as essential, and pairing women's and men's clubs is no guarantee of success. But it does offer financial backing and stability to clubs that could otherwise be more volatile, and at least one such arrangement has proven fruitful for NWSL: The Portland Thorns, who are affiliated with MLS's Portland Timbers, are the league's most popular team. In 2015, the Thorns drew more than 15,000 fans per game, more than double the next closest team.
The Pride also brought a familiar face back to American women's soccer. The club's first head coach, Tom Sermanni, coached the U.S. Women's National Team in 2013 and 2014 and coached in WUSA over a decade ago.
"Having been involved in the initial league way back," Sermanni said, "it's fantastic to see where we are with this league. Things are getting bigger and better. The profile has been raised. Just look at the draft today, compared to what it was in the past. There's a really solid foundation."
NWSL passed its three-season milestone in glorious fashion as it built off the excitement generated by the U.S. Women's National Team's victory at the Women's World Cup in July. League revenues, Plush said, were up 29 percent in 2015, and attendance grew by 23 percent. Just one of its clubs, the Western New York Flash, saw attendance drop. Its final, played in Portland, Oregon, drew more than 13,000 fans.
This year's draft came at a crucial pivot point for the league, as it transitions from celebrating its best year yet to building toward a fresh season. And certain challenges remain.
"No one is pretending that we've arrived," Plush said. "We're happy with where we are today in the fourth year, and we want to get better for the fifth and beyond."
The league is still trying to attract further sponsors, and is in the process of working out a new television deal -- it live streamed most of its games last year before reaching an agreement with FOX Sports to air some late-season games and the playoffs -- that could be finalized soon.
NWSL is thinking now in five- and 10-year windows, Plush said, sounding a confident note about its future. He's aware that one of the league's major challenges will come down to money -- in particular, how to keep the business running while also improving compensation for players.
NWSL's financial sustainability is built in part on deals with U.S. Soccer and the Canadian Soccer Association, the sport's governing bodies in their respective countries, which subsidize the salaries of national team players who play in the league. Those players can earn salaries in the six figures, but their non-national team counterparts make considerably less: The maximum salary in 2014 was $37,800, the minimum a paltry $6,800.
The league and its players have said from the start that building slowly and steadily is key to avoiding the financial pitfalls that helped doom WUSA and WPS, and Plush notes that the league has increased salaries and benefits each year so far. But there is also a desire among many players and coaches to get more to those who earn the least.
""To be able to say that I'm going to be a women's professional soccer player... it's cool to hopefully be a part of that building process.""
That's also an essential part of remaining competitive. The league plays a shorter schedule than its largest European counterparts, and lengthening the season -- which Plush acknowledges isn't likely to happen in the short term -- could be imperative to bolstering salaries and attracting the talent that will improve the league.
"We've got to get our salary schedule increased, and we've got to get it to an eight- or 10-month season," Waldrum said. "Once we get there, then I think we'll have the chance to be the best league in the world."
Right now, many of the league's players have second jobs during the season and especially in the offseason. Some teach and coach soccer, while others work as personal trainers or in other jobs. A number of young, promising players have retired early to take full-time jobs outside of soccer. Rodriguez, for her part, will use the next offseason to complete an internship required to earn her degree from Penn State.
In a December episode of "The Second Half" podcast, USWNT star Carli Lloyd discussed the status of women's soccer in the U.S., and the challenges the NWSL will face going forward (starting at 16:20).
The question of how to turn women's soccer into a full-time job is a preoccupation for a great many players -- including some for whom that's already true, like USWNT and Dash star Carli Lloyd, the 2015 FIFA Women's World Player of the Year and the hero of the Americans' World Cup victory.
"We're fighting for the big picture," Lloyd told The Huffington Post in December. "There's some players making $1,000 a month ... We want other players to be able to fully focus on this and not have another job in the offseason."
But that's a long-term goal contingent on the league's continued success. For now, the players entering NWSL are doing so with an optimism that comes from knowing they might not have had the chance to keep playing at this level even a few years ago.
"This opportunity was given and I was like, 'I can't pass this up,'" Reed said of her decision to enter the draft. "To be able to say that I'm going to be a women's professional soccer player... it's cool to hopefully be a part of that building process."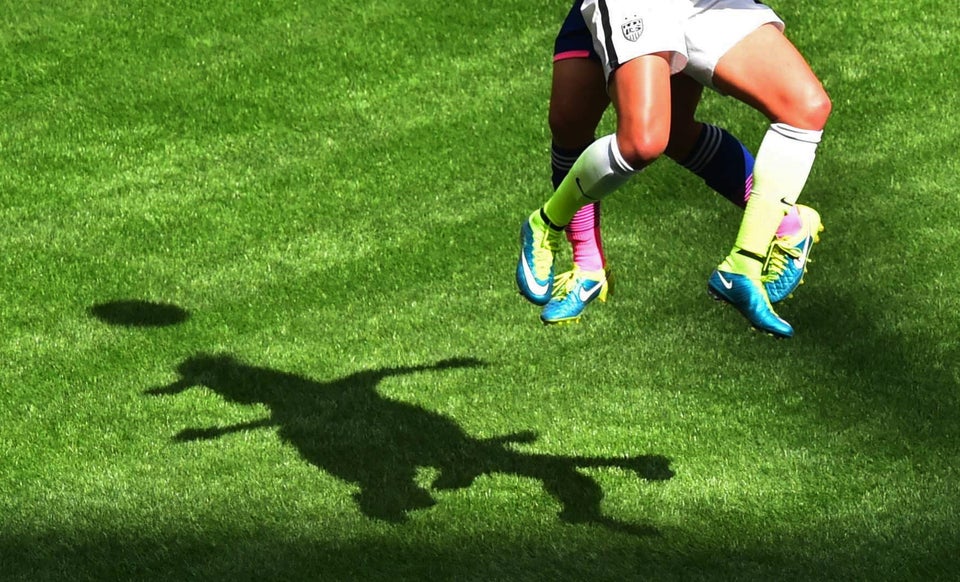 The Most Badass Photos From The Women's World Cup Final
Related
Popular in the Community