I walked into the Times Center sitting near the front wearing my best suit, tie and shirt beaming with pride. I was about to witness the final round of the National Youth Entrepreneurship Challenge (presented by MasterCard), a competition for our top young entrepreneurs held annually to bring visibility to pioneering youth in business. The finalists, who are all business-plan competition winners from their respective regions, were required to develop and present original business plans as part of their entrepreneurial studies at school, based on NFTE's experiential curriculum.
I closed my eyes to better enjoy the moment and suddenly, I found myself transported back 25 years to a classroom at James Adams Educational High school. Working with 25 dropouts, I set out on a mission with principle Pat Black to reengage young people by showing them the way to start their own small business. We worked for a year, and not one of them dropped out of school. We integrated math, reading and writing into the endeavor. Each young person developed a complete business plan with about half of them actually generating sales. After this initial success we decided to issue a challenge to each of the New York City high schools for a city-wide business plan competition. That was the beginning of the South Bronx Entrepreneurial Education Project which would lay the groundwork for what would eventually become NFTE, The Network for Teaching Entrepreneurship. In March of 1988, we held the competition at the Bronx Community College. Our students dominated, winning the first ten places. Soon after, we held a competition with the Association of Collegiate Entrepreneurs (ACE) and my students won six out of top ten awards nationally.
When I opened my eyes, I suddenly found myself back in the Times Center watching some of the best business presentations I had ever seen! I wasn't surprised by the winners, but then again, all the students are winners to me.
Vincent Quigg, an 18-year-old student at Rio Hondo College in Whittier, CA, emerged from a field of 37 high school competitors to take home the $25,000 grand prize for his business, TechWorld, which specializes in repairing and customizing iPhones and plans to expand into iPads and all types of electronic devices. The main differentiator from his competitors within the market space is that he can fix an iPhone for $80 in under 45 minutes!
Runners-up honors went to Joziah and Jesse Council of Midland, PA, for their herbal muscle and joint relief cream company, J&J's Soothing Cream, and Edwin Romo of Painesville, OH, for his cruelty-free wallet business, Onyx Wallet LLC. Both runners-up won $5,000 and two round-trip tickets on Southwest Airlines.
The months leading up to the National Challenge was the third-annual NFTE Elevator Pitch Challenge, presented by E*TRADE Bank. The winner, Cale Morrow of Dodge City, KS, was also announced that evening, and took home $2,500 in cash and two round-trip plane tickets, donated by Southwest Airlines for his business, Believable Inc, a public speaking training company.

Additionally, in honor of NFTE's 25th Anniversary, the event hosted the inaugural Steve Mariotti Venture Award -- in honor of my 25 years in the field -- in which NFTE graduates with fully operating businesses competed for an additional $25,000 in venture capital. The winner of this new challenge, Sarah Farzam, founder of Bilingual Birdies, a foreign language and live music program for children under five years old based in New York, was selected by a panel of judges in combination with a live action vote by the 400-seat audience. It was one of the great joys of my life to see these two graduates who I have known for years present.

Even after 25 years, I am continually amazed by the dedication, passion and creativity of these budding entrepreneurs. With youth unemployment sky-rocketing, it's a privilege to be a part of the solution and to be able to provide the tools and the means like the National Youth Entrepreneurship Challenge offers, to not only help our students recognize business opportunities but to ultimately create sustainable living.

All my dreams came true in the last 25 years, what began as a small dropout prevention program in the Bronx with an emphasis on entrepreneurship as well as math, reading and writing, has become an international movement with teachers in 50 countries. I was so proud to be the Founder of the Network for Teaching Entrepreneurship and I wish everyone this joy that their dreams come true too.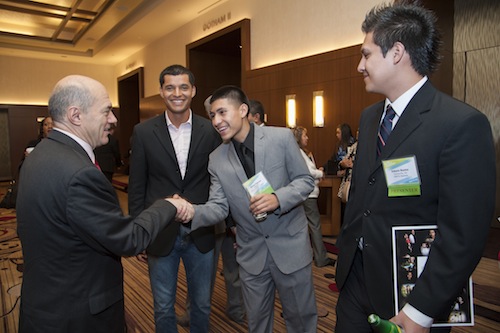 (L-R) Steve Mariotti, NFTE Founder; Andres Cardona, NFTE South Florida graduate, Founder & CEO of South Miami Basketball Academy; Oliver Gomez, 2012 NFTE National Youth Entrepreneurship Challenge presenter; Edwin Romo, 2012 NFTE National Youth Entrepreneurship Challenge runner-up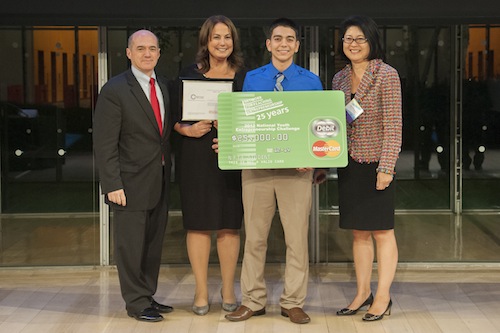 (L-R) Steve Mariotti, NFTE Founder; Amy Rosen, NFTE CEO & President; Vincent Quinn, 2012 National Youth Entrepreneurship Challenge winner; Deborah Serianni, Group Head, Consumer Marketing MasterCard Worldwide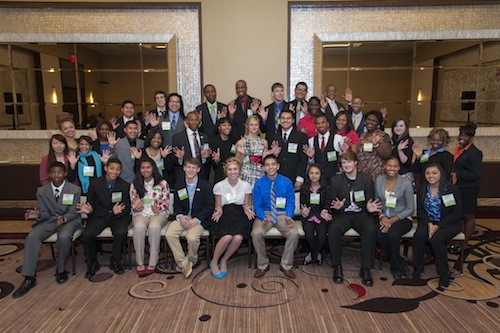 2012 NFTE National Youth Entrepreneurship Challenge presenters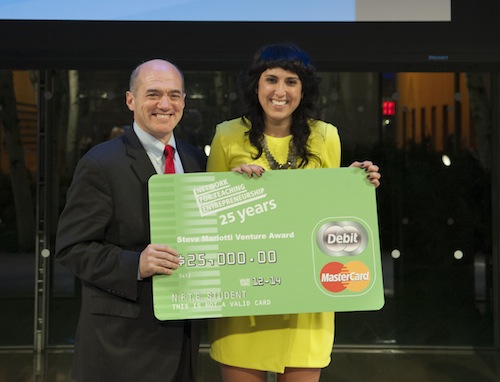 Steve Mariotti, NFTE Founder and Sarah Farzam, Founder, Bilingual Birdies
REAL LIFE. REAL NEWS. REAL VOICES.
Help us tell more of the stories that matter from voices that too often remain unheard.