Don't worry, folks, Rusty the red panda is a-okay.
Only a few days after the Smithsonian National Zoo's newest red panda escaped from his enclosure and was captured after briefly running free through the streets of D.C., zoo officials announced that he "continues to do well."
And while Rusty is expected to stay in the zoo's animal hospital for the time being, officials say they expect him to be back with fellow red panda, Shama, in the Asia Trail exhibit before the Fourth of July.
The zoo has been keeping animal lovers informed about Rusty's progress via Twitter:
Based on that review, Zoo staff conclude that it is highly likely that Rusty left his enclosure during the night of Sunday, June 23 or early morning Monday, June 24 through the tree canopy in his exhibit.

Rain last Sunday morning June 23 lowered the limbs of the trees in the red panda exhibit, shortening the distance between the trees and the edge of the enclosure. The rain also caused the tall bamboo on the exterior perimeter of the exhibit to bend over into the animal enclosure area, effectively creating a bridge. Because of his climbing ability and agility, it is likely that Rusty was able to traverse out of the exhibit due to the bridge created by overlapping tree limbs and bamboo.

The rain and temperatures in the DC metropolitan area have created excellent growing conditions for bamboo and other plants. There are three trees in the enclosure: two honey locust (Gleditsia triacanthos) and one amur cork tree (Phellodendron amurense). The bamboo growing along the perimeter of the Asia Trail exhibit is black bamboo (Phllostachys nigra).

Black bamboo grown on Zoo grounds is a preferred plant species used to feed the red pandas and other animals. Animal care staff suspect that Rusty would have been attracted to the nearby bamboo for a treat. No red panda tracks were found outside of the red panda exhibit, so we can't determine Rusty's exact escape route.
To ensure that Rusty doesn't pull another "Houdini," the zoo has trimmed back all the plants in the exhibit that could have aided the red panda's break for freedom.
Related
Before You Go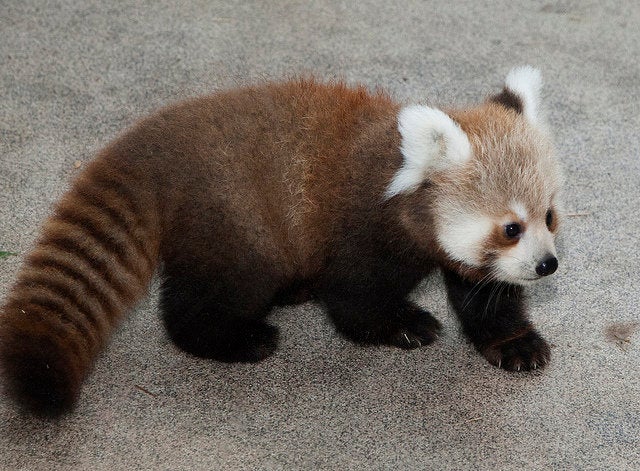 National Zoo's Red Panda Cubs In 2011
Popular in the Community