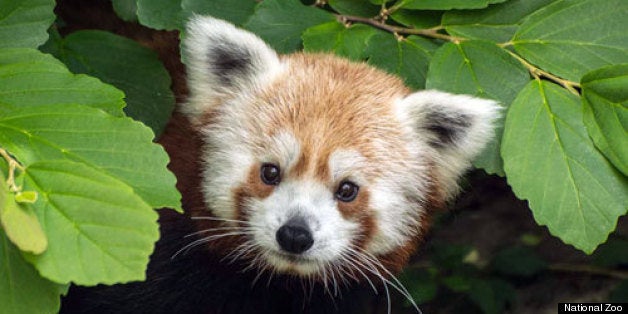 What's cuter than one red panda?
The National Zoo has a new resident, much to the delight of those who swoon at the sight of furry little animals.
Rusty, a male red panda who comes to us from the Lincoln Children's Zoo in Nebraska and shares his name with a red panda beanie baby, joins Shama, a female, in the Asia Trail exhibit, according to the National Zoo.
The newest cuddly (looking) addition to the zoo turns one in July and was added to the exhibit with the hopes that he will mate with Shama. The female red panda successfully mated with her previous mate, Tate. In June 2011, Shama gave birth to two absolutely adorable cubs.
Check out our slideshow of Shama's cubs in 2011, because awwwwww! Story continues below...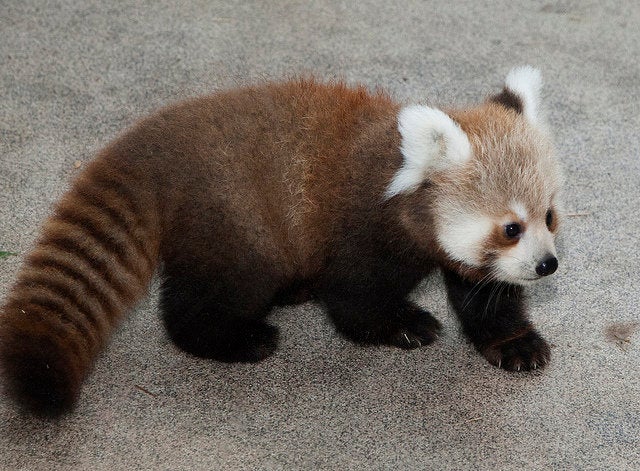 National Zoo's Red Panda Cubs In 2011
But Tate has moved on to the Erie Zoo in the hopes of mating with a new partner. So Rusty was brought to the zoo in May but kept in a 30-day quarantine until last week, when he was finally released into the exhibit to meet Shama.
The introduction between Rusty and Shama went smoothly, just as keepers expected. Rusty approached Shama curiously and Shama postured so Rusty would know she was in charge. Other than short interactions the pair remained separate for most of that first day.

On the second day keepers saw the pair sharing space and even spied Shama grooming Rusty—a sign that this duo is doing well already.
The Zoo notes that you should be able to distinguish Rusty from Shama by the blond color on his hips and tail.
The word panda comes from the Nepalese "poonya" which means bamboo eater. While the giant panda is sometime called the black and white cat-foot, the red panda is known as the red cat bear or lesser panda. While it may be "lesser" in size than the giant panda, both species are threatened by less habitat and deforestation.

An increase in human population, particularly in China and Nepal, has seen the red panda's bamboo forest homes cut down and cleared for timber, fuel and agriculture land, pushing them to more remote, fragmented – and often unprotected – mountain areas.

Although protected internationally and in Nepal, the red panda remains highly endangered. While some pandas are found in Nepal's Langtang National Park, Annapurna Conservation Area, Sagarmatha National Park, Manaslu Conservation Area, Makalu Barun National Park and Kangchenjunga Conservation Area, over 75% of potential red panda habitat falls outside protected areas.

Protecting the red panda and its fragile environment is vital to preserving the region's natural heritage and global biodiversity.
Before You Go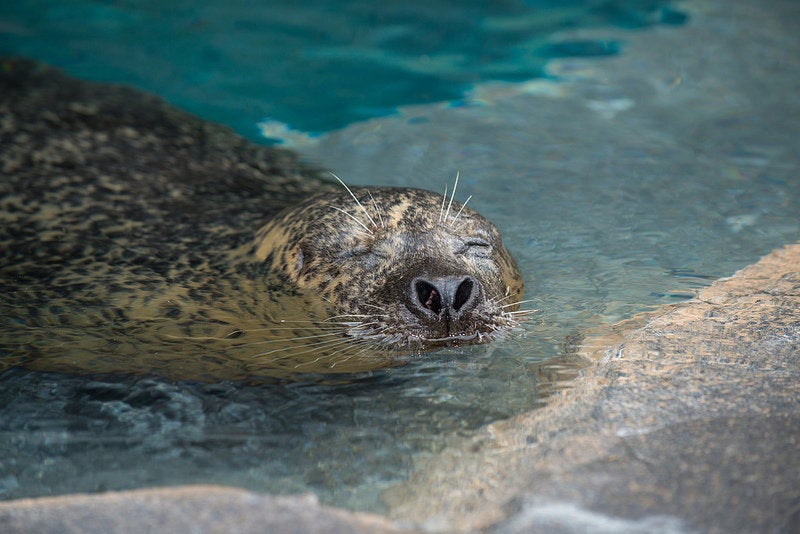 Adorable National Zoo Seals In Their New Habitat
Popular in the Community