This kind of cute can (almost) make you forget about the impending sequester!
Check out these impossibly adorable photos of the National Zoo's new baby clouded leopards. These two munchkins were born in early February, at the Smithsonian Conservation Biology Institute in Front Royal, Virginia.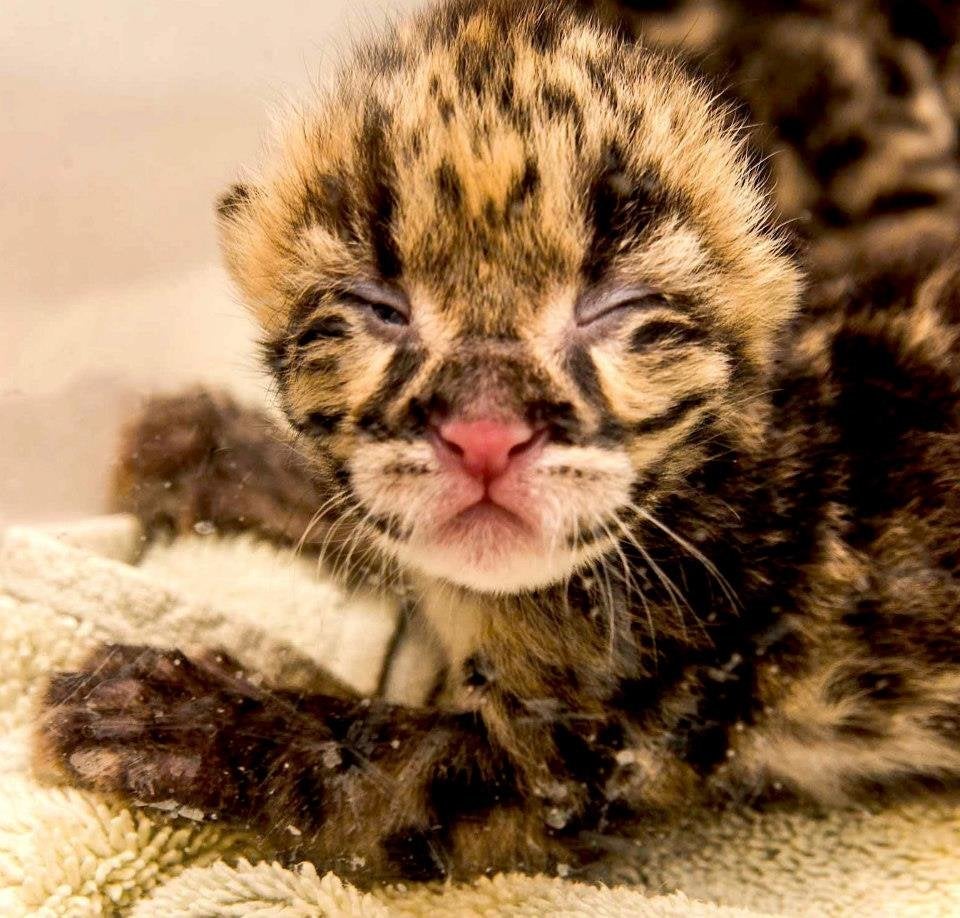 Also not helping the species' survival: male clouded leopards' somewhat inexplicable propensity for attacking, sometimes killing, prospective mates. (See, e.g., Kitchener, A.C. (1999). Mate killing in clouded leopards: a hypothesis. IZN (International Zoo News).)
"We feed them, burp them, and put them back to sleep," hand-rearing expert, and senior mammal keeper at the Smithsonian Conservation Biology Institute headquarters, Kenneth Lang told Smithsonian Zoogoer in 2011. "We don't try to make them pets."
Early pairing with mates also seems to increase the likelihood of passing on these cutie-pie genes.
Ta Moon, born in March 2009, was the first clouded leopard cub born at the Smithsonian Conservation Biology Institute.
Lindsay Renick Mayer, a zoo spokesperson, told The Huffington Post that the cubs are a boy, weighing 800g, and a girl who now weighs 700g. (That's under two pounds each -- full-grown, the male will likely reach about 50 pounds, the female about 35.)
"Their eyes and ears are now open," she said. "Their activity level is increasing daily and they now recognize when we are in the room and about to feed them. They are normally found asleep and wrapped around each other when we enter the room. The feedings have been dropped from 7 times a day to 6 times a day and will be dropped again next week.
The new babies won't go on public display while they are at the Fort Royal facility. "However, the Species Survival Plan for clouded leopards will determine where they go after SCBI," Mayer said. "So they might eventually wind up at a zoo where the public can visit them."
Some zoo projects, such as the planned acquisition of cheetahs for the research facility in Front Royal may be reconsidered, Kelly says. But with five curator jobs and numerous keeper slots vacant because of three years of frozen budgets, the sequester could nudge the zoo closer to what Kelly calls the doomsday scenario: closing one of its expensive major exhibits.

"We're to the bone," Kelly says. "I will never compromise on animal welfare or human safety, but we're now at the point where we'd have to lop off a whole module."