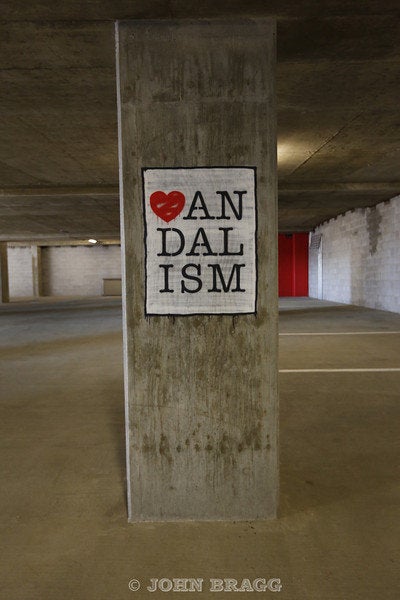 This week in the world of outrageous art, a swanky hotel in Indianapolis has commissioned British street artist Nick Walker to decorate the walls of its parking garage with pre-ordered graffiti designs. Yes, unlike other businesses, the Alexander Hotel welcomed a man with a can of spray paint to "vandalize" it's property, all in the name of contemporary art.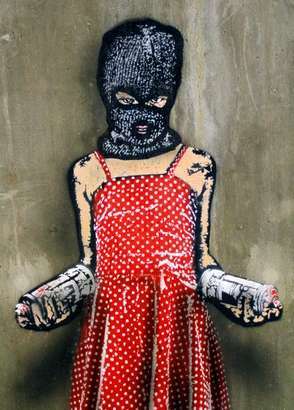 Photo by John Bragg
The graffiti murals are located on the concrete walls of the hotel guest parking lot, featuring familiar urban art themes like masked figures and bubble lettering. One design simply reveals the word "vandalism" plastered on one of the lot's columns, only the letter "v" has been replaced with a heart à la the "I Love New York" emblem. Unsurprisingly, the hotel then proclaimed itself "one of the most controversial, yet inspiring parking garages in the nation."
If you were thinking these images are a little too Banksy-esque for comfort, you're not alone. Walker is described in a press release from the hotel as a contemporary of the famed UK street artist (whose own work is now more often seen in the confines of a gallery or art fair than on any city streets). But don't worry, the graffiti is real. A press representative from the hotel even told The Huffington Post in an e-mail exchange that Walker opted for nocturnal work hours, going as far as to say it was as if "he didn't want to 'be caught.'"
What can you expect from a $44 million, boutique style art hotel, though? Of course they would hire an artist to creep around in their garage at night to fake-evade authorities in order to create an "authentic" yet palatable graffiti art experience. Our thoughts? Maybe the hotel should focus more on its pricey interior artworks, curated by the Indianapolis Museum of Art, and less on its "lowbrow" basement art, made to look like it didn't cost just as much.
What do you think, readers? Scroll through a slideshow of images from the Alexander's new parking garage and let us know what you think of the work in the comments section below.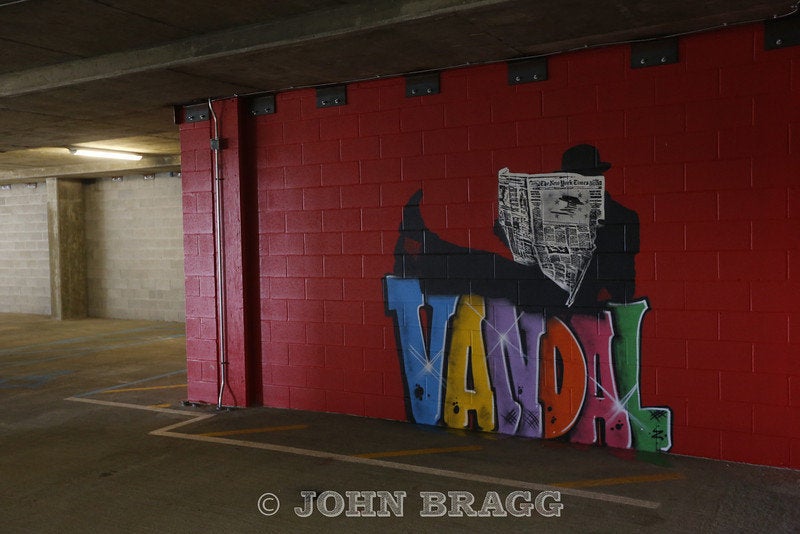 "Nation's Coolest Parking Garage"
Popular in the Community