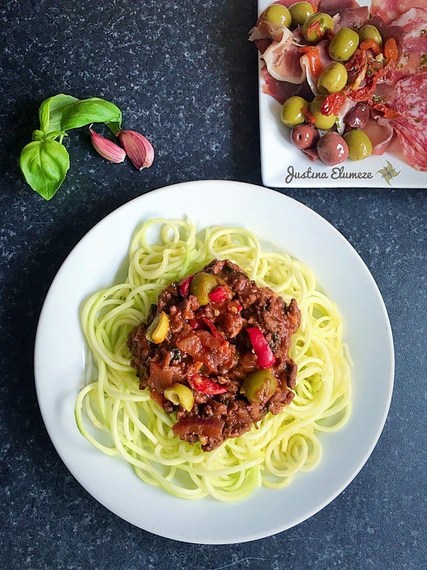 I love spaghetti bolognese. I mean, who doesn't? The tomatoes, onions, garlic and beef all perfectly combine to create a rich sauce that is now the nation's favorite meal. Not all tomato sauces taste the same as everyone has their own way of making it and that is the great thing about spaghetti bolognese, and cooking in general. Everyone has their own take, making for a wider variety of styles, versions and flavors.
However, without blowing my own trumpet, this spaghetti sauce rocks!
An Italian girl I knew taught me how to make this tomato sauce over twenty-five years ago.
That's a quarter of a century ago... No way has it been that long!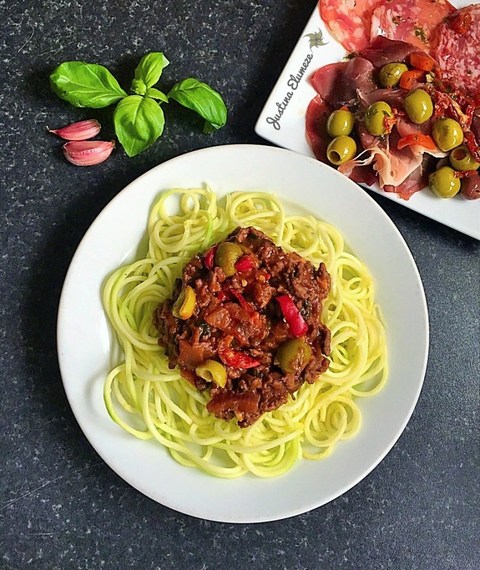 Well, if an Italian dish taught to me by an Italian lady, over a quarter of a century ago does not make this recipe authentic, then I don't know what does! I've not changed the recipe over the years as my taste buds have never given me any indication to do so, but you can, adding or omitting anything to your satisfaction.
I believe that apart from cakes and other similar deserts, there really are no strict rules to cooking and you've probably gathered from my recipes by now that I'm not really into all that palaver.
I know a guy who would have a funny turn and hissy fit if I went to take the frozen peas (frozen peas you know... Not even frois gras, but frozen peas!) off the cooker too soon as the instructions on the packet stated that they should be left to boil for six minutes.
In my opinion, people like that need Jesus.
Cooking should be fun and enjoyable with the result being healthy, tasty food. Which this recipe most definitely is.
The spiralized courgettes (or zucchini to all my transatlantic darlings) are the perfect spaghetti substitute and the sauce is made from fresh, organic ingredients, making this the ideal paleo, gluten-free and low-fat meal for all the family.
So without further ado, here is my utterly delicious recipe for paleo spaghetti Bol.
Prep Time: 25 min
Cook Time: 45 min
6-8 Courgettes
500g Minced Beef
2 Large Onions
3 Cloves of Garlic
500g Passata
Olive Oil
2-3 Tablespoons of Tomato Puree
2 Stock Cubes
Salt & Pepper
Tablespoon of Honey/Stevia/Agave to sweeten
Handful of Fresh Basil
Handful of Fresh Parsley
500g Mushrooms
Heat a pot and add a fair splash of olive oil.
Peel and finely chop the onions, adding to the pot. Stir occasionally until the onions become translucent. If necessary, turn down the heat to avoid the onions from burning.
Add the minced beef and allow to brown. Do not break up the meat too much so as to leave some nice meatball like chunks.
Before the meat is completely browned and there are still some pinks bits, add the passata.
Fill the passata container halfway with water and add to the pot. Add the tomato puree.
Stir and leave everything and leave to simmer for five minutes.
Mince the garlic and - if desired - chop the mushrooms.
Add the sweetener, mushrooms, garlic, herbs, pepper and stock cube (as well as salt, if needed) to the pot, stir well and leave the tomato sauce to fry down and reduce. This should take approx. 30 minutes.
Ten minutes before the tomato sauce is ready spiralize the courgettes and fry in a little olive oil, salt and pepper for a few minutes. Remove before the courgettes produce any water, setting aside.
When everything is ready, plate up, adding any toppings of your choice and delight in the awesome-ness of this delicious tomato sauce.
(This sauce can be used as the basis for several other Italian tomato based meals, including lasagne and cannelloni, amongst others.)