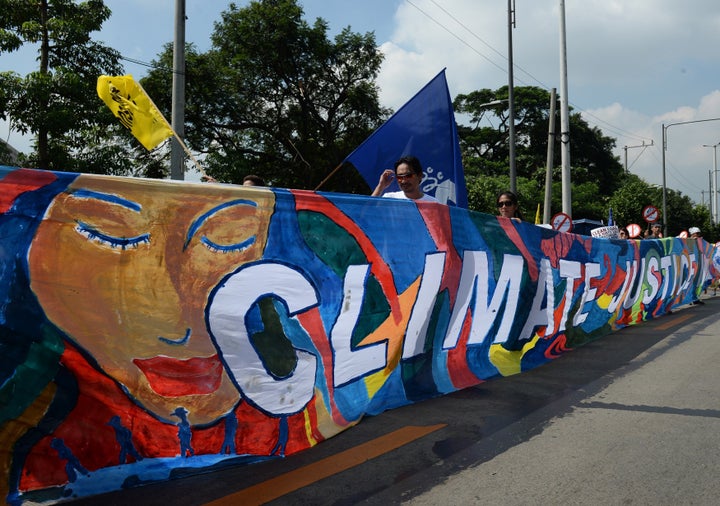 LIMA, Oct 8 (Reuters) - Twenty of the countries most vulnerable to climate change, from the Himalayan kingdom of Bhutan to the Pacific island nation of Tuvalu, will form a new group on Thursday to press for tougher action to curb warming.
Draft documents for a meeting of finance ministers in Lima, Peru and seen by Reuters, said the 20 represented 700 million people in low- and middle-income nations that were arid, landlocked, mountainous or vulnerable to rising sea levels.
The Vulnerable 20 (V20) group's draft action plan will seek to "strengthen economic and financial cooperation and action to address climate change risks and opportunities" and promote a shift to a low-carbon global economy.
Goals would include "improved access to international climate change finance" to help cope with droughts, floods, melting glaciers and rising sea levels. They said one possibility was a tax on financial transactions.
The 20 said they accounted for just two percent of world greenhouse gas emissions but had suffered an average of more than 50,000 deaths a year since 2010 from impacts they linked to rising temperatures.
They estimated that they faced "escalating losses of at least 2.5 percent of our GDP potential per year, estimated at $45 billion since 2010."
Members will be Afghanistan, Bangladesh, Barbados, Bhutan, Costa Rica, Ethiopia, Ghana, Kenya, Kiribati, Madagascar, Maldives, Nepal, Philippines, Rwanda, Saint Lucia, Tanzania, East Timor, Tuvalu, Vanuatu and Vietnam.
They said they would also share experiences and work for a sovereign V20 Climate Risk Pooling Mechanism, an insurance facility to spread risks and help recovery after extreme weather events and disasters.
Ministers from the 20 nations are due to approve the documents before meetings of the International Monetary Fund and World Bank in Lima starting on Friday.
Renato Constantino, executive director of the Institute for Climate and Sustainable Cities non-governmental group, welcomed the formation of the V20.
He did not expect it to detract from existing groups, for instance of Least Developed Countries of the Alliance of Small Island States. "I don't think it complicates the work. I think it clarifies the agenda for developing countries," he said. (Writing by Alister Doyle in Oslo; Editing by Tom Heneghan)
Calling all HuffPost superfans!
Sign up for membership to become a founding member and help shape HuffPost's next chapter