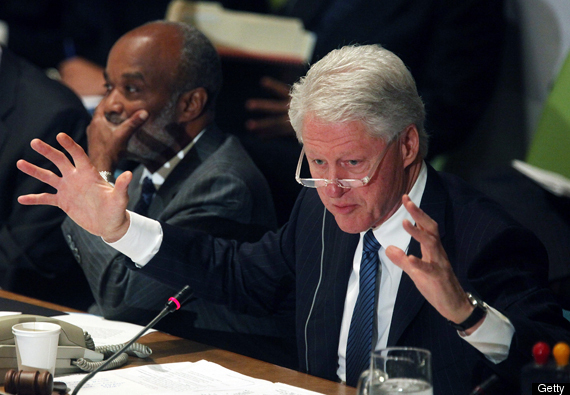 Promises of money poured in from around the world to resurrect Haiti from the earthquake and radically redesign the Caribbean nation's economic, social and physical structures, including decentralization to ease pressure on the teeming capital of Port-au-Prince.
Even for often-cynical UN observers, like this reporter, the conference bristled with ideas and scripted government speeches were less cliche-ridden than usual. Haitians abroad, industry leaders and advocacy groups spoke and the preparations of technical details presented by Haitian leaders for the reconstruction were well-prepared.
That doesn't mean 100 flowers will blossom but one left the all-day conference at UN headquarters in New York with some hope that eventually something positive would happen in a country with a history of misery even before the January 12 earthquake.
At the meeting, more than 100 delegations, many of them headed by foreign ministers, pledged a total of $5.3 billion over the next 18 months and another $4.6 billion for the years that follow for a total of $9.9 billion, said UN Secretary-General Ban Ki-moon, co-chairman of the conference with Secretary of State Hillary Clinton. Haiti had only requested he $3.9 billion Haiti for the next 18 months.
Secretary Clinton (who shared a podium with her husband) emphasized the need for Haitians to control the process and put a newly-created international commission out of business.
"Our goal must be the empowerment of the Haitian people, she said, calling for home-grown expertise in administration, medicine, education and the economy. "It needs the people of Haiti to be given the tools to be able to deliver on the promise of their own future."
For the next 18 months, the United States pledged $1.15 billion. The European Union came through with $1.6 billion. Venezuela pledged $1.29 billion over the next 18 months and promised to nearly double that in the future while the Inter-American Development Bank pledged $400 million by 2011 and a total of $2.2 billion over the next decade.
In addition France pledged $194 million, the World Bank $479 million, Canada $375 million, Brazil $163.31, Spain $265 million and the International Federation of the Red Cross, $320 million as dozens of nations, rich and poor, took the microphone.
The 7.3 magnitude earthquake killed at least 250,000 people in a country of 9 million, injured many more , left 1.3 million homeless and destroyed 28 of the 29 government ministries. Countless schools, hospitals and health centers were turned into rubble. And hundreds of thousands still live in camps without enough food, shelter and sanitation.
Promises, promises, promises...
Whether or not the donors will deliver and whether the Haitian government can function efficiently are big "ifs." Said UN Secretary-General Ban:
"Now it comes down to implementation, delivery on our promises, transparency and accountability. We must make sure Haiti gets the money it needs when it needs it. And we must guarantee that it is well-coordinated and well-spent."
Before the earthquake, when Haiti was recovering from two hurricanes in 2008, former President Bill Clinton, a UN envoy for Haiti, held a pledging conference in Washington and only 30 percent of the funds committed were realized.
Coordinating the many coordinators is never easy with such a large cast of characters. Bill Clinton is to head a commission that includes Haitian leaders and major donors and help with a web site tracing monies spent. Helen Clark, the head of the UN Development Program is to oversee much of the development aid and the World Bank is to administer the funds.
Haitian Prime Minister Jean-Max Bellerive did the heavy lifting, outlining an $11.5 billion road map action plan towards recovery. Initial funds, he said, would be used for emergency relief, then economic growth and job creation. After that it might take 10 to 20 years for the country to become self-sufficient.
"To implement this we need massive job creation. The next few months will focus on high labor intensive industries, agricultural infrastructure, building, clean up of devastated areas. We'll have to find ways to get these jobs out to people to train them, vocational training, relevant training to transform this tragedy into a sustainable economic enterprise."
Agriculture will be difficult as Haiti imports US subsidized rice, a diet staple. The International Monetary Fund had insisted Haiti lower rice tariffs in its 1986 aid package.
And Brazilian Foreign Minister Celso Amorim called on nations to allow duty free and quota free imports of Haitian textiles and other goods, saying, "You don't have real economic development if you don't have markets."
Bellerive also wants $350 million to pay government salaries and begin to rebuild the administration. (Taxes are in short supply as the elite avoids them and swallows up government resources.) The United States is reluctant to let Haiti write checks but some pledges were made by France's Foreign Minister Bernard Kouchner, Brazil, Venezuela and others, though far less than Haiti wants.
Both Bill Clinton and Robert Zoellick , the World Bank president, warned the nations and thousands of international charity groups not to freelance. `Please avoid feel-good flag-waving projects,'' Zoellick said, ``because building islands of developments in a sea of deprivation won't get us where we need to go.''
The session heard from Michele Montas, a former UN spokeswoman whose husband, Jean Dominique, an organizer of peasants, was assassinated at a radio station they ran in Port-au-Prince. She reported on a " Voice of Voiceless" UN survey that conducted interviews among 1,750 citizens in 156 discussion groups from farmer associations, camp dwellers and students to traditional healers.
"There is a strong demand for an end to exclusion. The exercise was an opportunity for people to express their views often for the first time on issues of concern to their communities and to themselves as individual citizens. Reconstruction packages should benefit all Haitians regardless of their status and location," Montas said.
Even before the quake the Caribbean nation had the highest rates of TB, HIV and of infant, child and maternal mortality in the Western hemisphere. Now, aid has not reached many people scattered in hundreds of makeshift camps, some in danger of drowning when floods and hurricanes come.
So despite new sweeping plans, the first order of business must be to keep people alive.
Support HuffPost
The Stakes Have Never Been Higher
Related
Popular in the Community