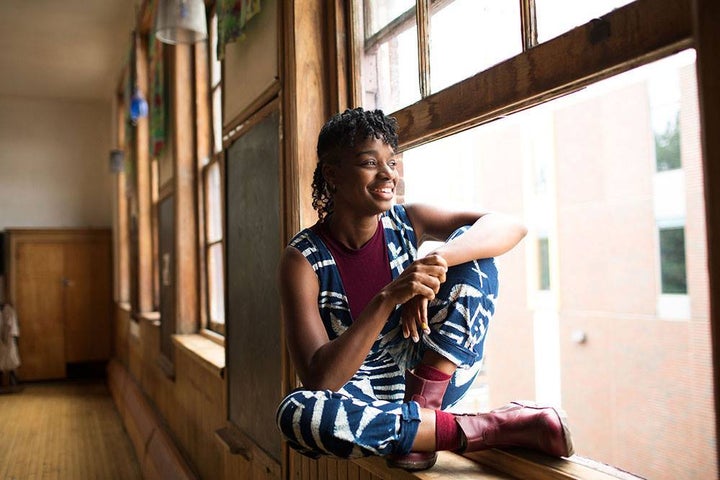 The New York Dance and Performance Awards recently announced Lela Aisha Jones as one of four nominees for the 2017 Outstanding Emerging Choreographer Award. The Juried Bessie Award and Outstanding Emerging Choreographer Award will be presented at a press conference next week along with the announcement of nominees for five other categories.
"I am so very grateful for my family and all those who have walked this artist road with me--exchanging love, lessons, grace, and power," Jones said. "I am grateful for those moments that did not go my way because they truly incited growth."
A movement performance artist who intertwines personal history, diasporic movement, and social commentary, Jones is a proud Tallahassee, Florida native currently based in Philadelphia. As the founder of her creative home, FlyGround, the foundation of Jones' artistic work is the individual and collective lived experiences of blackness as archived in and excavated from the body through dance.
Earlier this year artist and activist became the the sixth recipient of Temple University's Department of Dance, Institute for Dance Scholarship Reflection:Response award, receiving a cash prize and access to rehearsal space at the university throughout this summer.
As part of the Reflection:Response project and building on her current series of episodic works, Plight Release & the Diasporic Body, later this fall Jones will perform some of her work, premiering Ancestral, an interlude and cast-specific movement experience that purposefully brings performers and audiences together. In addition, she will conduct programming and a workshop for the public.
On the day Jones will find out if she is the winner of the Outstanding Emerging Choreographer Award, Abby Zbikowski will receive the Juried Bessie Award for using her works of great energy, intensity, surprise and danger. An assistant professor of dance at the University of Illinois, Urbana-Champaign, and on faculty at the American Dance Festival, Zbikowski earned her undergraduate degree in dance from Temple University.
"Abby Zbikowski's work exudes an interestingly unique rhythmic sensibility an artistry that really captivated the me," said Abraham. "I hope this award brings more exposure and opportunities for her work to continue to flourish."
Abraham, Bufalino and Gill were responsible for selecting Zbikowski who exhibited some of the most interesting and exciting ideas in dance in New York City today. The award provides the honored dance maker with touring and residency opportunities outside of New York City through a partnership with the New York State DanceForce, a statewide network of arts organizers and presenters.
The NY Dance and Performance Awards have saluted outstanding and groundbreaking creative work in the dance field in New York City for 33 years. Known as "The Bessies" in honor of revered dance teacher Bessie Schönberg, the awards were established in 1984 by David R. White at Dance Theater Workshop.
Popular in the Community