There was no question that the University of Iowa does party pretty hard.
Rehabs.com, a website that promotes treatment centers for substance abuse, decided to take a deeper dive into the university's drug and alcohol arrests. It reviewed statistics maintained by the Education Department's Office of Postsecondary Education and reviews of campus life from Niche.com, formally known as College Prowler.
The result is a series of maps and graphs showing where and when students at UI get busted for partying.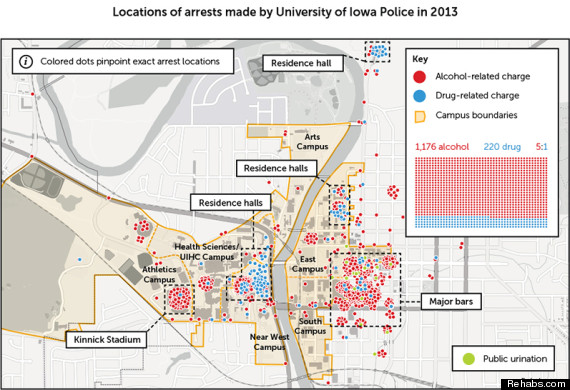 The University of Iowa did not immediately respond to a request for comment on the statistics.
Most of the drug-related charges are incurred around the residence halls and fraternity housing in Iowa City, while the alcohol busts are clustered around the football stadium and in an area with many college bars.
Rehabs.com explains further:
Even without previous knowledge of UI's physical layout, it's easy to see that there were quite a few arrests made in 2013 in and around its campus. In fact, there were 1,314 arrests, consisting of 1,820 charges (sometimes arrests entail multiple charges, i.e. the shameful combination of, say, public intoxication and public urination). For each recorded drug-related charge, there were five alcohol-related ones and, although not all arrests involved drinking or drugs, most of them did (77%, to be precise).

Although UI's crime log is quite detailed, it doesn't specifically state the enrollment status of those arrested. Despite this, UI's annual crime report does state that 46% of arrestees in 2013 were UI students. This equates to many of those listed in the 2013 crime log being non-students. A few examples obviously weren't, like those whose ages are listed as being over 40, 50, and even 70. To filter out a lot of these types of non-students, we only mapped and graphed arrests of people aged 18 to 25 (the age-range of three quarters of the UI student body). That doesn't guarantee, however, that all of the young people arrested (and whose arrests are shown as dots on the map above) were UI students. The ones who most likely were students can be seen in the drug-related arrests (shown as blue dots), because almost all of them are clustered around UI's residence halls on either side of the river. Even Mayflower Hall, shown right at the top of the map, has a considerable number of drug-related arrests, despite being quite far out from the main campus boundary.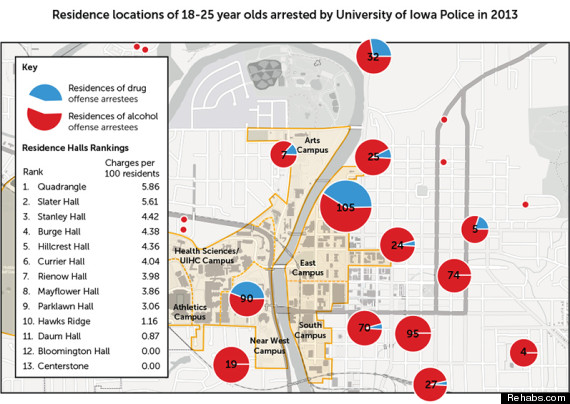 Who Gets Arrested And Why?

The graph above confirms the fact that most arrests made by UI police involved 18- to 22-year-olds, but it also demonstrates a difference in the respective age groups of those arrested for drug versus alcohol offenses. The most frequently occurring age for persons arrested for alcohol offenses in 2013 at UI was 20, whereas for drug offenses it was 18 – two years younger. Perhaps 18-year-olds know they have little chance of making it past a bar's front-door security, so they stick to smoking weed instead. It's hard to say.
However, as Rehabs.com explains, the biggest reason for arrests at UI was for being in bars "after hours" (in Iowa, closing time is 2 a.m., but is earlier for those under 21, as explained below).
The next most common causes for alcohol arrests were public intoxication and underage drinking.
Iowa City tried to tame the party culture it had before UI was ever named the nation's top party school. For years, bars allowed in customers who were 19 or 20 even though the legal drinking age was 21. Bars were still supposed to ID everyone to ensure those underage were not served, but anyone who went out in Iowa City at the time can attest that minors were regularly sold alcohol.
When Do The Arrests Happen?
Not surprisingly, most of the arrests take place between 9 p.m. and 2 a.m. on Thursdays, Fridays and Saturdays. There's a slight uptick at 11 a.m., which would be due to tailgating for football games. Football season is the most common time of year for arrests, with another big increase during rush week for Greeks.


It's hard to tell, however, whether that is simply a coincidence. Greeks only make up 15 percent of the student population at UI and only accounted for 33 arrests during rush week. That week also coincides with the start of classes, when students are more likely to go out since they have no homework or responsibilities yet, and have just been unleashed from parental control. It is also the week leading up to the first football game of the season.

For more, including how the University of Iowa compares with the University of Wisconsin-Oshkosh, visit Rehabs.com.
CLARIFICATION: This article was updated to clarify that the most common arrest or citation was due to being in the bars after hours. Rehabs.com's data does not distinguish between those under 21 in a bar after 10 p.m. and those of any age in a bar after last call at 2 a.m.
Popular in the Community