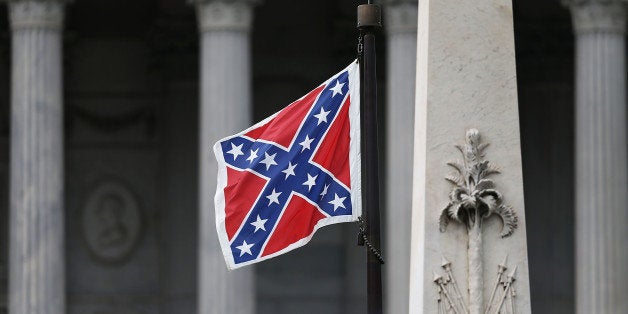 When South Carolina Gov. Nikki Haley (R) on Mondaycalled for the Confederate flag to be removed from the Captiol grounds, Americans all over the country rejoiced -- nowhere more so than in Charleston, where Dylann Roof allegedly shot and killed nine people in a historic black church last week. Now, people nationwide are calling on their own community and state leaders to do away with local tributes to the Confederacy and Southern separatism.
The flag at the South Carolina Statehouse won't actually come down unless two-thirds of the state legislature votes to remove it, but Haley's call to action is certainly a step in the right direction -- and it seems to be at the forefront of a trend. At least half a dozen petitions have launched on Change.org since last week's deadly shooting at the Emanuel African Methodist Episcopal Church in Charleston. Each petition is a plea to a politician or school official to remove or rename an area fixture that in some way memorializes the Confederacy.
"The Charleston tragedy reminded everyone that racism is very much still a thing we have to deal with, and it's ingrained in our cultural landscape through these monuments and symbols," Xavier Rotnofsky, a student body representative at the University of Texas at Austin, told The Huffington Post.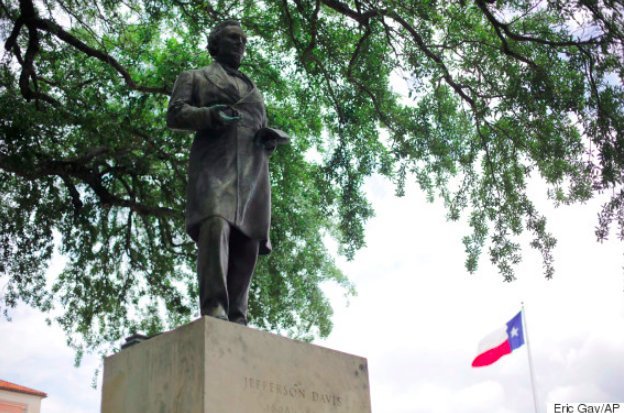 Meanwhile, in Tennessee, state Democrats are calling for officials to remove a bust of Nathan Bedford Forrest from the Statehouse grounds. Forrest was a Confederate general and an early leader of the Ku Klux Klan.
The Baltimore City Paper, an alt-weekly, has launched a Change.org petition calling for Mayor Stephanie Rawlings-Blake (D) to rename Robert E. Lee Park. Evan Serpick, editor of the City Paper and creator of the petition, called the park's name "a symbol of white supremacy and an embarrassment."
"My kids' school, which is 75% African-American, has activities in the park, and I hated thinking about African-American kids going to that park and then learning that the person it was named after led an army that fought for the right to keep their ancestors as slaves," Serpick told The Huffington Post in an email. "What message does that send?"
Residents in Arlington, Virginia, have launched a petition demanding that a stretch of highway named for Davis be rechristened. In a similar vein, one Minneapolis resident is hoping to rename Lake Calhoun -- a local body of water named for former South Carolina Sen. John C. Calhoun, "who dedicated himself to preserving white supremacy and slavery, and helped lead the push for southern secession and civil war," according to the petition.
The Minneapolis petition notes that "while changing the name of a lake will not, in itself, bring an end to injustice, it can and should be an important step in an ongoing effort to confront our nation's past and to end systemic racism and oppression today."
Obviously, even if these and a hundred other petitions were to succeed, that still wouldn't solve our country's deeply rooted racial inequalities, nor would it magically banish prejudice and intolerance from American soil. Still, at the very least, changing these names and taking down these memorials would represent highly visible gestures of respect toward people and communities who have historically received very little in this country. Certainly making these changes would be better than not making these changes.
But what are we supposed to do with all these highways and parks that suddenly need new names? Well, maybe... just maybe, if the people in power being urged to take action can find it in themselves to come to terms with history... then maybe the University of Virginia has already shown us a way forward. Maybe instead of memorializing the slave owners, we could spend a little more time paying tribute to the slaves.
Are there flags or other tributes to the Confederacy in your town? Take a photo and send it to us at openreporting@huffingtonpost.com, or put it up on Twitter or Instagram with the hashtag #HeritageOfHate. Be sure to note where the photo was taken and who or what the site is paying tribute to. We'll post some of the submissions here.
Before You Go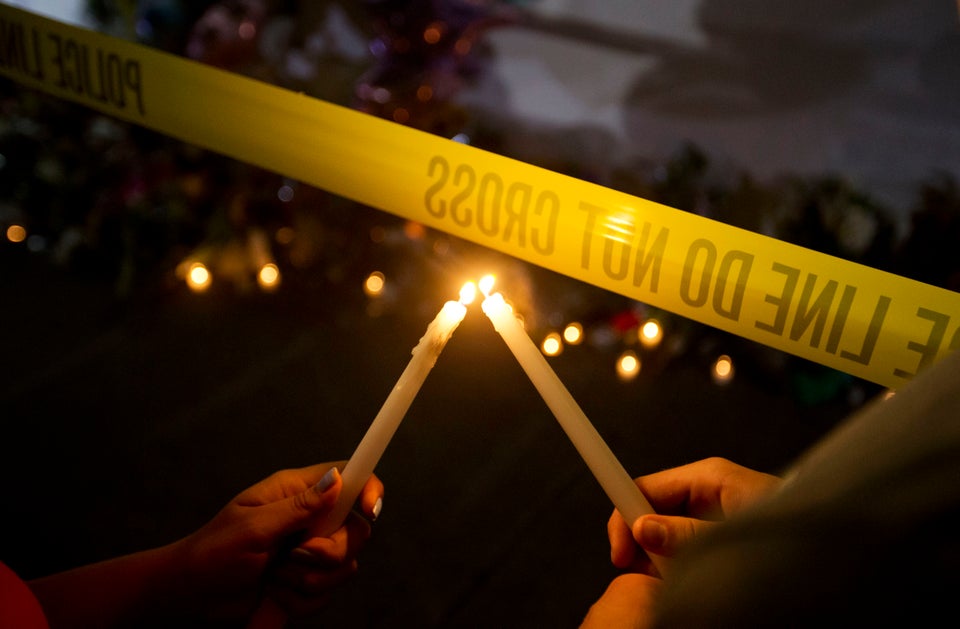 Charleston Vigils