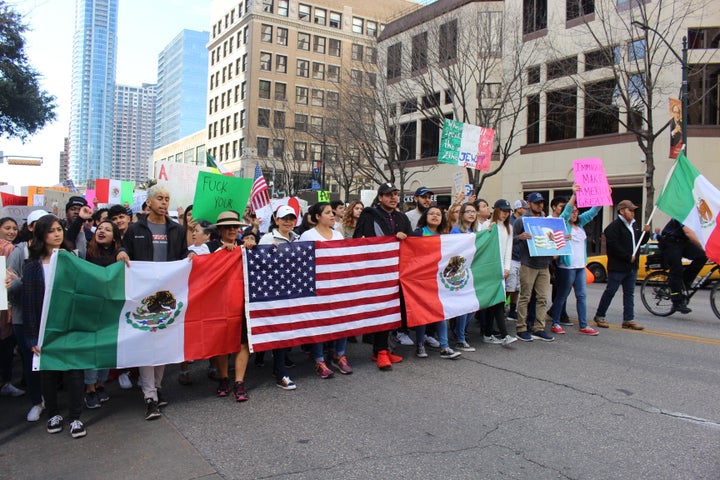 AUSTIN ― Immigrants across the country stayed away from work, missed school or avoided making purchases on Thursday in support of a grassroots movement aiming to show the country what "a day without immigrants" looks like.
The Huffington Post has withheld the names of several of those who spoke to us on Thursday to protect them from potential reprisals by immigration authorities.
In Austin, hundreds rallied outside City Hall, letting out cheers as passing cars honked in support. Noemí, 17, waved an American flag with her sister in front of the building. Both are American citizens but worry for their undocumented parents.
"I'm here for my family," Noemí, who missed a day of school to attend the rally, told The Huffington Post. "My parents came to this country 23 years ago. They've made their lives here. ...We want to make the city a better place to live. This city would fall apart without immigrants."
Noemí's mother takes care of her three daughters at home while her husband works in construction. She said that for the first time in her life, she's scared to leave the house, after a string of immigration arrests that resulted in many people with clean criminal records being detained. In recent years, the Obama administration focused deportation proceedings primarily on people who committed serious crimes or recent crossers, while largely sparing people with clean records and longstanding ties to the country.
"I used to feel secure that my husband would come home after work, like he always has," Noemí's mother said. "Now we don't know."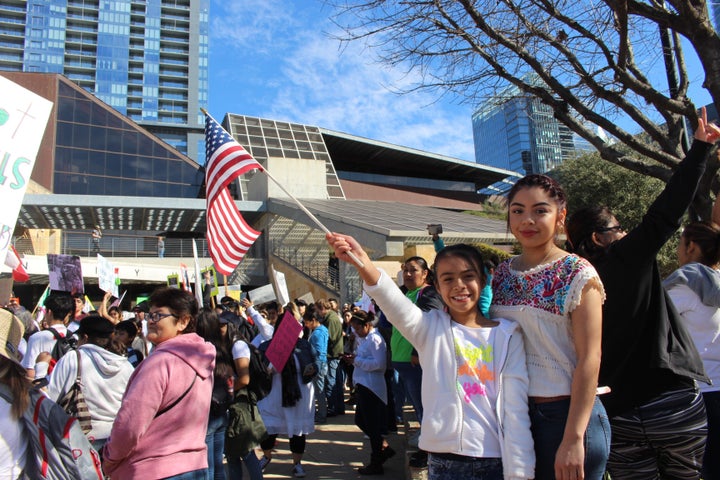 Several immigrants, including Noemí's father, said their bosses supported their decision to strike. Fifteen of his 25-person construction crew asked for the day off, so his boss canceled operations for the day. That means going without a day's wages, since he's paid by the hour.
Guillermo Gutiérrez, a Mexican-born immigrant who became a citizen years ago, said he was fasting for the day and took off from his job in apartment maintenance to attend the march.
"I told [my boss] I was going to miss today and he said, 'That's your right as a citizen,'" Gutiérrez said. "For those who don't have papers, we have to be here today."
From City Hall, the protesters marched to the Texas legislature, waving American and Mexican flags and chanting, "USA, No Trump, No KKK, No racists!"
Cliff Wilson, 57, only heard of the restaurant closings and protests when he saw the marchers walk down Congress Ave. He walked up to La Peña, an art gallery, and saw a sign saying it would shut down for the day to support immigrants.
"God bless 'em," Wilson said, referring to immigrants. "You know what you're doing when you make someone a meal? You're making people happy."
One Austin teacher in a heavily Hispanic school said only four out of her 26 students came to class Thursday because of the strike. At times during the day, she taught only one student.
"We really didn't expect all these absences," the teacher said. "We were prepared for some, but we never imagined that it would be this big."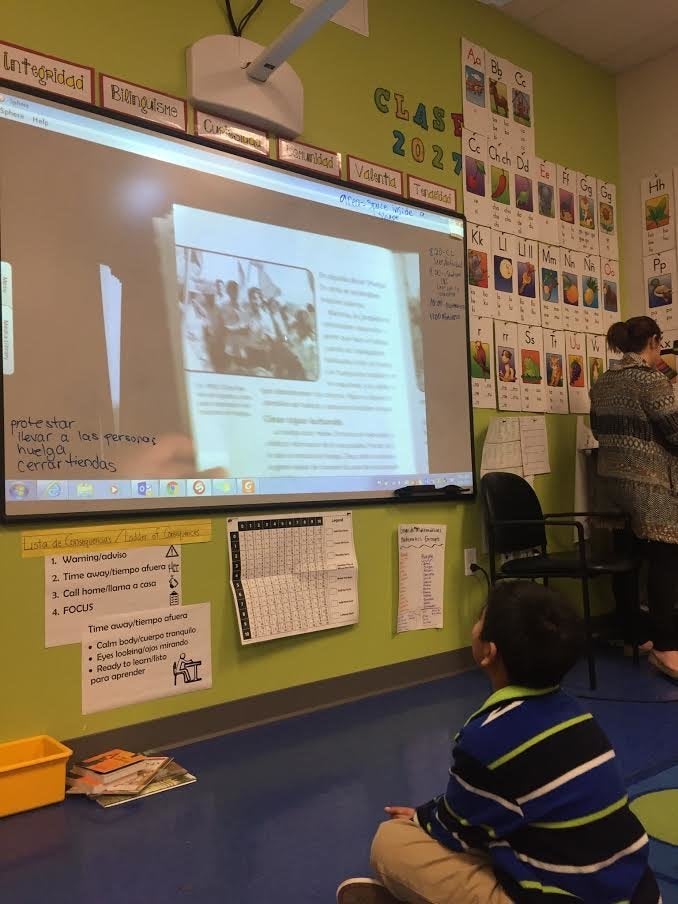 A McDonald's in the southern side of Austin was also closed, according to Spectrum News Austin reporter Stef Manisero. McDonald's corporate office did not immediately respond to a request for comment.
Similar scenes played out in other cities across the country.
High-profile chefs and family-owned restaurants proved powerful allies, with many closing their doors in support of the millions of immigrant employees who are an essential part of the food industry.
"We stand 100% behind our employees — whether they are immigrants or born in America, back of house or front of house," reads the group's statement. "When employees who haven't missed a day of work in nearly 25 years come to you and ask for a day off to march against injustice, the answer is easy."
Popular in the Community