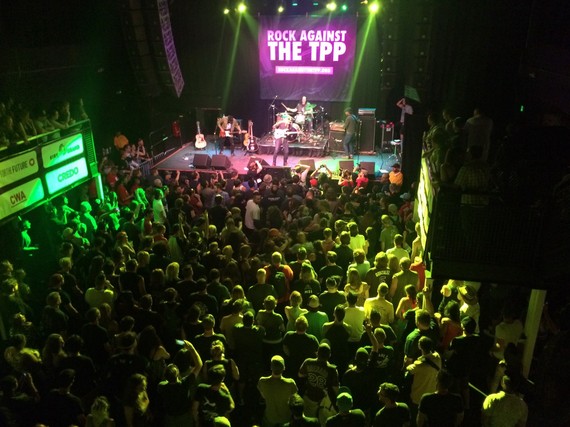 Despite resistance from within the Democratic party, President Obama has made passing the Trans-Pacific Partnership (TPP) a top priority before leaving office. The TPP is a trade agreement between the United States and 11 other countries which would cover 40 percent of the world's trade.
For seven years policymakers, press, and the rest of the public were locked out of the closed-door negotiations while 500 corporate advisors crafted the deal, which was finally released last year. Masked as a trade deal, the Trans-Pacific Partnership would affect worker's rights and wages, environmental regulations, sovereignty of nations and democratic rule of law, internet freedom and online creativity, food safety and agriculture, healthcare and financial regulation, and much more.
For these reasons, legendary guitarist Tom Morello and his new label Firebrand Records, along with the digital rights group Fight for the Future, have organized the Rock Against the TPP tour. The tour is a nationwide series of large-scale concerts, protests, and teach-ins featuring high profile musicians and celebrities.
The tour kicked off in Denver, followed by San Diego, and will be traveling to Seattle, Portland and San Francisco. Prior to each show, Golden Globe nominated actress Evangeline Lilly leads a teach-in and training, followed by performances from Tom Morello (Prophets of Rage, Rage Against the Machine, Audioslave), Talib Kweli, Anti-Flag, Jolie Holland, Jello Biafra (Dead Kennedys), Downtown Boys, Ryan Harvey, Makana, Flobots, Danbert Nobacon (Chumbawamba), Climbing Poetree, Sihasin, Cihuatl Ce, Emma's Revolution, Taina Asili, Son of Nun, Lia Rose, La Santa Cecilia, Bonfire Madigan, Bell's Roar, Evan Greer and others.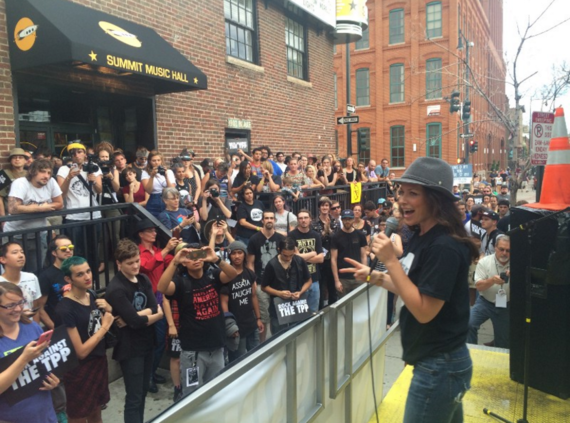 The goal of the tour is to sound the alarm about the toxic backroom deal that is the Trans-Pacific Partnership. Evan Greer, campaign director of the digital rights group Fight for Our Future, says the TPP is the "Antithesis of democracy", calling it a "totally unacceptable way to do business in the 21st century." One main issue Greer points to is the Investor-State Dispute Settlement (ISDS), a piece of the TPP which gives international corporations the right to sue governments for unlimited amounts of taxpayer compensation if regulations impact or could impact future profits.
Greer also highlights how the TPP could impact the internet as we know it. The TPP dramatically expands copyright enforcement, poses a grave threat to our right to access information online, and could be used to enforce internet censorship. Under the TPP, Internet Service Providers could also be forced into a position where they would have to police users' activity, remove internet content, and cut off internet access for some users. Internet users could face excessive mandatory fines for copyright infringement, disproportionate to any actual damages done to copyright holders.
In 1993, the North American Free Trade Agreement (NAFTA) was signed into law, which led to an estimated loss of 700,000 American jobs, as production moved to Mexico. Public Citizen points out that the TPP includes rules that will make it even cheaper for companies to outsource U.S. jobs to low wage countries, which is probably why Robert Reich refers to it as "NAFTA on steroids."
Justin Sane, lead singer of the popular Pittsburgh-based punk band Anti-Flag, lists the impact the TPP would have on workers as one reason why he thought it was important to join the tour.
"Many people may have heard of TPP, but are not exactly sure what it is, and when they find out more about it, they don't like it. Especially when they see the similarities with NAFTA. The TPP pits workers around the world against each other. Growing up in Pittsburgh, workers' rights is an issue very close to our hearts."
Sane points to their song, "1915," saying it is a tribute to the power workers can have when they come together. "Any so-called trade agreements by corporate lawyers and lobbyists behind closed doors should set off red flags for people."
The Rock Against the TPP tour is sponsored and co-organized by a diverse coalition of groups and organizations such as Backbone Campaign, Citizens Trade Campaign, Communications Workers of America, CREDO, Demand Progress, Friends of the Earth, the International Labor Rights Forum, Private Internet Access, Public Citizen, Sierra Club, SumOfUs, and the Teamsters.
Eric Ross, an organizer with Backbone Campaign, a progressive movement-building organization renowned for their artful activism, says "TPP is antithetical to the very idea of a representative democracy. If congress betrays us by passing the Trans-Pacific Partnership it will lead to the unraveling of decades of hard-won protections for the health and safety of workers, our communities, and our lands, rivers, and air."
Popular in the Community