WASHINGTON ― Tens of thousands of activists demonstrated in cities across the country on Saturday ― the date when Americans' taxes are normally due ― to demand the release of President Donald Trump's tax returns.
The largest marches took place in New York City and Washington, D.C. Some 100 other cities hosted smaller marches.
Protest organizers estimated that over 25,000 people attended the rally in Washington, D.C., and 20,000 people participated in New York City.
Together, the rallies across the country were among the largest anti-Trump demonstrations since the Women's March drew millions of people into the streets on Jan. 21.
"Trump says only the media cares about this taxes. Today, we've proved him wrong. It's time for Trump to come clean, so we know who he's really working for," said Working Families Party national membership director Nelini Stamp, a keynote speaker at the New York City, in a statement following the march.
In Washington, D.C., the march began with a rally at the U.S. Capitol followed by a parade down Pennsylvania Avenue, past the Internal Revenue Service headquarters and the Trump International Hotel ― where protesters chanted "shame" in unison. The rally at times played the role of an all-purpose demonstration against Trump, replete with derisive condemnations of the president ― including references to alleged collusion of staff members from his presidential campaign with the Russian government.
Rep. Maxine Waters (D-Calif.), the ranking member on the House Financial Services Committee, gave one of the most impassioned speeches at the U.S. Capitol. Waters, who has become a leading voice of opposition to Trump, vowed to impeach the president for his "contemptible" actions, as she led the crowd in a chant of "impeach 45." 
"I have laryngitis. But the only way I would not have been here with you today is if they cut my throat and stopped me from talking," she declared. "If he thinks he can get away with playing king, he's got another thing coming!"
Sen. Ron Wyden (D-Ore.), the ranking member on the Senate Finance Committee, declared during his speech, "We are taking the gloves off to say knock off the secrecy Mr. President and publicly release your own tax returns!" 
Rep. Jamie Raskin (D-Md.) was another leading Democrat to address the D.C. crowd, along with several policy experts and progressive leaders.
The rallies also featured Donny the Tax March Chicken, an inflatable chicken made to resemble Trump. The gag is intended to mock Trump for being too "chicken" to reveal his tax returns. 
The march's speakers were also calling for a fairer taxation system, which they argue is unfairly skewed to the advantage of wealthy people including Trump. 
The progressive organizations and labor unions sponsoring the march include Indivisible, Americans for Tax Fairness, MoveOn.org, Public Citizen, Demos, Credo, the Working Families Party, the National Women's Law Center and the American Federation of Teachers.
The coalition of liberal groups organized the "Tax March," as they called it, to coincide with April 15, because it's usually Tax Day ― the final day for individuals to submit their tax returns.
This year, individual tax returns are due on Tuesday, April 18, since April 15 is a Saturday and on Monday, federal government workers have the day off work for Emancipation Day, a Washington, D.C. holiday.
Trump is the first president in four decades who has not released his tax returns or comparable financial information. The practice became a tradition when former President Richard Nixon released his returns after he was audited.
In January, Trump adviser Kellyanne Conway insisted that Trump would never release his returns, arguing that his election proved that "people didn't care" about it.
But Trump's critics believe his refusal to disclose his tax returns is a sign that he has something to hide. Questions about his motives have led to speculation that they contain evidence of either major tax avoidance or financial ties to figures close to the Russian government.
The FBI confirmed in March that it is investigating Trump associates for their possible ties to Russia, raising the possibility that the president's allies participated in the alleged Russian interference efforts in some capacity.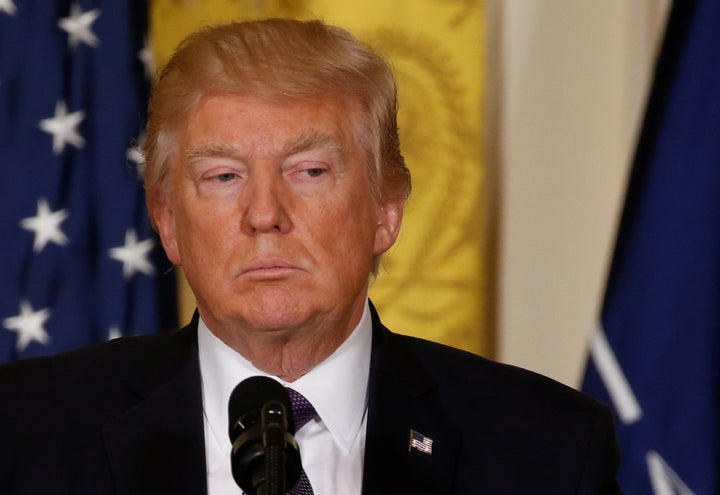 In D.C., speakers mixed partisan red meat with sincere appeals for transparency and stinging indictments of wealthy tax avoidance.
A Trump impersonator regaled the crowd with a nasal, self-mocking routine that concluded with fake secret service members showering protesters with shredded paper that represented destroyed copies of his tax returns.
Rep. Waters told the crowd that the president's missile strike on an airfield in Syria was an attempt to generate "phony tension" between his administration and Russian President Vladimir Putin, a patron of the Syrian regime.
Trump's "motives and his actions are contemptible. And I will fight every day until he is impeached," she declared.
Heather McGhee, president of the liberal think tank Demos, focused on the way tax loopholes and other schemes rich people use to avoid taxes have deprived public institutions and services of much-needed revenue.
"Every year at budget time we're coming up short. They tell us there is not enough money to make the schools better ― or even keep them open in some neighborhoods," McGhee said.
"Across the country, Americans are calling 'bullshit!'" she concluded, prompting the crowd to repeatedly chant "bullshit" in response.
And Rep. Raskin, a constitutional law professor who represents the Maryland suburbs of Washington, D.C., protested the lack of voting representation in Congress for D.C.'s nearly 700,000 residents ― despite the billions of dollars in taxes they pay.
He also argued that Trump must disclose his tax returns before he embarks on an effort to reform the country's tax system.
"We cannot debate tax policy in America unless we know what personal, family and business interests are motivating and defining your proposals," he said.
The majority of the activists at the tax march in Washington, D.C., appeared to come from the greater metropolitan area, including the Maryland and Virginia suburbs. 
There were, nonetheless, many people who traveled long distances to participate in the event.
Heavy machinery salvage businessman Paul Kelly, 55, and his son Stafford Kelly, 19, took the train up from Chapel Hill, North Carolina. They were sporting hard hats from their line of work. Stafford Kelly was holding a red and yellow "Trump" flag with old Soviet insignia, while his father held a Syrian flag as a gesture of solidarity with the Syrian people. 
"We should let the refugees in instead of bombing them," Paul Kelly said. 
He identifies as an independent and was not involved in politics until Trump's election.
"We gotta do something to oppose this administration," he said. "The Russian connections, the misogyny, the sexism, the racism ― it's pretty much just un-American."
Marcia Lickei, 65, and her husband Paul, 72, flew in from Green Valley, Arizona, to participate in the march alongside Marcia's sister Margie Weidlich, 63, who lives in Herndon, Virginia.
Trump's decision on Friday to end the practice of publicly disclosing the White House visitor logs has increased Paul Lickei's suspicion that Trump is hiding something in his tax returns.
"I still remember the Vietnam era, and Nixon and Watergate, so that's why we are highly doubtful about this president at this point, because we don't feel that he is giving us transparency of any sort," Lickei said.
Here are some images from tax marches across the country:
This article has been updated with new details on rally developments throughout.
Calling all HuffPost superfans!
Sign up for membership to become a founding member and help shape HuffPost's next chapter
BEFORE YOU GO
PHOTO GALLERY
Donald Trump Loves Signing Things