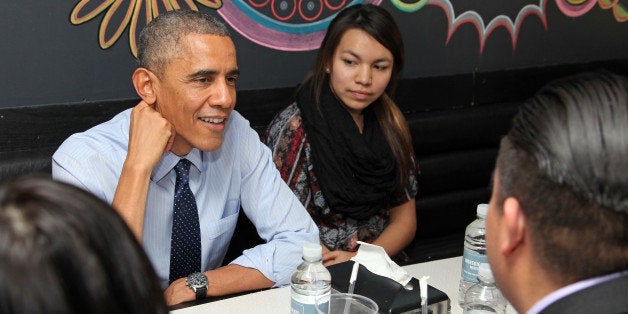 Robert Looks Twice grew up in a trailer with his grandmother, uncle and eight cousins on the Pine Ridge Indian Reservation in South Dakota. Looks Twice, along with two other young Native people from Pine Ridge, was a subject of Diane Sawyer's "Children of the Plains," a special that first aired on ABC in 2011.
For many Americans, "Children of the Plains" was a startling glimpse into the poverty and despair affecting the lives of Native Americans. Five cousins share a single bedroom with a collapsing ceiling. People carry the scars of generations of alcoholism and addiction. They spend their days broken and weeping in the quivering grass of the hills where their ancestors -- Crazy Horse and Sitting Bull -- captured Custer's American flag at the Battle of the Little Bighorn in 1876; where the 7th cavalry massacred the Lakota and poured their bodies into a mass grave at Wounded Knee in 1890. This is what happened to the first peoples of this land. This is the lot left to their children.
Now, from impoverished reservations in the West, to Congress and the White House in the East, there is a growing bipartisan movement to document and address the lack of resources and opportunities in Native communities.
In June 2014, President Barack Obama visited the Standing Rock Sioux Tribe -- the people of Sitting Bull -- on the border of North and South Dakota, becoming only the eighth president to visit an Indian reservation while in office. During his visit, Obama met with Lakota and Dakota youth, whose stories of forestalled opportunities, drinking and suicide moved him to tears. After the president's visit, the administration increased its efforts in Indian Country, producing reports, programs and initiatives designed to support Native youth.
After Obama's visit, in November 2014, the Department of Justice released a report detailing Native children's unhealthy exposure to violence. The DOJ report was soon followed by the White House's 2014 Native Youth Report on the state of education in Indian Country.
Together, these reports told an alarming story of overwhelming poverty, epidemic suicide, combat-level rates of PTSD and low educational attainment among Native youth. Here are some of the more striking statistics:
More than one in three Native children live in poverty.
The high school graduation rate for Native students is 67 percent -- the lowest of any ethnic group in the country. At Bureau of Indian Education schools, the graduation rate is 53 percent, compared to the U.S. average of 80 percent.
Suicide is the second leading cause of death for Native youth aged 15 to 24, and occurs at 2.5 times the national rate.
Twenty-two percent of Native youth suffer from Post Traumatic Stress Disorder -- exceeding or matching PTSD rates among Afghanistan, Iraq and Gulf War veterans, and almost three times the 8 percent rate of PTSD in the general population.
Sens. Heidi Heitkamp (D-N.D.) and Lisa Murkowski (R-Alaska) introduced a bill in January to create a commission on the status of Native children.
Last week, Reps. Betty McCollum (D-Minn.) and Tom Cole (R-Okla.) introduced the House version of the bill.
The legislation would create an 11-member commission to study the programs, grants and services for Native children that are already provided by agencies and tribes. The commission would then produce a report and work to advance the longer-term goal of increasing coordination between service providers, making better use of resources and strengthening partnerships with the private sector to measurably improve outcomes for Native children.
Heitkamp, who served as attorney general of North Dakota from 1993 to 2001, has a strong background working with tribes in her state. When she arrived in Washington, D.C., in 2013, she made Native children a top priority. At her first bipartisan dinner with other women senators, Heitkamp's colleagues asked what legislation she hoped to introduce while in Washington. She reportedly told her colleagues that "[her] passion is Native American children." Murkowski overheard Heitkamp's answer and crossed the room to talk to her. They quickly became friends -- and out of that friendship, a bipartisan bill to create the Alyce Spotted Bear and Walter Soboleff Commission on Native Children was born.
"When you give the statistics, it should be a national emergency," Heitkamp told The Huffington Post. "I give the United States government an 'F' in protecting children in Indian Country. It's been bad for a long time, and we haven't addressed it, and we've let it get worse."
Cole, an enrolled member of the Chickasaw Nation of Oklahoma and one of only two Native Americans in Congress, said the federal government has a responsibility to Indian nations.
"A lot of these kids are growing up on trust land, on reservations, where we really are the people that are supposed to be providing decent education and a decent set of opportunities and a secure and safe environment -- and historically, the federal government simply hasn't," he said.
"An extraordinary amount of land was surrendered in exchange for certain commitments that, by and large, haven't been kept," he added.
Robert Looks Twice and the Oglala Lakota of Pine Ridge, who live on land promised to them in the Fort Laramie Treaty of 1868, know this well. The vast majority of the land promised to the Great Sioux Nation in that treaty, including the sacred Black Hills, was illegally seized by settlers in 1876. With their land taken and the basic services guaranteed to them by the federal government neglected -- including education, housing and healthcare -- the Lakota, like Native peoples across this continent, have struggled to live with dignity in the wake of dispossession.
The proposed commission makes no promises regarding broken treaties and makes no legislative commitments. The last Congress passed only 22 out of 122 bills and resolutions related to Indian affairs, so it's unlikely that this legislation will be able to break through the partisan gridlock. Nonetheless, lawmakers and stakeholders from all political backgrounds are hopeful.
Former Sen. Byron Dorgan (D-N.D.), who founded the Aspen Institute's Center for Native American Youth after retiring from Congress, says that now is the time.
"Timing is everything, and I think that the president of the United States went to an Indian reservation this past year, and we had a White House youth event dealing with the issues and opportunities for Indian children, so there's been a lot going on," he said.
Despite tensions between Obama and the Republican Party, Cole offered the highest praise for the current administration's record in Indian Country.
"The president has an excellent record on Native American affairs -- one of the best records in the 20th century, without a doubt," he said.
"Indian issues really aren't Democratic or Republican-focused, they actually cut across," he added. "It's actually one of the areas [where] we cooperate."
Ahniwake Rose, executive director of the National Indian Education Association, says a bipartisan bill has been a long time coming. "This commission that [Heitkamp] has offered up has really been what education stakeholders across the country have been asking for."
Rose says the commission's holistic approach to the range of issues affecting Native children can bring lawmakers together to improve the situation. "What's interesting about this commission is that it will be able to start moving forward and offering some legislative changes," she said. "Instead of just maybe being a study that sits on the shelf, this can really do some impactful, meaningful change."
Dorgan says that starts by engaging Indian nations. "You have to engage tribes and tribal authorities," he said. "You have to engage parents and children, because if you don't have engagement with the affected people, you're not going to ever begin to solve these things."
Despite the vast and deep-rooted challenges of working in Indian Country, Rose is hopeful.
"Our population is small and it's really easily hidden," she said. "That will be the power of this commission: to shine a spotlight on these faces and on these stories, so that every senator and every congressperson is able to relate and bring those stories to the work that they do."
Before You Go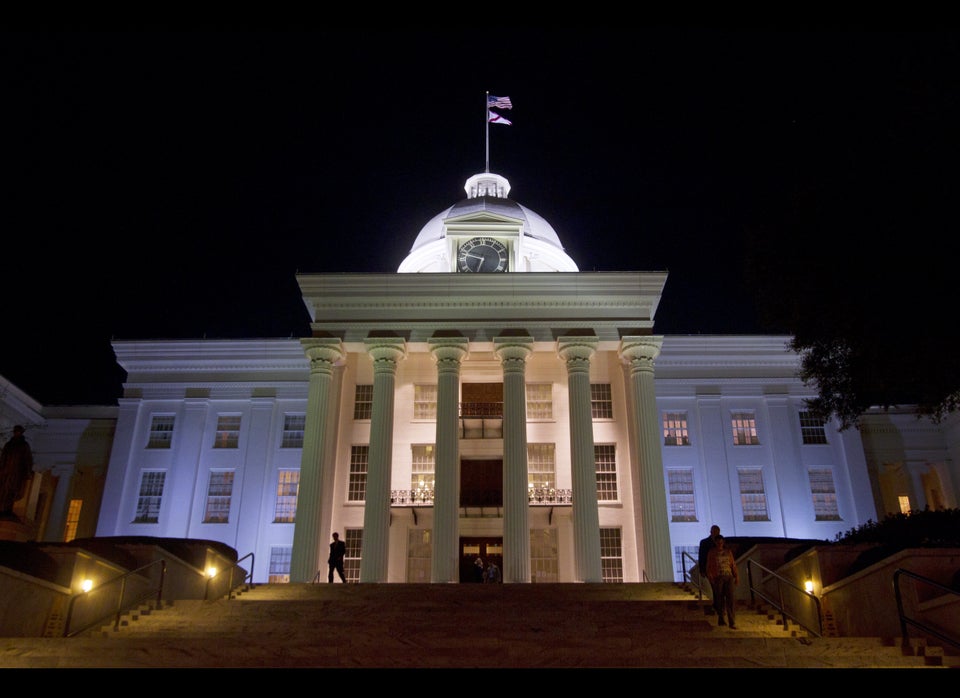 U.S. State Capitol Buildings
Popular in the Community