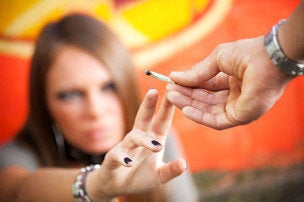 A national analysis of drug abuse among teens released yesterday – among the most comprehensive to date – found that Native American, Latino and white adolescents have the highest rates of drug-related disorders.
In culturally diverse California – where recent illicit drug use among teens has climbed to nearly 11 percent – the findings have implications for the state's prevention and treatment policy.
"This is a national study, but California is the prototypical state where there is a mixture of individuals across racial and ethnic groups," said Dan G. Blazer, a Duke University psychiatry professor and co-author of the study. "In terms of looking at comparisons across races, this study is very relevant to California."
According to a state tally, there were 23,322 teens in publicly monitored and funded treatment programs in 2009.
The study analyzed federal surveys of more than 72,000 youth between ages 12 and 17. Thirty-seven percent said they had used alcohol or drugs in the past year, and about 8 percent misused substances to the extent that they had a "substance use disorder."
After researchers controlled for variables like age and socioeconomic status, they found "elevated odds of substance-related disorders" among Native American, white, Latino and mixed-race teens. African American and Asian youth had the lowest rates of substance use.
The study largely confirms what studies using smaller sample sizes have shown: There are high rates of substance use and abuse in the Native American community.
"We know it; we deal with it all the time," said Molin Malicay, CEO of the Sonoma County Indian Health Project. "This is not surprising to us."
Blazer said the study should underscore the importance of early intervention with youth, which is crucial for successful addiction prevention and treatment.
"Substance use is a big problem in this country, and it's a big problem among adolescents," he said. "If you identify these individuals (with substance use disorders) early on and get them into treatment in their adolescence, it will hopefully lead to higher levels of responsiveness to treatment and a higher level of abstinence once they enter into adulthood. Identifying the problem and getting them into appropriate treatment programs is extremely important."
Although California has the highest concentration of Native Americans in the country, state health advocates say not enough resources are dedicated to addressing teen drug use and abuse.
"I don't know anyone who works with (Native American) youth with these types of problems who think there are enough resources dedicated to substance abuse prevention and treatment," David Sprenger, chief medical officer for the California Area Indian Health Service, wrote in an e-mail. "More funding would be tremendously helpful in addressing substance abuse problems in the (Native American) adolescent population."
There are also few treatment facilities for Native American youth. The California Area Indian Health Service, a federal agency, estimates that 5,000 Native American teens in the state are in need of residential care, with about 100 currently sent out of state for treatment. But California is the only region in the country without a treatment facility for Native American youth.
According to a federal law amended in 1992, California is required to build two treatment facilities. Steve Zerebecki, the health service's facility planner for California, said these centers are "usually in the top three priorities for tribal leaders and tribal health programs; they are a longstanding need."
Federal funding and the siting of these projects has been a challenge in California, Zerebecki said. "Indian Health Services has several significant facility development projects in planning and development stages nationally, and the project costs year after year exceed the congressional appropriations," he said.
Finding a suitable location for both facilities in California on a $2.7 million budget has been difficult. In Southern California, the agency purchased land in Hemet for a facility that will take a few years to build. In Northern California, a recent effort to build a treatment center in Yolo County was stalled in late August [PDF].
Physicians say factors such as genetics and poverty help explain the high rate of addiction among Native Americans. Sprenger, of the Indian Health Service, says another potential cause is higher levels of psychosocial stress related to experiences such as the loss of culture.
As a Native American who grew up in Santa Rosa, Malicay, of the Sonoma County Indian Health Project, agrees that cultural factors are one reason drug and alcohol use are high.
"In general, Native Americans or Indians come from a history of trauma," he said. "I had great-grandparents who went through the marches where they were maimed, and there is a lot of hate because of what they have seen. All of that is passed on to us, and it's passed down in many ways. And on the reservations, there's gloom, unemployment, no one works and there is a lot of drinking and a lot of drugs there. You grow up with little hope. It has to do with the environment you live in and history."
The health effects of historical trauma also can be exacerbated by teenage experimentation with alcohol and drugs, said Tahnee Camacho, a youth program manager at the Native American Health Center in Oakland.
"It's not just Native American youth, but in youth culture, they are dabbling with drinking and drugs," she said. "We lack resources for the 12-to-17 age bracket. It's frustrating for me as a youth worker because if dabbling becomes an issue, there's not a lot I can refer them to."
The health center has begun incorporating traditional ceremonies and cultural practices into its prevention efforts, a tactic that has been shown to be effective. According to the California Department of Alcohol and Drug Programs, Native American youth who identify with their culture are less likely to abuse drugs.
The overall dearth of prevention and treatment programs for adolescents is an issue that the California Society of Addiction Medicine, a consortium of physicians, is working to address by working with Los Angeles public schools.
"You would think that there are lot of programs funded locally or statewide for these adolescents, and there are not," said Dr. Jeffery Wilkins, president of the California Society of Addiction Medicine and medical director of addiction medicine at Cedars-Sinai Medical Center in Los Angeles. "Adolescents are a group for which we still don't have a real dedicated effort. We need to recognize the future of America is in these adolescents and children, and we really have to find a way to make sure that they don't destroy their brains or impact the formation of their brains through use of drugs. Alcohol is a monster in this problem as well."
The society also has been critical of the state's efforts to address adolescent substance use. According to a policy paper [PDF] it released, "California's approach to misuse of alcohol and other drugs by adolescents and young adults continues to demonstrate a pattern of ineffectiveness. It is characterized by grossly inadequate funding for prevention and treatment that is often irrationally separated into substance abuse and mental health silos."
The organization recommended improvements to early diagnosis of substance abuse and creation of a statewide network of residential treatment centers.
Duke researchers say that while the study confirms a number of findings related to Native Americans, it also challenges notions that African Americans are using drugs at high rates.
"I think there's a myth out there that there is a big problem of substance use among African Americans, and many studies show that they are highly involved in treatment," Duke's Blazer said. "This study shows that among adolescents, the rates of use and developing substance-related disorders is actually lower."
Bernice Yeung is an investigative reporter for California Watch, a project of the non-profit Center for Investigative Reporting. Find more California Watch stories here.
Popular in the Community