The Senate voted Wednesday to confirm Sunshine Suzanne Sykes to a lifetime seat on the U.S. District Court for the Central District of California, making her the state's first-ever Native American federal judge and just the fifth Indigenous woman in U.S. history to serve on a federal court.
The Senate confirmed Sykes, 51-45.
Every Democrat present voted for her, along with three Republicans: Sens. Susan Collins (Maine), Lindsey Graham (S.C.) and Lisa Murkowski (Alaska). Every other Republican present voted no. Sens. Roy Blunt (R-Mo.), Kevin Cramer (R-N.D.), Jacky Rosen (D-Nevada) and Chris Van Hollen (D-Md.) did not vote.
Sykes, 48, has been a California Superior Court judge since 2013. She previously served as deputy county counsel for Riverside County, and was a contract attorney for the Defense Panel at the Southwest Justice Center. From 2001 to 2003, Sykes also worked as a staff attorney for California Indian Legal Services.
Sykes joins four other Native American judges actively serving on the federal bench out of nearly 900 authorized federal judgeships. Those four are all women, and they are U.S. District Judges Lauren King, Diane Humetewa, Ada Brown, Lydia Kay Griggsby.
Carl Tobias, a federal judicial nominations expert and law professor at the University of Richmond, called it "remarkable" that it's taken this long for a Native American person to hold a federal court seat in California, which is home to 109 federally recognized tribes.
"The federal courts can have numerous profound effects on myriad Native American individuals and tribes," Tobias said, listing off reasons why diversity matters on the courts. "Ethnic, gender and experiential diversity improve judicial decision-making, confine biases that can undercut federal court litigation, and increase public confidence in the federal courts when their judges reflect America."
For some context on the significance of Sykes' confirmation, only seven Native Americans have ever served as federal judges in the 230-year history of the U.S. federal courts. That's out of more than 4,200 people who have served as Article III judges (lifetime judges on U.S. district courts, appeals courts and the Supreme Court). Besides the five previously mentioned judges, including Sykes, the other two were U.S. District Judges Michael Burrage and Frank Howell Seay.
There has never been an Indigenous judge on a U.S. appeals court.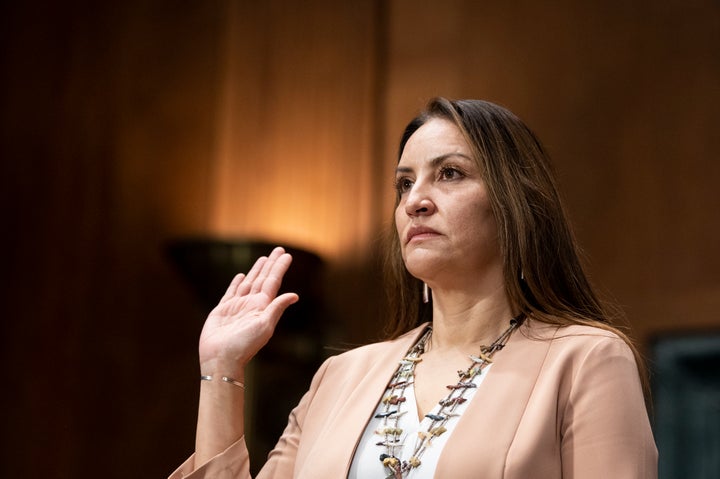 Sykes' confirmation continues President Joe Biden's efforts to make the nation's federal courts more diverse, both in terms of demographics like race and gender but also in terms of professional backgrounds. His judicial nominees mark a huge departure from the prototypical white, male corporate lawyers almost always tapped for lifetime federal judgeships.
Of the 40 lifetime federal judges that Biden confirmed in his first year in office, 32 are women, 27 are people of color, 21 are women of color and 27 have professionally diverse backgrounds. Fifteen are former public defenders.
Notably, of the five Native American women who have ever been confirmed to lifetime federal judgeships, three are Biden nominees: Sykes, King and Griggsby.
"Judge Sykes' extensive knowledge and experience are vitally important for the federal judiciary, particularly in California where countless federal Indian law issues arise among the more than 100 Tribal Nations within the state," Mark Macarro, first vice president of the National Congress of American Indians, said in a statement.
"It is critical, now more than ever, that more qualified American Indians and Alaska Natives be appointed to the federal courts," he said, "especially given how much of tribal life is controlled by federal law and the courts' interpretations of those laws."
Support HuffPost
The Stakes Have Never Been Higher
Popular in the Community