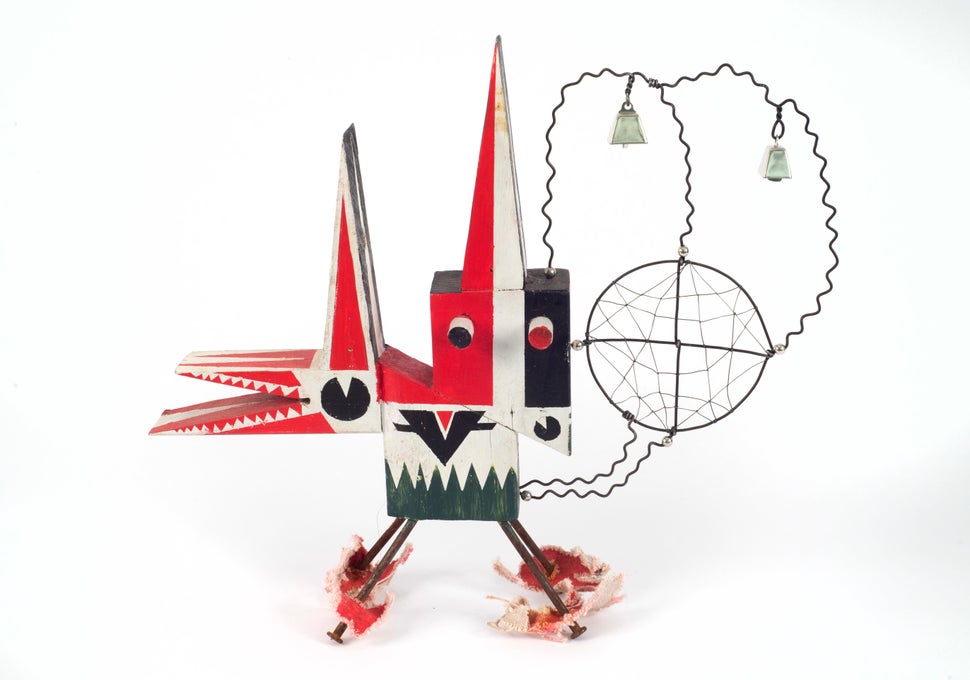 Traditionally, katsina dolls, essential to Hopi and Zuni Native American traditions, serve as messengers between the earthly and spiritual realms, often imparting moral lessons to young children. Representing the spirits of deities, animals, natural growths and deceased ancestors, the dolls are often made from cottonwood root, featuring crescent-shaped mouths, beaks or snouts, as well as bird wings, feathers, and animal horns. 
Artist Brad Kahlhamer riffs of the katsina tradition with his wiry assemblage sculptures, weaving the spirit of Native American folk art through the impetuousness of abstract expressionism and the rebellious fever of New York punk. The raggedy talismans, made from canvas and nails and shirts and hair, resemble the abject cousins of the traditional totems, not so much imparting moral lessons but busking through gritty New York streets imparting frenzied and sometimes wildly intuitive tidbits. 
Kahlhamer is Native American. However, he was adopted by a German-American family in infancy and does not know his biological parents nor his tribal affiliation. As such, his art is pumped with a certain ravenous hunger, with multiple influences both cultural and personal surgically attached at a quick pace.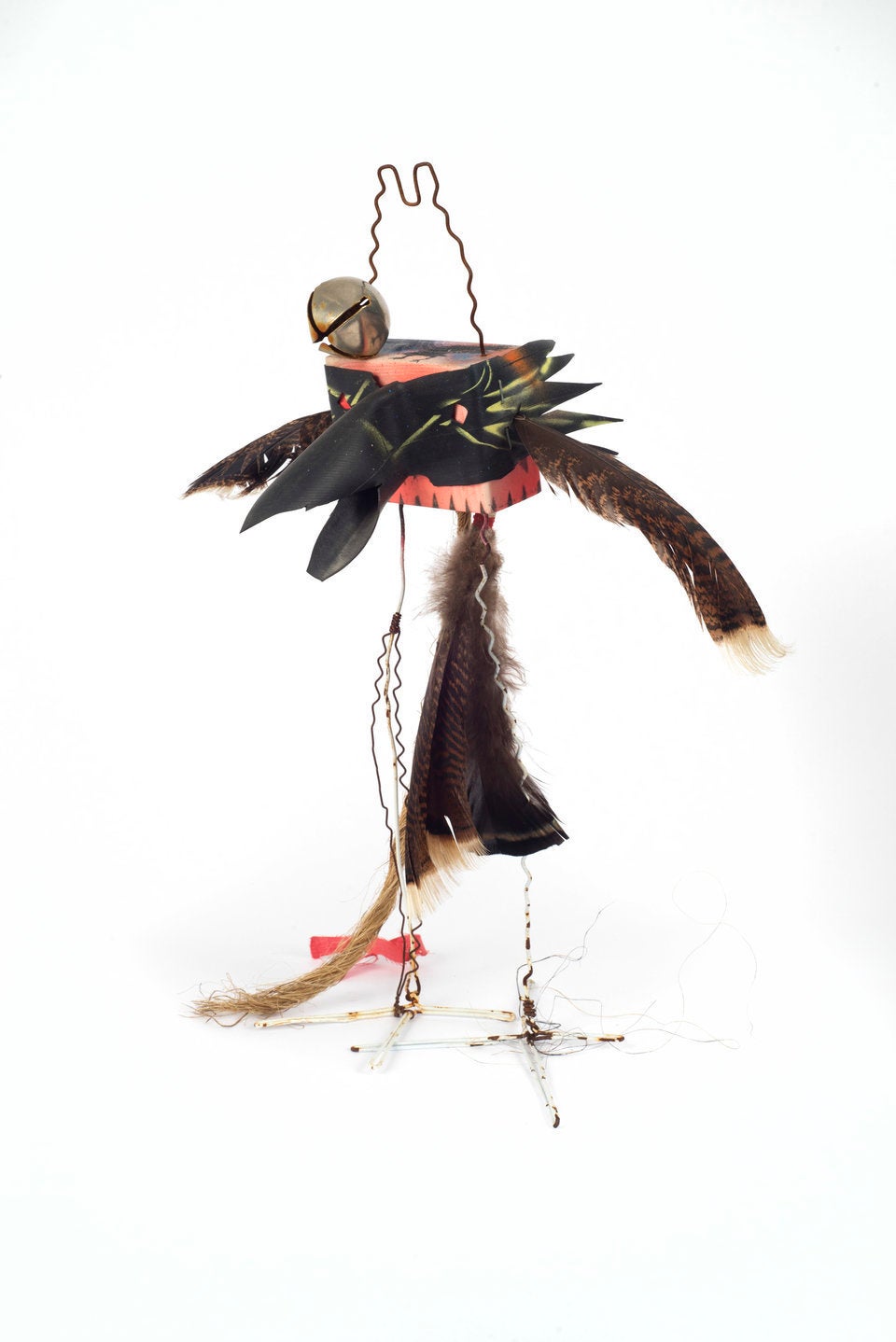 "I grew up in Tucson and at 14 moved with the family outside a small Wisconsin town," Kahlhamer explained to The Huffington Post Arts. "I had tremendous freedom as a kid. Lots of desert adventures -- a childhood filled with only-come-home-when-hungry treks and nature encounters in the Sonoran Desert. I think that instilled me with some nomadic impulses. The Midwest was about personal growth, developing my curiosities and early encounters with the 'other.'"
In 1982, Kahlhamer moved to New York City, specifically the Lower East Side in the midst of its cultural rebirth. "I witnessed Glenn Branca's apocalyptic guitar symphony. I was also playing in a band -- I recall one gig at Danceteria that was on the same bill as the Cro-mags' beer-can-throwing crowd.  At the time, I worked at Topps chewing gum as an art director and met some of the underground cartoon heavies. Art Spiegelman brought in the first copy of Raw, and he showed the first chapters of Maus. I was attracted to the whole movement's sense of mission."
The raucous pace of 1980s New York is tangible in Kahlhamer's sculptural works -- part subway graffiti, part performative nightlife, part post-punk DIY. And a hefty dose of that New York transplant angst, opting to search for a home and an identity somewhere between the future and the past. A whimsical darkness runs throughout. Holland Cotter described the vision as "morbid, death-haunted, a circus risen from the grave."
"Native American history has long been central to my 'yonderings,'" Kahlhamer continued. "By that I mean the treks and explorations I take through urban street culture, music, cinema, Native American art and the American West. The Arizona landscape of my childhood was so powerful to me, as were the tribal objects that originated there."
Specifically, Kahlhamer was inspired by the Barry Goldwater collection of katsina dolls at the Heard Museum, which he first visited in the 1970s. "I've always marveled at the collection's power and the interconnectedness of its cosmology. It's an entire universe." The artist's "Bowery Nation," featuring over 100 figures, is an ode to this obsession, as is his newest sculptural series, "Super Catcher," which shifts from katsina dolls to dream catchers.
Aside from crafting sculptures, Kahlhamer also plays guitar, a practice he sees as a natural extension of his visual work. "The sounds I play are like the forms in my work -- skeletal, jangly, wirey," he said. "I prefer the raw and immediate. A music video I made, 'Dark Hair,' has lyrics that have ended up in paintings.
"There's a perpetual sonic loop between the painting studio and my musical interests. This translates to writing, too. I recently wrote an essay on the painter Fritz Scholder for the Denver Art Museum, and approached the text with a songwriter's attitude.  I always travel with a sketchbook so I can jam out visually in the same way I would with a guitar. The sketches then live on as entries on my Instagram, which I keep as visual diary. It's all a lyrical loop."
There is a loop-like feel to Kahlhamer's entire handmade practice as well; perhaps, that is, if loops could be jagged. Authentic obsessions, whether artistic influences or personal quests, drive the time-travelling sculptures with ferocious intensity. Traditional Native American folk art is stitched together with a hint of Paul Klee's diminutive monsters, a whiff of Jean-Michel Basquiat's calligraffiti, some of Alexander Calder's delicate mobiles, a bit of Robert Rauschenberg's scrap storytelling. It's a search for identity that doesn't just look backwards, but forwards, sideways, inside, and upside down as well.  
PHOTO GALLERY
9 Art Techniques That Anyone Can Do To Jumpstart Creativity
Calling all HuffPost superfans!
Sign up for membership to become a founding member and help shape HuffPost's next chapter