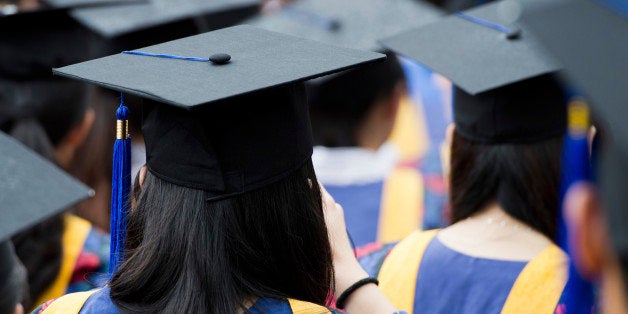 TULSA, Okla, June 4 (Reuters) - High school senior Hayden Griffith, a citizen of the Cherokee Nation and Delaware Tribe in Oklahoma, was given an eagle feather by a tribal elder to wear on her cap at graduation, a traditional symbol of great personal accomplishment.
The Caney Valley Public Schools district north of Tulsa told her the feather was not appropriate and graduation regalia for all should be free of extra adornments. If not, it could be forced into allowing others to put symbols on mortarboards, embarking on a slippery slope that might ignite controversy.
The fight was one of many that emerged during graduation season nationwide, including in Oklahoma, which has the country's second-highest percentage of Native Americans in its population.
Parents have tried to sway sometimes reluctant school boards to honor Native American traditions such as the eagle feather, reasoning they are also an essential part of America's traditions.
"The good thing is, once we educate schools about the cultural and religious significance of eagle feathers, they're often more willing to allow it," said Matt Campbell, a staff attorney with the Native American Rights Fund, a civil rights group that has been involved in lawsuits in Oklahoma, California and other states over the feathers.
However, the news was not as good for Griffith, with a federal judge agreeing with the school district in May, denying her injunction to wear the feather.
"Here, the school's policy prohibiting all decorations on graduation caps is a neutral policy of general applicability," Chief District Court Judge Gregory Frizzell wrote.
Griffith received her diploma on May 21, without the feather.
Immediately after the graduation ended, she added the feather to her mortarboard and like her classmates, posed for pictures with family and friends. She has not spoken to reporters since then.
Student Christian Titman will be wearing a feather at his graduation after a California school district in the city of Clovis, facing a civil rights lawsuit, agreed to drop its objection.
The district prohibited the feather under its "content neutral graduation standard" that bars students from adorning symbols or other artifacts except for religious items already allowed during the school year such as a Sikh turban or Muslim head covering.
A FEATHER THAT CARRIES GREAT WEIGHT
Eagle feathers are prized possessions among tribes, although they are contraband for most Americans.
Under U.S. law, possession of feathers or other eagle parts is illegal, save for citizens enrolled in federally recognized tribes. Even then, they must have a permit from the U.S. Department of Fish and Wildlife Services.
In school districts across the United States, including those in Oklahoma, which places "Native America" on its license plates and has 38 federally recognized Native American tribes, there is little consistency on whether the feather is an appropriate symbol for graduations.
The Oklahoma State Department of Education does not have a blanket policy regarding the wearing of eagle feathers at graduation ceremonies. Instead, that decision rests with local school districts and many allow feathers alongside tassels on student mortarboards.
In the Verdigris Public Schools system east of Tulsa, the feathers were welcomed. For the first time since the district's high school reopened in the late 1990s, some students had eagle feathers on their mortarboards when they received their diplomas.
Of the 100 students in Verdigris High School's class of 2015, 26 are Native American.
"Presenting these students with feathers is an opportunity for me as a teacher ... to tell them I love them, wish them good luck and to give them something to be proud of from their heritage," said Charles Nadal, who teaches at Verdigris Public Schools and is also the Indian Education coordinator. (Editing by Andre Grenon)
Calling all HuffPost superfans!
Sign up for membership to become a founding member and help shape HuffPost's next chapter
BEFORE YOU GO
PHOTO GALLERY
U.S. State Capitol Buildings