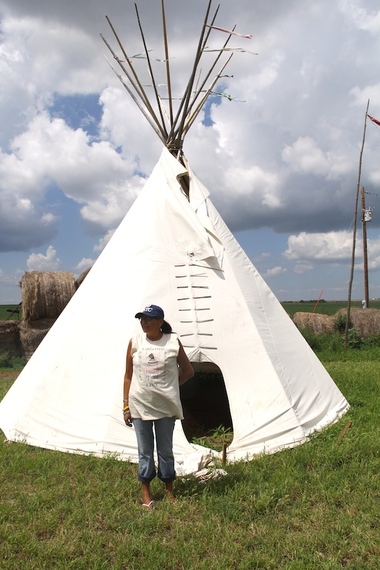 As President Barack Obama announced a formal rejection of the Keystone XL Pipeline this morning, Leota Eastman Iron Cloud stood in Alaska, crying.
"I'm still going through all of the emotions. I just want to hoop and holler," Iron Cloud said, hours after President Obama's announcement. "Although there are other issues like uranium mining and fracking, that pipeline was a major issue that was going to go right by our tribe. I'm so thankful to Barack Obama."
A former engineer and archaeological monitor with the Rosebud Tribe, Fielder said, "It's all about the water. We spend billions flying spacecraft to other planets to see if they have water, and we're about to destroy ours."
Iron Cloud, a Rosebud native, had traveled to Alaska at the end of October for work, which she said is difficult to find on the reservation. After the Keystone rejection announcement, she called home to the Spirit Camp.
"I wish I was there at the camp. They're still there, standing strong all the way through," she said, adding that camp supporters told her they were heading to the Rosebud tribal office for a victory song and to make celebratory plans.
During her year and a half at the camp, Iron Cloud educated visitors, prayed for protection for the earth, and served as a visual reminder of everyone who opposed the pipeline's construction. But it was never easy, she said.
"My thoughts, heart and soul was all to the camp. I couldn't go out. I couldn't do all of the little things that people take for granted each day," she said.
Spirit Camp members withstood threats, belittling and bullying from Keystone Pipeline supporters. They held their ground through extreme wind, rain and cold (as low as 20 degrees below 0), keeping warm by a fire in the center of the circle of teepees. Instead of beds, they slept on the ground in their teepees.
"But that's what it's all about, connecting with Mother Earth, feeling her, being with her," Iron Cloud said.
Connecting with others is important, too. And Iron Cloud said she hopes the Keystone Pipeline's rejection inspires other native tribes fighting to protect future generations.
"For everybody else around the world fighting for what they believe in, the message here is to stay strong, stay connected. We have our prayers, and our ancestors were behind us all the way. When people stand together, we can beat big oil," she said. "People need to wake up to what is really real in this world, which is our earth."
Even though she's in Alaska for work, Iron Cloud said her heart is always out at the camp. But even 3,000 miles away, she can't get away from hearing news of TransCanada, which is also working on a liquefied natural gas project in Alaska.
"I'm just living for the moment," Iron Cloud said of potential future challenges. "I have no idea what tomorrow will bring. Only Tunkashila (God) knows. I'm just so elated about the Keystone getting rejected and so thankful for all of the support, prayers, and thoughts. That really kept us going."
Calling all HuffPost superfans!
Sign up for membership to become a founding member and help shape HuffPost's next chapter