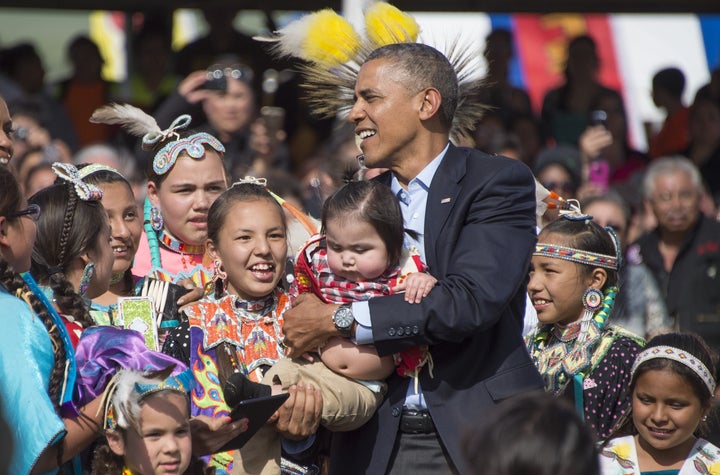 In the eighth grade, Isabella Cornell's history teacher taught students that Native Americans are "violent, vicious vermin" and connected their culture to cannibalism. Fellow students immediately started bullying Cornell -- who is Choctaw -- and asked if she ate other human beings.
"This is direct bullying, but nothing can be done about it because that's what the teacher said," Cornell told government officials in November 2014. "So my sister, mother, and I came into the school and presented on the actual history of Columbus. We shouldn't have to do this. The teacher should know the correct history."
Cornell's story is not an isolated one. Last fall, federal officials heard similar accounts from more than 1,000 Native American youth and tribal leaders around the country during a listening tour organized by the White House Initiative on American Indian and Alaska Native Education and the Office for Civil Rights.
The Department of Education shared some of those stories in a new report published on Thursday that outlines Native youth and tribal leaders' recommendations to the federal government, states and localities.
"Their struggles and continued efforts will not go ignored by this administration," WHIAIANE Executive Director William Mendoza wrote in a letter to federal, tribal, state and local leaders included in the report. "Moving forward, we intend to honor these stories shared with us by working with you to help ensure that every Native American has the opportunity to receive a complete and competitive education in a safe and healthy school environment."
Native American students face discrimination and bullying, high rates of poverty and alarming suicide rates. On average, they post low test scores and have low high school graduation rates. The concerns of Native American youth are rarely addressed at schools and have been overlooked for far too long, Mendoza told The Huffington Post.
"Ninety-five percent of American Indian and Alaska Natives attend schools where they are less than 10 percent of the population," said Mendoza. "This population is not only underserved and underrepresented, but they're darn near invisible."
In Thursday's report, Native Americans urged states to collect more complete data about American Indian and Alaska Native students and to educate communities about how to file civil rights complaints. They also proposed that states and localities encourage the preservation of Native American languages, advocate for fairer discipline practices in schools, and provide cultural competency training for teachers to reduce stereotyping. States and local school districts should also abandon images that negatively portray Native American culture, such as offensive logos or school mascots, they said.
The Obama administration has made a commitment to engaging Native youth and removing barriers to their their success. In 2014, President Barack Obama launched an initiative called Generation Indigenous, which increases funding for Native communities and encourages youth leadership. This past summer, the White House held its first Tribal Youth Gathering.
Yet in that survey, young Native Americans also expressed hope for the future, despite the challenges they face.
"We see all of the negative statistics, and the youth themselves know that when it comes to social ills, they are among the worst in terms of suicide, teen pregnancy, drug abuse, you name it," UNITY Executive Director Mary Kim Titla told HuffPost. "They are keenly aware of that -- and despite that, the majority of them, I would say, are committed to overcoming all barriers and want to be among positive statistics."
Popular in the Community