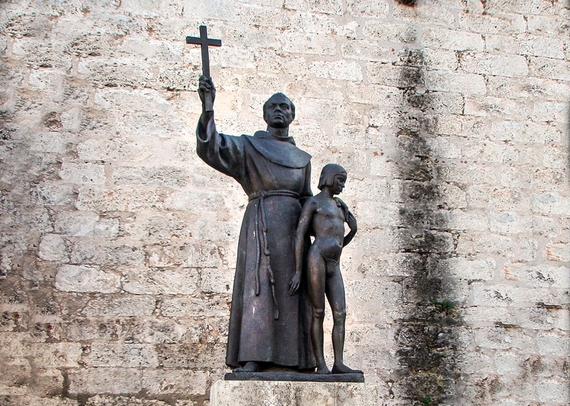 The history of the Catholic Church with indigenous peoples is a long and brutal one. Forced eradication of culture, religion, and language resulted in the destruction of first nations throughout the world. The introduction of disease wiped out entire populations; spreading the word of God was often tied to violent methods of conversion.
Pope Francis made history this year when he sought forgiveness for the atrocities enacted by the Church on indigenous peoples. He has raised eyebrows as an advocate for the sick and weary, the less fortunate, and addressing climate change head-on. He has been the progressive sorely needed, a figurehead seeking forgiveness for past transgressions and carrying the Church into the modern era.
So it was with great sadness that many throughout Indian country watched last Wednesday's canonization of Junípero Serra in Washington, D.C. Billed as a historic moment in which the pope elevated the first Hispanic priest to sainthood on U.S. soil; Serra's controversial background was largely overlooked. A slew of last minute coverage was too little, too late.
A Spanish missionary that was considered fanatical even for his time, Serra set out in California to convert the 300,000 Native Americans that had lived there since immemorial time. He viewed Native Americans as children, infants that would only know a better life through the adoption of agriculture, Westernized societal castes, and of course, Catholicism.
Though conversion was optional, the pressure to do so was great. The landscape was transformed into farmland, while families were torn asunder by Church intervention. The answer was simple: convert or leave. And once converted, Church was no longer optional.
Attempts to escape were dealt with severely - shackles, confinement, and flogging were ubiquitous, to the point that other Franciscans working in the missions were horrified by the cruelty they witnessed and asked to be sent back to Spain.
Today, mass graves filled with Native peoples dot the California missionary system. Tens of thousands died while the missions were in operation. Within 100 years of Serra's arrival, the indigenous population had been decimated to 16,000. And the man at the helm was made a saint.
Outrage made its rounds in the final week before Pope Francis arrived - I spoke with numerous reporters that had no knowledge of the issue, who were entirely unaware of the large-scale protests, petitions, and numerous letters from tribal nations condemning Serra.
Several hundred Native Americans in California held a day of mourning when Pope Francis elected to continue with the canonization. Within days of Serra's elevation, his final resting place at the Carmel Mission was vandalized and his statue toppled. Splattered paint read "Saint of Genocide."
Local tribal leaders have condemned the vandalism, but maintain their opposition to the selection made by the Church.
But really, was Serra's sainthood so shocking?
This is America, remember. Andrew Jackson, that great killer of Indians who orchestrated the Indian Removal Act that would kill thousands on the Trail of Tears, resides on the twenty-dollar bill.
Women on 20s held a nationwide contest to present a petition to President Obama encouraging him to replace Jackson. Wilma Mankiller, the first female chief of Cherokee Nation, was one of four finalists. But once the contest concluded, the Department of Treasury inexplicably announced Jackson would stay and Alexander Hamilton would be the one to go. Hamilton was the first treasury secretary, while Jackson vehemently opposed centralized banking.
When Native American leaders, staffers, attorneys, and lobbyists walk out of Union Station to visit and work in the halls of Congress, they are greeted by a giant fountain commemorating Christopher Columbus, one of the few individuals America honors with a federal holiday. Columbus committed such heinous acts against the indigenous peoples he encountered in the so-called "new" world he was sent back to Spain to answer for his crimes.
Even now, national disregard for Native American religion and culture continues. Take, for instance, the San Carlos Apache people. Last December, Congress passed a rider giving sacred land for performing Apache coming-of-age ceremonies to a foreign mining operation. Their irreplaceable, immovable holy site will be destroyed for copper.
Lest we forget, all of this is set with the backdrop of the Washington football team, a racial slur that has been condemned and fought against for decades by Native Americans throughout the United States. Native Americans are people, not mascots or costumes, yet they are denied that respect.
It is long overdue for America and other world leaders to recognize that indigenous peoples have endured generations of theft, violence, and dehumanization that continue today. Representations matter. Who we choose to elevate as the best of society matters. Apologizing is progress, but actions mean far more than kind words.
Related
Popular in the Community