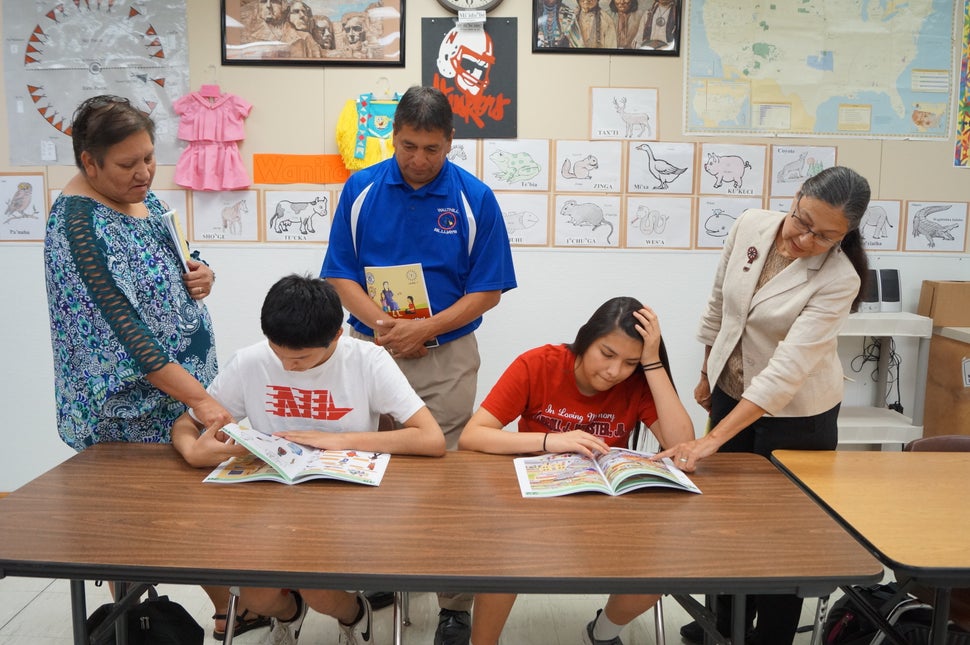 On the Omaha Native American reservation in northeastern Nebraska, one educator is working hard to keep the tribal language alive by helping kids to learn it in school.
Vida Woodhull Stabler is the director of the Omaha (or "Umonhon" in the tribe's language) culture center at Umonhon Nation Public Schools in Macy, Nebraska. She has been working for the past 18 years to painstakingly gather, record and pass on the cultural knowledge of tribal elders for future generations. Alongside other elders in the community, she has helped to developed a curriculum and lesson plans for Umonhon language classes, as well as other ways to infuse students' day-to-day school experience with culturally relevant learnings, such as tribal songs and dance.
But she and her colleagues face an uphill battle: Only about a dozen Umonhon tribe members are believed to speak the language fluently today, Stabler told HuffPost.
"It is important for children" to learn the Umonhon language, Stabler told HuffPost. "I truly believe this: There is an innate need, want and love of our culture inside of them. They will become stronger as human beings when they know who they are, and can stand firm and strong against all the challenges that life will throw at them."
Kyleigh Merrick, 15, who has attended Umonhon Nation schools since kindergarten, has chosen Umonhon language as an elective class.
"I hope to become one of the fluent speakers," Merrick told HuffPost. "To me it is really important for everyone to learn the language and to teach our kids, because there aren't that many fluent speakers. If I can become a fluent speaker, I can teach everyone else and help the language not die."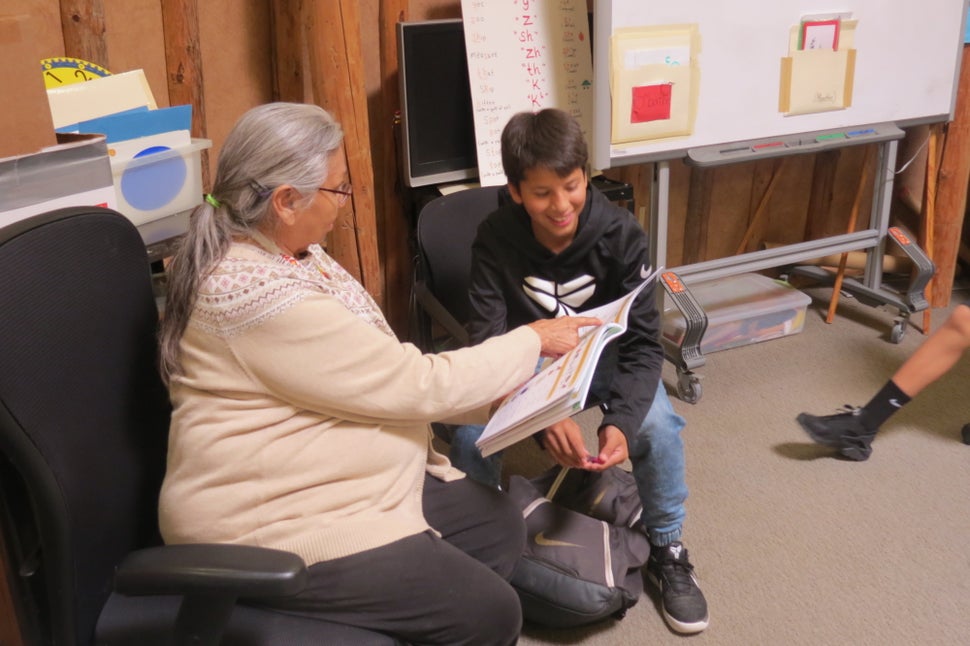 For Merrick, learning the Umonhon language as a teen today is important but also a challenge. She goes to language class every day, where she learns everything from verbs to animals to numbers ― but outside of class, opportunities to speak it are scarce. Her great-grandmother uses it at home, but among her peers, only a handful will sometimes greet each other in Umonhon, and that's "just to joke around." At school, she says only "a few" students are taking Umonhon language class and seem deeply interested in tribal language and culture. 
"It's just a few kids, not that many ― I think it all starts at home," Merrick said. "The kids who choose movies over a ceremony or dance, it has to do with their parents and what they teach their kids ― if they pushed them to go to a ceremony or dances or social gatherings."
In Stabler's experience, parents and the larger Umonhon tribal community are invested in passing on cultural knowledge, and do so in myriad ways to their kids ― but not always through language instruction. In her view, the biggest barrier is simply kids' assimilation into mainstream culture.
"There's no doubt that our tribe, as well as many, are in a state of urgency. In our era, many of our remote places can have access to modern lure that take away our kids from cultural activity," Stabler told HuffPost. "Instead of sitting and participating in a dance, they'd rather go to a movie. That's youth, and that's how assimilation happens."
They will become stronger as human beings when they know who they are.

Vida Woodhull Stabler
Another significant force that has worked against the passing of Native tribal languages over generations is the history of American Indian boarding schools ― which have left a painful legacy in Native communities. The federal government began sending Native students to boarding schools in the mid-1800s, and up through the 1960s students there were not allowed to express tribal cultures and were taught only English, in an effort to forcefully assimilate them.
"The boarding school experience beat the language out of them," Mark Awakuni-Swetland, a former associate professor of anthropology at the University of Nebraska-Lincoln told the Omaha World-Herald in 2015, before his death. Awakuni-Swetland, who co-authored an Umonhon language dictionary, told the outlet that most boarding schools forced Native students to speak English, and the kids would be punished if they didn't ― even beaten.
On the Umonhon reservation in Nebraska, the harmful legacy of boarding schools is still felt today.
"We've had to overcome a negative history with boarding schools to become more purposeful in teaching cultural values and norms of our community," Stabler, who attended boarding school, told HuffPost. "Our community values our culture ― it was devalued in boarding school, but our community values it."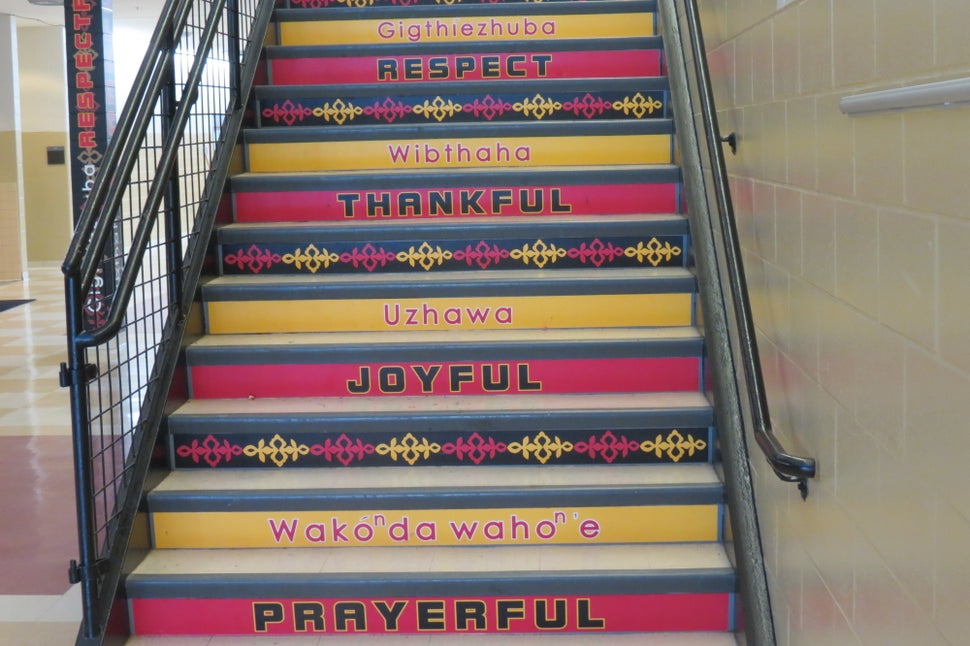 In Native communities nationwide, language revitalization efforts vary: In upstate New York, for instance, the Mohawk tribe offers its members deep language immersion programs, and in California, Native American Head Start preschools are teaching the youngest community members tribal languages from day one.
For Stabler in Nebraska, given the Umonhon tribe and school's limited funding, passing on the language is a daily effort of making the most of the little she has.
"Our language does not have access to the same types of materials that Spanish or German do ― you can walk into any library and bookstore and find oodles of Spanish books to buy," Stabler said. "Our community has had to develop materials, tangible stuff ― on our own. The first challenge is ensuring people want to learn and teach ― the second is making sure they have materials to learn from."
If I can become a fluent speaker, I can teach everyone else and help the language not die.

Kyleigh Merrick
Stabler provides the language and culture materials she and others have developed over the years to the larger Umonhon tribal community, including Native community members in Lincoln and Omaha, as well as Nebraska Indian Community College, which also teaches Umonhon language and tribal history.
At Umonhon Nation public schools, Stabler makes a point of incorporating tribal culture into students' everyday school experience, which can mean something like hanging up a calendar with months in English and Umonhon, or working with the administration to infuse Umonhon culture into other classes. In biology class, for instance, kids might harvest corn to make traditional tribal foods, or in "family sciences" class, they might learn to do ribbon work or make moccasins.
One of the biggest challenges she faces is that while almost all of the students are Native, most teachers at the school are not. That's why Stabler makes a point of bringing in tribal elders and others with expertise in cultural practices, like song and dance or poetry, to instruct kids. But both Stabler and Merrick insisted that even non-Native teachers, many of whom have been at the school for years and are certified to teach the Umonhon language, help to pass on tribal learnings.
For Stabler, the work of making sure Umonhon culture lives on into the next generations never stops ― in fact, it only grows more urgent with time, as some of the elders with the deepest cultural knowledge in the community have died in the last few years. But in her mind, nothing is more important. 
"If [students] are rooted to our land, to our water and our earth, our air ― everything that's around us ― they'll be rooted as human beings," Stabler said.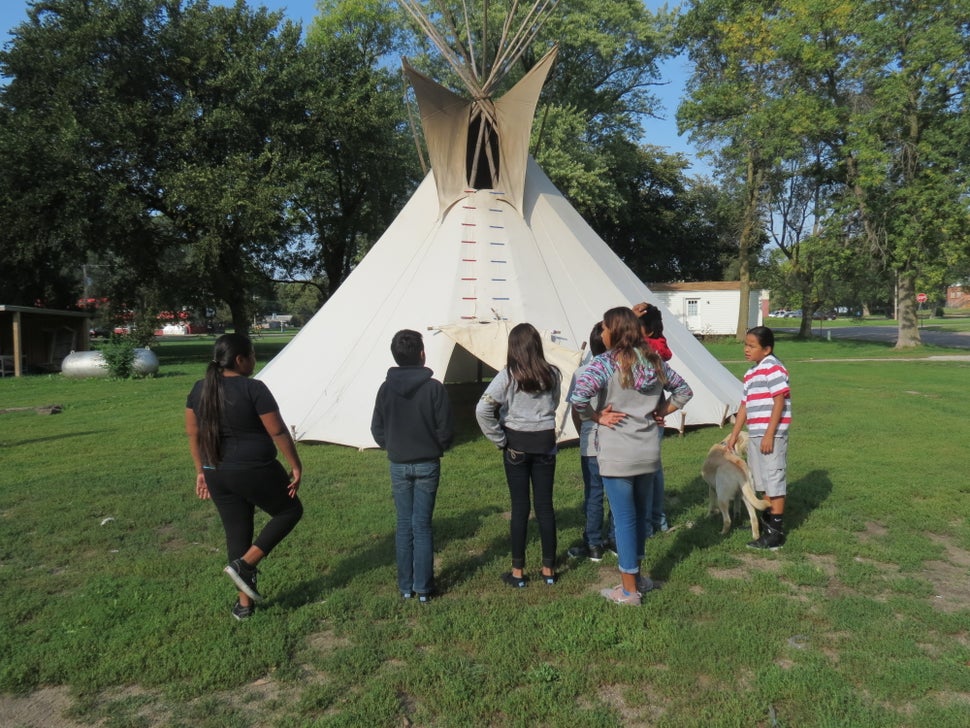 CORRECTION: A previous version of this story misstated the name of a college to which Stabler provides course materials. It is called Nebraska Indian Community College, not Omaha Community College.
HuffPost is hitting the road this fall to interview people about their hopes, dreams, fears ― and what it means to be American today.
Calling all HuffPost superfans!
Sign up for membership to become a founding member and help shape HuffPost's next chapter
BEFORE YOU GO
PHOTO GALLERY
Native American Treaty Quilts