WASHINGTON — Thousands of demonstrators, including members of dozens of indigenous tribes, marched through the streets of the nation's capital on Friday morning, capping a four-day protest against the Dakota Access Pipeline and President Donald Trump.
With a combination of rain and snow falling and temperatures in the high 30s, protesters gathered at the U.S. Army Corps of Engineers headquarters before heading toward the White House, chanting "You can't drink oil, keep it in the soil" as they marched.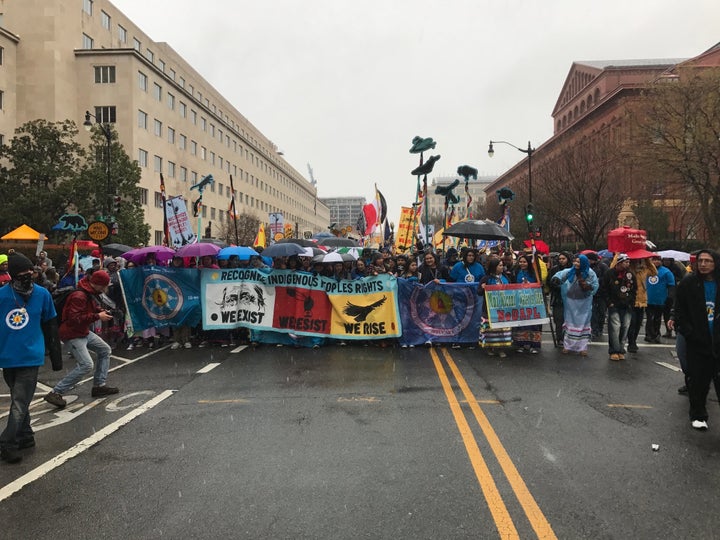 Raymond Kingfisher, of the Northern Cheyenne Tribe in Montana, told The Huffington Post that he traveled to Standing Rock six times over the last year to join the protests. His message to the Trump administration: "We're still here."
"They need to start dealing with us because we are not going anywhere," Kingfisher said during Friday's march. "They need to honor our treaties and respect our rights."
En route to the White House, protesters stopped in front of Trump International Hotel, where they erected a teepee, danced and chanted. At around 11:45 a.m., the gathering reached Lafayette Square, just north of the White House front lawn.
Mary Phillips, of Nebraska's Omaha tribe, told HuffPost that the president isn't listening to the voices of America's indigenous people. Until he does, she said, the demonstrations will continue.
"There's not a chance he's going to go to a reservation," Phillips said. "There's not a chance he's going to go to the people to find out what's going on."
So, they brought their message to him.
Last month, ignoring months of protest over the Dakota Pipeline, the president said he didn't think the project was controversial. 
"I haven't had one call," he said. "You know, usually, if I do something it's like bedlam, right? I haven't had one call from anybody."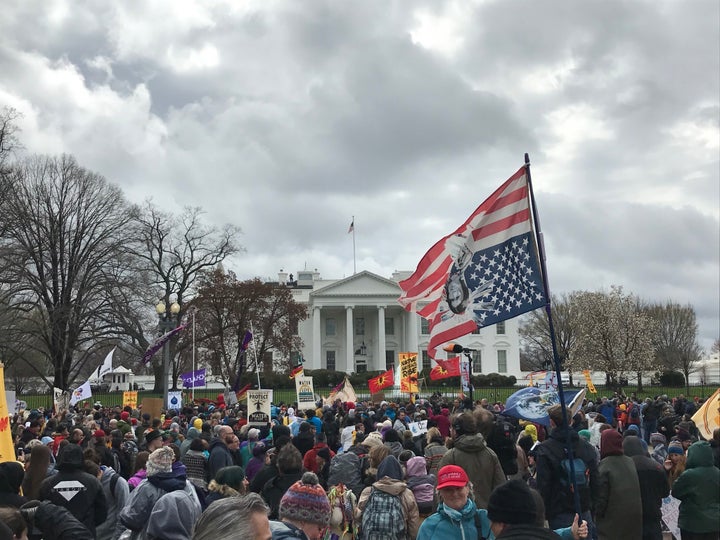 Carl Moore, chair of Peaceful Advocates for Native Dialogue and Organizing Support, a native rights group, was among the many people dressed in traditional attire and feathered headdresses. He said the event was as much a protest of the pipeline and Trump as it was a stand for native sovereignty. 
"It's about recognizing that Native Americans have a divine mandate to take care of this earth... that we have a divine mandate to take care of our environment," he said. "And our sovereignty needs to be respected, because it hasn't been. It's never been respected." 
Tribes from around the county have been gathering in Washington, D.C., for days, erecting teepees on the National Mall near the White House.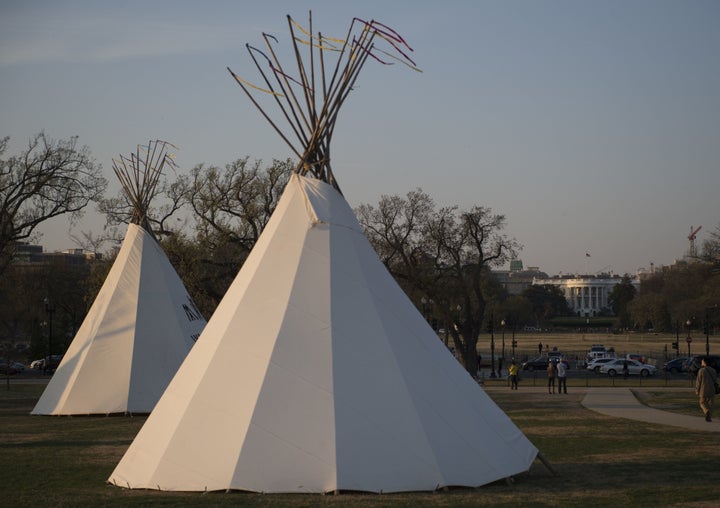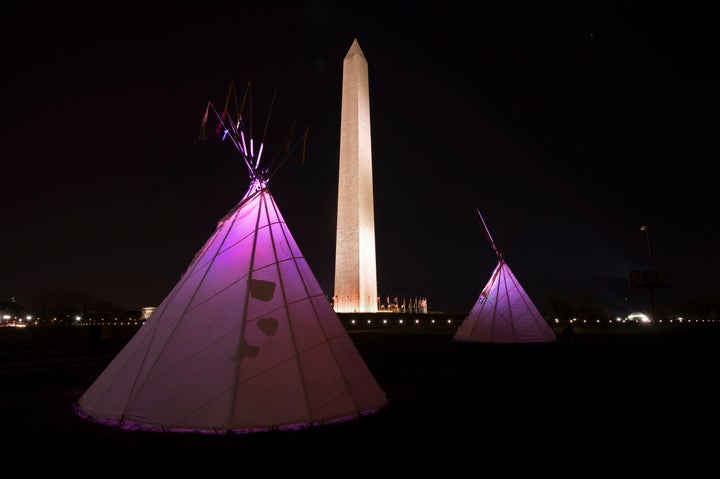 The Army's approval of a final construction permit last month came shortly after Trump signed an executive order aimed at pushing the controversial project forward. Seeming to ignore the concerns of Native American groups and environmentalist, Trump stressed that the project would create "a lot of jobs, 28,000 jobs. Great construction jobs." 
In December, federal authorities halted construction of the pipeline in response to growing protests near the Standing Rock Sioux reservation in North Dakota. Along with denying the final easement required for the $3.8 billion project to pass under Lake Oahe, the Obama administration ordered the Army Corps of Engineers to compile an environmental impact statement to examine the possible effects of the pipeline and explore alternative routes.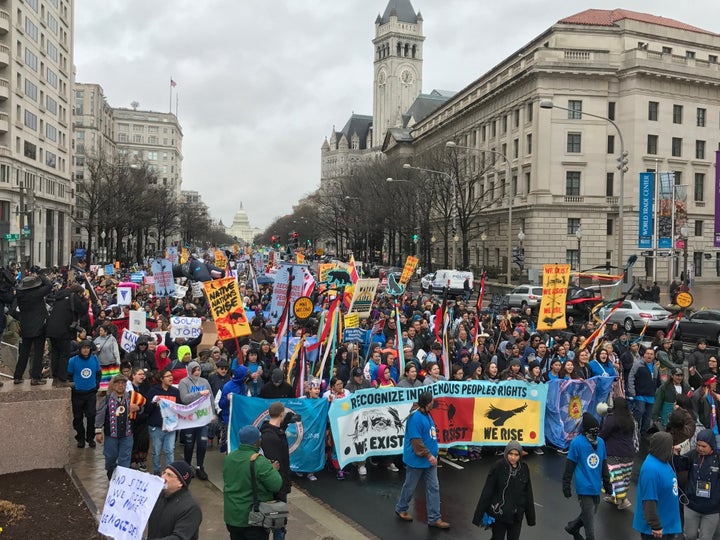 The $3.8 billion, 1,172-mile pipeline is being built to carry oil from the Bakken formation in North Dakota to an existing oil terminal in Illinois. Most of it is completed except for a short section near the Standing Rock Sioux reservation. The tribe and demonstrators have raised concerns about the threat the pipeline poses to the Sioux's water source and sacred Native American sites.
Moore, who is from Utah and is both Hopi and Chemehuevi, said Friday that it's time for the world to "wake up," unify and "start fighting for every marginalized community."
"The privileged class needs to stand behind every single one of those marginalized communities and take their lead," he said, "so we can make a change in the world. Not just the United States, but in the world."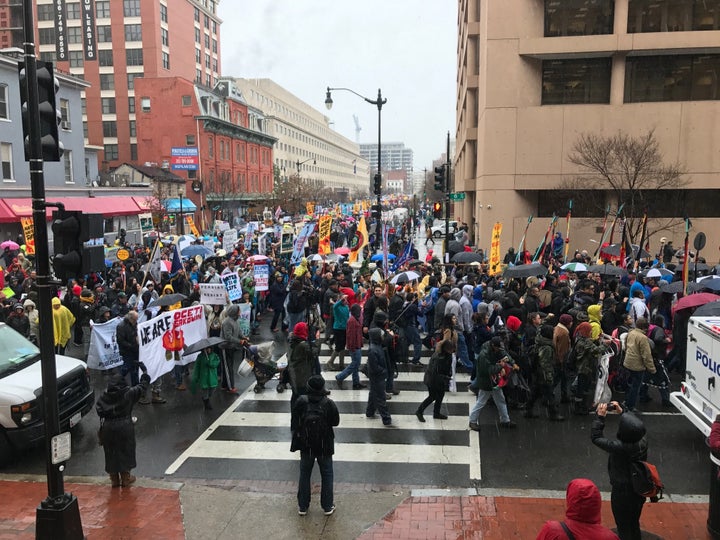 Calling all HuffPost superfans!
Sign up for membership to become a founding member and help shape HuffPost's next chapter
BEFORE YOU GO
PHOTO GALLERY
North Dakota Pipeline Protests