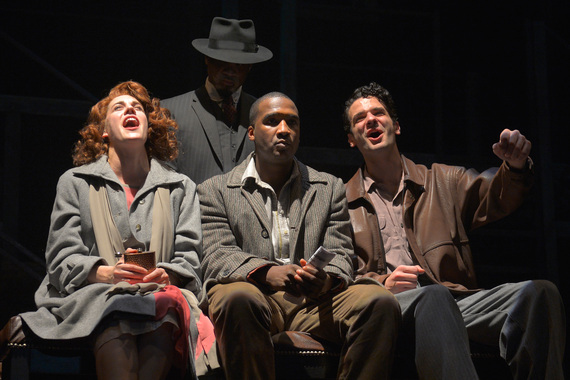 It's not surprising that Marin Theatre Company artistic director Jasson Minadakis has centered the company's fiftieth anniversary season on Native Son, a new adaptation, by Nambi E. Kelley, of Richard Wright's 1940 best-selling novel. In his eleven years with this excellent Bay Area company, Minadakis has made a particular effort to showcase plays with African American themes, by African American playwrights. And he's brought us some terrific new work.
One of the first plays I saw at MTC, back in 2010, was Tarell Alvin McCraney's In the Red and Brown Water, the first in his Brother/Sister Plays trilogy (the other two were produced that season at theaters in San Francisco and Berkeley, respectively). Five years later, MTC presented McCraney's terrific Choir Boy. Now he's getting a ton of attention for Moonlight: A major Oscar contender, the movie is based on McCraney's play In Moonlight Black Boys Look Blue; McCraney himself is up for an Oscar, with director Barry Jenkins, for best adapted screenplay.
In the past few years, MTC has also brought us Matthew Lopez's The Whipping Man (the company's third-best-selling production ever), Danai Gurira's The Convert, and Will Power's Fetch Clay, Make Man, not to mention three of the late famed African American playwright August Wilson's ten plays. All were superbly done and got rave reviews.
In my opinion, MTC is the most consistently excellent theater company in the Bay Area. Audiences have come to expect outstanding acting, directing, set and costume design, sound and lighting in any production we see here in Mill Valley.
Native Son director Seret Scott, who directed the play in its world premiere in Chicago, brought much of her team, including the leading man, with her. Jerod Haynes plays Bigger Thomas, who dreams of being a pilot but feels his every option limited by racism: "When you look in the mirror, you only see what they tell you you is."
The story takes place during the Great Depression, when options for so many are few and even more curtailed for blacks. Tough to begin with, Bigger's life derails when he's hired by a liberal white family as their chauffeur. On his first night, he is to drive their rebellious, entitled daughter, Mary, to a university class; instead, she not only forces him to take her to meet Jan, her young Communist boyfriend, she makes Bigger sit between them in the car, drink with them, and show them someplace "you people" like to eat. The two even sing one of "his" people's songs with egregious Southern accents. Their patronizing cluelessness--they have no interest in Bigger as an individual--is more painful to watch, and more interesting, than the flat-out racism he normally encounters.
When they get back, Mary is so drunk, he has to practically carry her to her room, where, trying to keep her quiet, he accidentally smothers her. Then he has to get rid of her body. Then he has to run. Then, led by his inner self and survival instinct, The Black Rat ("you only see what they tell you you is"), he kills again.
The novel makes every step Bigger takes inevitable, the product of society's horrendous racism and his poverty. The play tries to take us inside Bigger's mind by portraying "a split second...when he runs from his crime, remembers, imagines, [on] two cold and snowy winter days in December 1939 and beyond." This imaginative conceit shuffles time, characters, and events, giving us tumbled shards of Bigger's life rather than a straightforward rendering. This approach makes a plot that seems rather simplistic--certainly when compared to the plays mentioned above--appear more complex. And yet, with the murder taking place near the beginning of the play, the crime's inevitability is muted. The action that follows is somewhat heavy-handed. And since we've already seen Bigger pull a knife on his little brother and lose control when bashing the rat that's scaring his family, our empathy is muted as well.
Even so, the play is gripping, thanks to its intensity, pacing, and fine acting: William Hartfield as The Black Rat; Dane Troy as Bigger's little brother and in some smaller roles; C. Kelly Wright as Bigger's mother; Ryan Nicole Austin as Bigger's alcoholic girlfriend (she also plays his sister); Rosie Hallett as Mary; and Courtney Walsh as her mother. Patrick Kelly Jones is properly despicable as various racist police and others, though Adam Magill, so memorable in Miss Bennet: Christmas at Pemberley, is given far less to do as the earnest Jan.
Native Son is a play worth seeing--and a novel well worth reading.
Through February 12, Marin Theatre Company, 397 Miller Ave., Mill Valley, 415.388.5208, marintheatre.org.
Photographs - Top, from left: Rosie Hallett, William Hartfield, Jerod Haynes, Adam Magill; bottom, from left: Dane Troy, Ryan Nicole Austin, C. Kelly Wright, Jerod Haynes, William Hartfield.
Photos by Kevin Berne, c Marin Theatre Company
Related
Popular in the Community