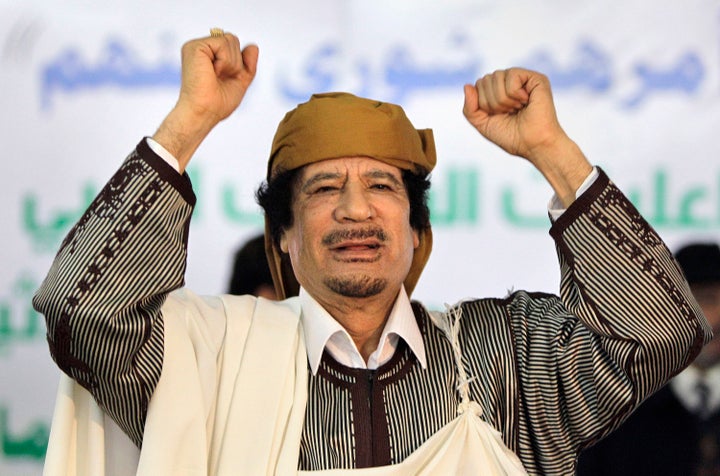 A top U.S. admiral has confirmed to a U.S. congressman that NATO forces are trying to kill Muammar Gaddafi, and that the need for ground troops in Libya after the embattled leader falls is anticipated.
House Armed Services Committee member Mike Turner (R-OH) reveals to The Cable that U.S. Admiral Samuel J. Locklear, commander of the NATO Joint Operations Command in Naples, Italy, told him last month that NATO forces are actively targeting and trying to kill Gaddafi:
"The U.N. authorization had three components: blockade, no fly zone, and civil protection. And Admiral Locklear explained that the scope of civil protection was being interpreted to permit the removal of the chain of command of Qaddafi's military, which includes Qaddafi," Turner said. "He said that currently is the mission as NATO has defined."

"I believed that we were [targeting Qaddafi] but that confirmed it," Turner said. "I believe the scope that NATO is pursuing is beyond what is contemplated in civil protection, so they're exceeding the mission."
Turner's revelation contradicts the Obama administration's previous insistence that regime change is not the ultimate goal of NATO's involvement in Libya, a claim which Locklear apparently still maintained. "Well, certainly if you remove Gaddafi it will affect regime change," Turner quoted Locklear as saying. "[Locklear] did not have an answer to that."
Turner, who has been opposed to the Libya war from the start, voted against authorizing the effort on Friday morning. That authorization resolution failed 123 to 297.
He remained critical of what he describes as the Obama administration's blatant neglect of Congress throughout the duration of the mission. "The president hasn't come to Congress and said any of this, and yet Admiral Locklear is pursuing the targeting of Gaddafi's regime, Gaddafi himself, and contemplating ground troops following Gaddafi's removal," Turner said. "They're not being straightforward with Congress...It's outrageous."
Related
Popular in the Community