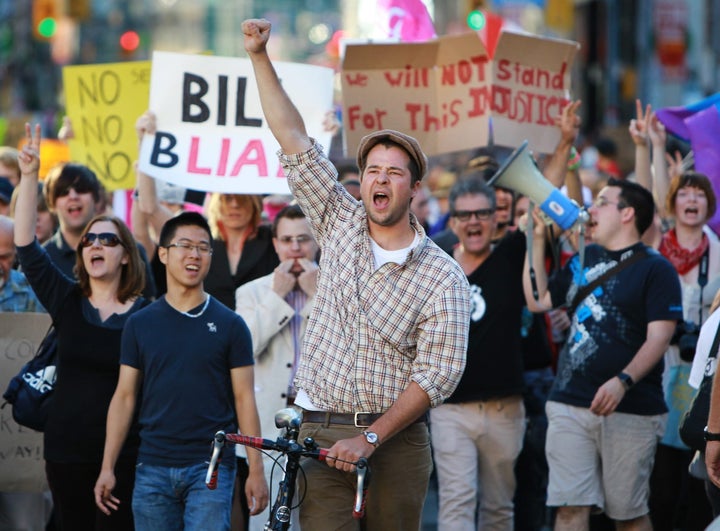 Mayor Rahm Emanuel has said that this overlap will bring unprecedented opportunities to the city, but it is also likely to attract demonstrators in large numbers. Previous summits hosted in Seattle and Pittsburgh saw conflict between protestors and police on a smaller scale, and Chicago police officials have already expressed concern about the city's readiness for high turnouts from what Chicago police union president Michael Shields called a "bunch of wild, anti-globalist anarchists."
Representatives meeting at the college Sunday expressed concern about the adversarial relationship between the police and demonstrators and their intentions to keep the two large-scale protests planned for the week-long joint summit peaceful, the Chicago Tribune reports.
Chicago has a reputation for conflict between protestors and the police force. In 2003 the CPD arrested about 900 people who marched in a protest against the start of the Iraq war, holding some people for up to 36 hours. Chicago police Superintendent Garry McCarthy said the department is preparing to make "mass arrests" during the summits. CPD has also appointed a deputy superintendent to oversee the city's law enforcement preparations and is sending representatives to Seattle and Pittsburgh to research previous enforcement strategies, according to NBC Chicago.
Local activist Andy Thayer told the Tribune that the demonstrations being planned will be peaceful, and that McCarthy's statements have "a chilling effect" in light of the city's history of civil rights disputes over protest arrests--the 2003 arrests prompted a class-action lawsuit.
Aspiring protestors allege that the city has already begun efforts to thwart their demonstrations. Chicago activist Joe Iosbaker, who helped organize the 2008 RNC protests, told the Tribune that his applications for permits to hold demonstrations in Daley and Federal Plazas have been ignored for nine weeks. He told the paper city officials said organizers will not be able to apply for a permit to march through the city until the first of the year.
WATCH Mayor Rahm Emanuel discuss the G8 and NATO summits here:
Calling all HuffPost superfans!
Sign up for membership to become a founding member and help shape HuffPost's next chapter