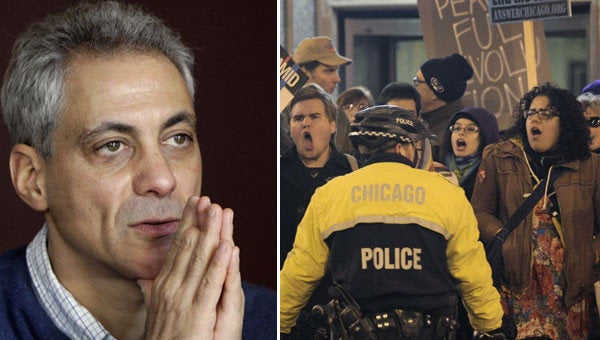 The guarantee that Chicago taxpayers will not be left holding the bag is a familiar one.

After repeatedly insisting that he would never put a blank check behind Chicago's failed 2016 Olympic bid, Daley offered to sign a host-city contract that amounted to an open-ended guarantee from local taxpayers.

But, the Emanuel administration insisted Thursday, "That was a guarantee — not cash out of pocket. No such guarantee is required" for the NATO and G-8 summits.
"Again, I hope it's not. I hope things go really well and the city gets a real positive spin from it, but if you were betting in Las Vegas, you'd bet that's not going to be the outcome," Sanderson told the station, adding that battles between police and protesters could once again tarnish the city's reputation.
"They're worried. What people are saying is, 'Let's not put laws in place that look like they're trying to limit protests. That's gonna inflame people,'" he said.
The majority of city libraries were closed last Monday after the union representing city librarians could not reach an agreement with the mayor's office on cuts to the system.
"Library services are much more important to Chicago's neighborhoods than bringing the G-8 to the city," Bayer told WLS. "If those people can afford to put up $45 million or $60 million, which is the city's estimate, why isn't he out there asking them, 'Wouldn't you be willing to pay a little bit more — just a fraction of that $60 million — which could be used to keep the libraries open'"?
Calling all HuffPost superfans!
Sign up for membership to become a founding member and help shape HuffPost's next chapter