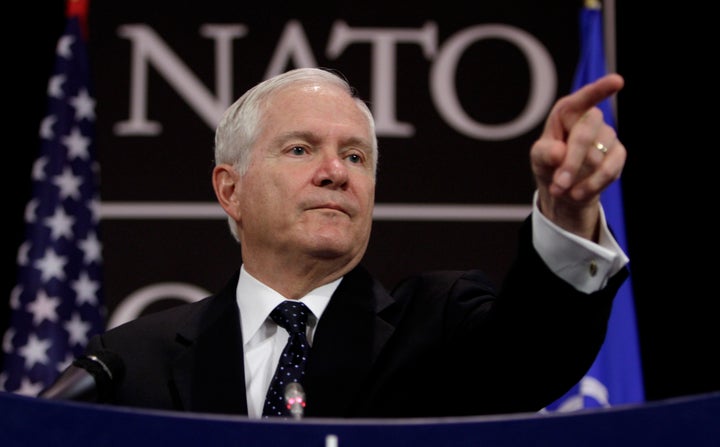 WASHINGTON -- When Secretary of Defense Robert Gates suggested recently that NATO was at risk of becoming impotent because certain members of the military alliance were not pulling their weight, his comments turned more than a few heads in the foreign policy community.
"In the past, I've worried openly about NATO turning into a two-tiered alliance," Gates said in a speech earlier this month in Brussels, "between those willing and able to pay the price and bear the burdens of alliance commitments, and those who enjoy the benefits of NATO membership -- be they security guarantees or headquarters billets -- but don't want to share the risks and the costs. This is no longer a hypothetical worry. We are there today."
While no one denies the brunt of the cost for NATO falls on the United States -- which picks up more than 75 percent of NATO's tab, according to the Washington Post -- many experts disputed the thrust of Gates' depiction.
"I think it's somewhat overstated," observed Charles Kupchan, senior fellow at the Council on Foreign Relations, who added that the debate about countries "free riding" dates back to the beginning of the alliance. "I wouldn't divide it into a black and white category," he added. "I would say there is a graduated ladder of effort."
Others don't see the disparity in financial contributions to NATO as a particularly problematic. According to Barry Pavel, Director of the International Security Program at the Atlantic Council, a think tank that promotes European-American ties, it was understood from the beginning of the alliance that the United States would shoulder most of the responsibility.
"In return," he explained, "we benefited enormously in the Cold War and since."
As Pavel sees it, the United States has been able achieve its most critical national security goals in large part because of the partnership between American and European forces under the NATO umbrella. If NATO falters, he said, the United States and European nations open themselves up to unpredictable threats or crises.
"NATO's contribution to stability within and beyond Europe is often under-appreciated," he said.
Backing for NATO on the Hill remains steadfast, as members of both parties were unwavering in their support.
"Absolutely, it is absolutely critical," replied Senator Lugar (R-Ind.), ranking member of the Senate Foreign Relations Committee, when asked whether NATO was still vital to American national security. Lugar further disagreed with Secretary Gates' assessment that NATO was becoming a two-tiered alliance, but acknowledged that member countries will have to "reinvigorate" their defense budgets if the alliance is to be effective in the future.
Senator McCain (R-Ariz.), echoed the sentiment that NATO played an integral role in U.S. foreign policy.
"I believe [NATO] is vital. ... If we see its disappearance, it would be a devastating blow to our ability to affect global events," he said.
While Secretary Gates is the first to express frustrations with other NATO member countries so publicly, the sentiment appears to be shared throughout the administration.
"There is a general sense that Europe has not been the capable partner that Washington was expecting them to be," Kupchan noted.
"NATO Allies must provide the Alliance with sufficient resources if it is to carry out its missions and continue the transformation required to meet 21st century challenges," said Deputy NSC spokesperson Caitlin Hayden. But she added that the administration is confident NATO meet its obligations.
"NATO has always risen to the challenges ahead of it and we expect it will do so this time, as well," she said.
While Secretary Gates's assessment appears to be a fairly biting articulation of concerns inside the administration, U.S. financial support for NATO remains high.
Direct giving to NATO has actually increased since Obama took office: U.S. direct contribution to the three funds that comprise NATO's budget -- civil, military and the security investment program -- grew more than 15 percent from 2009 to 2011, according to an April 2010 report by the Congressional Research Service.
In his Wednesday speech on Afghanistan troop withdrawal, President Obama mentioned NATO once, and then it was only to reference an upcoming conference. The U.S. mission in Afghanistan operates in conjunction with NATO forces, but the president never once mentioned the ISAF, or International Security Assistance Force, which is the umbrella for NATO forces there.
The tension around NATO, however, may signal a general strain transatlantic ties. There is a concern in the foreign policy community that as NATO's importance shrinks, the greatest impact will be on the relationship between the United States and Europe. While there are many transatlantic institutions, NATO, and the cooperation it yields, is likely the most significant.
"Were NATO to go away," said Kupchan, "it would deal a significant blow to the idea that the West is a coherent political community that anchors global affairs."
Calling all HuffPost superfans!
Sign up for membership to become a founding member and help shape HuffPost's next chapter