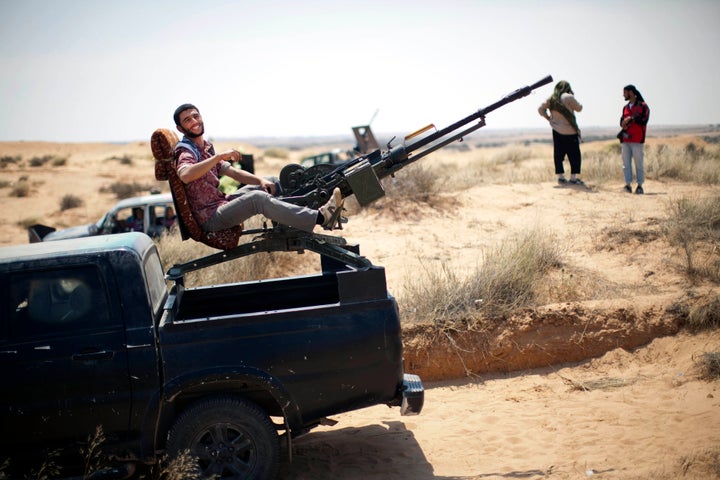 TRIPOLI (Reuters) - NATO staged a rare daytime air strike on Tripoli on Saturday after a fifth straight night of attacks, adding to military and diplomatic pressure on Libyan leader Muammar Gaddafi to quit after 41 years of power.
A big boom shook the Libya capital at about 0800 GMT (4 a.m. EDT) but it was unclear if it was caused by a bomb or missile, or what the target was.
NATO bombed several sites in the capital on Friday night, Libyan state television and Arab news channel Al Arabiya reported. The Libyan broadcaster said NATO raids also caused "human and material" damage near Mizda, to the south.
Russia joined Western leaders on Friday in urging Gaddafi to step down and offered to mediate his departure, providing an important boost to NATO powers seeking to end his long rule.
It was a striking change in tone from Moscow, which has previously criticized the 10-week bombing of Libya. NATO intervened under a United Nations mandate to protect civilians from Gaddafi's forces, but has effectively placed itself on the side of rebels trying to topple him in a deadlocked civil war.
NATO said it was preparing to deploy attack helicopters over the Arab North African state for the first time to increase the pressure on Gaddafi's forces on the ground.
"There are signs that the momentum against Gaddafi is really building. So it is right that we are ratcheting up the military, the economic and the political pressure," British Prime Minister David Cameron said at a Group of Eight summit in France.
Russian President Dmitry Medvedev said Gaddafi, who seized power in a 1969 coup, no longer had the right to lead Libya.
RUSSIA TO HOLD TALKS IN LIBYA
"The world community does not see him as the leader of Libya," Medvedev told reporters at the summit, adding that he was sending an envoy to Libya to begin talks. But he presented no plan to remove Gaddafi from power.
In Tripoli, Deputy Foreign Minister Khaled Kaim told a news conference the government had not been officially informed of the Russian position. "Any decision taken about the political future of Libya belongs to the Libyans, no one else," he said.
Despite Russia's move, there was skepticism that Gaddafi would agree to go. "Knowing his state of mind, I don't think he is going to step down," Arab League Secretary-General Amr Moussa said.
Previous attempts at mediation, by the African Union, Turkey and the United Nations, have foundered on Gaddafi's refusal to leave and the insurgents' refusal to accept anything less.
Rebel-held Misrata, Libya's third biggest city and scene of some of the fiercest battles in the conflict, suffered a second day of heavy fighting on its western outskirts on Friday.
Doctors at Misrata's hospital said five rebels were killed and more than a dozen wounded.
Gaddafi's forces stepped up their attacks too on Zintan, part of a chain of mountain settlements near Libya's border with Tunisia, where rebels have been holding off assaults for months.
The pro-rebel Libyan Youth Movement, in an open Internet letter to United Nations Secretary-General Ban Ki-moon, appealed for help for the people of two western towns, Yafran and al Qala'a, which it said had been under siege by government forces since April 3.
The account, which could not be independently verified, said residents had no electricity and were running out of food, water and medical supplies. It said three civilians had been killed in the past day, and two had died of heart attacks in the past 48 hours.
On Saturday, Juma Ibrahim, a rebel spokesman in Zintan, said Yafran remained under Gaddafi loyalist control but added that insurgents had attacked pro-Gaddafi forces in al-Kiklah, 15 km (nine miles) east of Yafran.
"Three revolutionaries were killed in the battles," he said. "The revolutionaries destroyed several military vehicles including personnel carriers and artillery batteries. Thirty Gaddafi soldiers and two officers were held hostage."
In rebel-held eastern Libya, the administration based in Libya's second city, Benghazi, is trying to present itself as a credible government-in-waiting.
That effort was helped on Friday when Farhad Omar Bin Guidara, Libya's central bank governor until he left the country in February, said he was working with the rebel finance team.
(Additional reporting by Mohammed Abbas in Misrata, Matt Robinson in Tataouine, Tunisia, David Brunnstrom in Brussels, Joseph Nasr in Berlin, Steve Holland, Keith Weir, Alexei Anishchuk and Nicolas Vinocur in Deauville, France and Barbara Lewis in Geneva; writing by Adam Tanner; editing by Mark Heinrich)